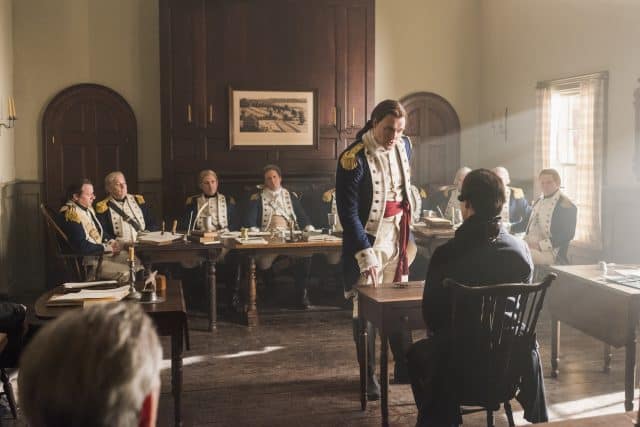 What is really wonderful about TURN: Washington's Spies is its remarkable ability to keep things cooking. The first few seasons were interesting, but slow going, until you got to around this time. What's fascinating about Season 3 so far is the way they've been able to start out strong, and still keep the same build and keep right on cooking. So it still has the same build-up from its previous seasons, but it started with the bar higher, so things are as interesting as they've ever been on this show. I, for one, am enjoying the ride.
This week on TURN: Washington's Spies: Abraham is able to save his hide from Simcoe, convincing him to go after Rogers instead. Mary, in a desperate attempt to divert the Queens Rangers' attention, convinces them that Caleb is Rogers. An attempt is made on Simcoe's life. Ben is brought face to face with his savior, Sarah, once again. Benedict Arnold stands trial to defend his honor. Andre is caught in a compromising position.
As you can see, this episode was packed to the brim with action and excitement. A few very important things happened, and the fallout from those will surely dominate the rest of the season. Number one: Mary killed a guy, and tried to kill Simcoe, too. Mary has developed from being a pretty insufferable, needy wife, into one of the most compelling characters that Turn has to offer. She fiercely defended herself and her son, and straight up killed a dude. The best moment of the entire episode was when Caleb, watching over Whitehall, figured the whole thing out, and embraced the role of Robert Rogers for the greater good. The look on his face said "Whoa, Mary's a warrior". Meegan Warner has done an incredible job with the Mary character, and I consistently look forward to watching her. That is a complete turnaround from the first couple of seasons.
The other major (or should I say "general") plot point that really keeps me interested in everything happening is the ever-thickening story of Benedict Arnold. It's really fascinating to me, because all you hear about Arnold in history class is how he switched sides during the war. That's why, to this day, traitors are called "Benedict Arnold's" in America. But what's really fascinating is watching the man struggle with wanting to be free, wanting to be married, and wanting to be loved and respected by those he calls his friends. Owain Yeoman's portrayal is clear, but still nuanced in his slow descent towards the dark side. When he finally gets what he wants from the British, it will be even more interesting to see the path he takes, and I can't wait!
Even though it ended in tragedy, the Ben/Sarah story was a fascinating one, too. I was totally shipping them, though, so I was bummed to see that she didn't survive the episode. With all that's going on in the news, her death was particularly poignant and heavy. But it was an excellently told story.
"Judgement" was an epic episode. There was lots of action, intrigue, and things are escalating for the final few episodes of the season. I was really hoping Mary had gotten Simcoe, though. Oh well. There's always next week!
What did you guys think? Did you enjoy this episode? Let us know!!
TURN: Washington's Spies airs Mondays at 10/9c on AMC
TURN: Washington's Spies Season 3 Episode 7 Review: Judgement"
Summary
Mary takes action to save her family from Simcoe, and Benedict Arnold defends his own honor on this week's epic TURN: Washington's Spies.