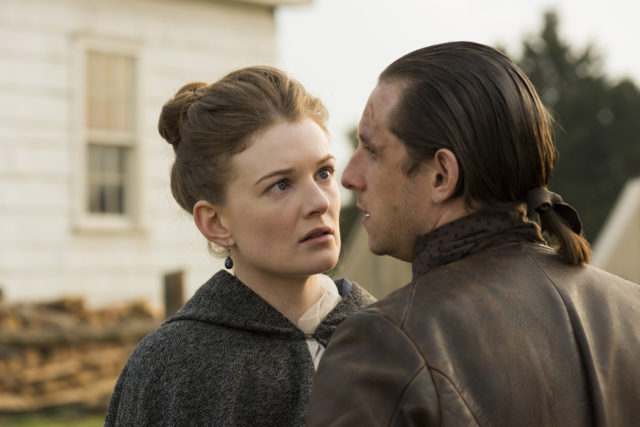 "I just have one piece of advice. Don't miss."
Though Benedict Arnold has been a major player so far in this season of TURN: Washington's Spies, he largely fell on the back burner in the season's fourth episode. Instead, characters like Abraham, Caleb, and Washington were made to face their own nightmares, which was only tangentially related to Benedict Arnold. Still, it's incredible to me that adding Benedict Arnold to this show injected it with such robust life. "Nightmare", though, was about giving the other phenomenal characters a chance to shine, and shine they did.
The other character that, when added to the show, seemed to breath new life into it was George Washington himself, who thus far has been masterfully portrayed by Ian Kahn. Washington did not have an actual nightmare manifest itself in the episode, but his nightmares were realized when his own soldiers revolted against him. The masterful portrayal by Kahn showed a remorseful Washington watching his own men executed (by their peers, no less) for mutiny. I find the Washington character fascinating, and these extremely tough calls are a major reason. It was absolutely gut wrenching to watch rebels kill their own, which is what makes this show so great.
I thought the episode used a really interesting approach to both Abraham and Caleb's nightmares, which manifested on the show both in actual nightmare/hallucination form, and as they came true in the lives of their characters. Abraham will have to realize his worst nightmare by joining the continental army to get close to Arnold and Simcoe, so that he can avenge the death of his father. Caleb, in the same vein, had to come to terms with his loss of control during Simcoe's "interrogation" of him, and even his loss of physical control after the fact. The nightmare theme pretty strongly resonated throughout this episode, and I thought the structure worked well to set up what's to come.
Here are a few other thoughts:
Mary Woodhull is incredible. Meegan Warner has created such a fabulous character who no longer freaks out about every little thing, but says cool things like "don't miss".
I'm not sure words can express how excited I am to see Abe join up with the British Army and spy directly on Arnold and Simcoe.
Hopefully there will be more of it in an episode, but the Simcoe/Arnold dynamic is an incredibly interesting one. I would like to explore that in depth if it is more heavily featured.
Bouncing off that, the conversation between Simcoe and Arnold that detailed what would happen to Arnold should the war be won or lost was a great bit of writing. Especially since what happened to Arnold after his side lost the war was exactly what happened. It wasn't exactly predicting the future, but it was a great bit of writing to highlight a well written episode.
Rather than flood with action like the few previous episodes, "Nightmare" was more about setting up a new set of dominoes that will spend the next 6 weeks or so falling. But it was successful in doing its job, which was getting me to care about what's going to happen next. Overall, I am pleased.
What did you guys think? Did you enjoy the episode? Let us know!
TURN: Washington's Spies airs Saturdays at 9/8c on AMC
TURN Washington's Spies Season 4 Episode 4 Review: "Nightmare"
Summary
Abraham and Ben devise a new way for the Culper ring to be used, while Washington deals with insubordination on this week's stellar TURN: Washington's Spies