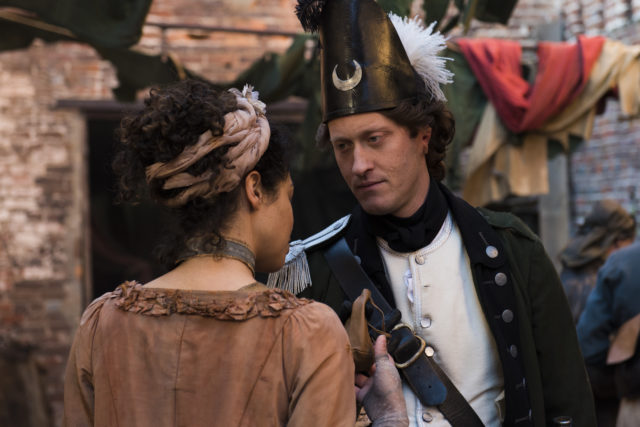 I must apologize for missing my review last week. My life has been quite chaotic and I just didn't get to watch last week's episode in a timely manner. However, I'm all caught up now and ready to get down and discuss this week's TURN: Washington's Spies, which was a doozy. I once labeled this show an exercise in tension building, and while every episode this season has reinforced that description, this one did so especially.
Abraham Woodhull enlisting in the Royal Army in last week's episode was a catalyst for a lot of what happened in this week's episode, and it jolted the show that was still reeling from the loss of Judge Woodhull. It reignited the tension and high stakes that this show constantly faces. In an effort to tie up loose ends and to bring the tension to a brilliant climax, Major Hewlett (the always excellent Burn Gorman) was reintroduced. I was pleased with this not only by raising the stakes significantly for Abraham and Robert Townsend, but bringing that story full circle. The amiable relationship between Hewlett and Abraham added an extra layer of intrigue to the character relationships on this show. It proves that there is more to war times than the winning and losing sides.
The Abraham/Hewlett relationship, and their subsequent triangle with Simcoe the psychopath was a dominant story, and it was so tense and intriguing that it made me forget that Arnold was barely a part of it. Arnold has been the driving force of the spy stories and the biggest presence in the first half of the season. But, in his limited screen time this week, Yeoman's Arnold pushed his darling wife, Margaret Shippen, over the edge to joining in the plot against him. I saw it coming, but not until right before it happened. In my mind, that's the mark of a great twist.
I'm not totally sure what Simcoe's plot with the lady of the night was supposed to be, but I did find it an intriguing window into his character. His tolerance and lust for pain will likely make him hard to kill (and no, I'm not just saying that because he survives the war in real life. Judge Woodhull did too you know).
I find it harder and harder to put into words the great things that TURN: Washington's Spies is doing week after week, but it's so incredible to watch. It builds tension masterfully, dissolves it rapidly, and makes you care for each character (except maybe Arnold and Simcoe) regardless of which side they're on.
Here are a few other thoughts:
Was Abigail really about to whack a pregnant woman over the head with a candlestick? That would've been terrible/awesome.
Cicero would be a terrible spy, but I'm glad everything worked out for them.
Samuel Roukin doesn't get enough credit for the masterful job he does playing Simcoe. He's added wonderful depth to someone who could easily be one note and easy to figure out.
I'm really hoping we will see Aldis Hodge's character again before the series ends. It would tie everything together in a neat little bow.
I'm certain that they won't deviate from history, but what will they do? Continually fail to defeat Simcoe and Arnold until the war is over? I'm interested to see how the reconcile history with the characters they've built up.
Overall, I found this episode exciting, engaging, and it has me ready for the next step.
What did you guys think? Did you enjoy the episode? Let us know in the comments!
TURN: Washington's Spies airs Saturdays at 9/8c on AMC
TURN: Washington's Spies Season 4 Episode 6 Review: "Our Man in New York"
Summary
Abraham, Simcoe, and Hewlett face off in New York in this week's gripping episode of Turn: Washington's Spies.