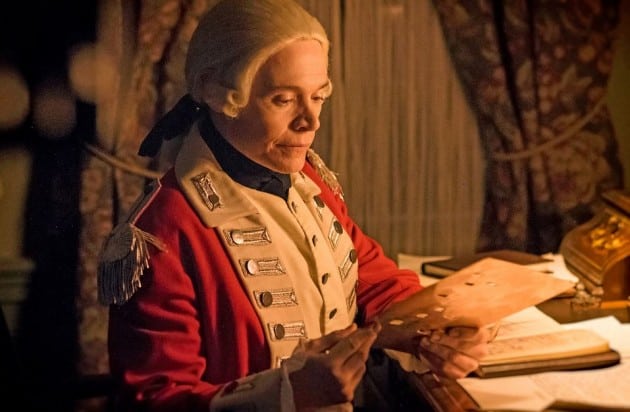 Turn has had some ups and downs in its brief run. That much is clear. However, that being said, this week's episode was definitely an up. I normally find this show fascinating, but I could not stop saying to myself "this is fantastic" as the episode unfolded. I truly hope to see the episodes continue to unfold like this one, because it was the best one yet.
This week on Turn: Washington's Spies: Time passes as Washington, amidst hardship at Valley Forge, faces the moral dilemma of pardoning Major Hewlett versus letting Abraham die. Hewlett and Abraham both continue to rot in their cells, dreaming of the same woman, and both receive unwelcome visitors.
I cannot express to you enough how riveted I was by this episode. Every criticism I have had of this show (however minor) fell by the wayside in this particular installment. The regular storytelling medium of the show went out the window and the one they used instead was absolutely fantastic. The writing was great, the episode's direction had some beautifully crafted moments (Washington on his knees in the woods? Powerful!!), and all of the actors were on top of their game. This was perhaps Turn's best installment to date, as it didn't abandon its premise to become a show about George Washington and war, but rather used elements that were already in play to raise the stakes and make its story more compelling.
One of my biggest problems with the show thus far has been the lack of Washington. Consider me officially gratified. This episode made the perfect use of Washington as a character within the realm of the show. He's simply a storytelling medium. They used him and the moral dilemma at hand to continue to tell the stories of Abraham and Hewlett in their cells. They broke out of their usual "Let's check in on everyone" mold, and I loved every minute of it. I wish we could use Washington to tell every story. Just brilliant.
Everything Turn presented here was able to take the story in a fascinating direction. Major Hewlett attacked Simcoe and escaped from his unwarranted assault on the prison camp. Hewlett figured out that Simcoe was framing him for the atrocities. Abraham was nearly trapped into confession by a desperate prisoner. None of this will be found in a history book, but it was all framed by what was a brilliant storytelling medium. Washington simply worked through his dilemma with his servant, Billy Lee and, of course, with the ghost of his brother. If they could find a way to tell every story on this show this creatively, they would have no problem drawing in more viewers. It was gripping and riveting every second that it was on the screen.
The acting on this show is stellar, but everyone featured this week stepped it up about ten notches. Jamie Bell was brilliant as Abraham in prison. Ian Kahn (as always) deserves major props in his "turn" (ha!) as General Washington. Burn Gorman gave a riveting performance as Major Hewlett this week. Of course, Samuel Roukin is sickeningly twisted in his portrayal of Simcoe week in and week out, and Kevin McNally (albeit, briefly) grounded the episode into the larger scheme quite well, by filling Abraham in on his true love, Anna Strong. Every actor on this show has done some great work, but an episode like this really allows certain people to shine.
I was absolutely blown away by this episode. Every pacing issue and criticism I've had about Turn flew out the window swiftly as I was enthralled for the entire hour. Even some of my previously mentioned favorite elements (like Benedict Arnold) weren't even missed. This episode proves that Turn can be what I constantly hope it to be, and I'm optimistic that it continue its momentum into its final three episodes of the season.
What did you guys think? Did you enjoy this episode as much as I did? Let us know!
Turn: Washington's Spies airs Mondays at 10/9c on AMC.
[Photo via AMC]