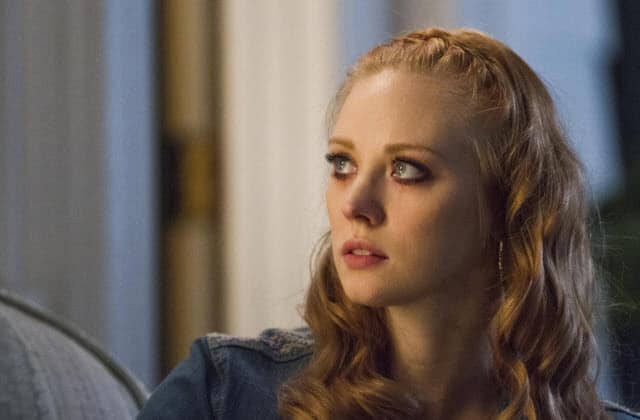 True Blood opens its final season right where it left off last year with the Hep V vampires attacking unsuspecting humans and vampires. If you haven't watched yet, I highly suggest you stop reading any further because a major death occurs before the opening credits even roll.
R.I.P. Tara. It was quite a shock for Lettie Mae to witness her daughter's second (and true) death. As a viewer though, I have to say I'm not all that surprised to see Tara killed off. Maybe it's just exhaustion from this show's often crazy storylines, but there wasn't anything particularly interesting about Tara left to tell. That being said, I have to wonder if this was really the last time we'll see her.
Once Lettie Mae and her husband are home, she starts going off the rails nuts, talking to her baby girl as if she can see her. Reverend Daniels calms his wife down rather quickly, but Lettie Mae mentioned that Tara is on the other side and hinted that she's in trouble. Hmmm, that sounds familiar if you're a fan of The Vampire Diaries. We have to stay tuned to see if True Blood tackles the afterlife as well. It would make sense, given that it is the final season.
Holly, Arlene, and a very pregnant Nicole are among the handful of humans kidnapped by the infected vampires. Sam and Alcide took off in their respective dog and wolf forms to chase after the vampires but they lost track of them, inciting a search across the town. Humans in Bon Temps aren't taking this outbreak of rabid vampires laying down. They're posing to be a problem this season, with vigilante groups already getting in the way of Andy and Jason's search for the Hep V nest.
Bill and now-mayor Sam imposed a law that every healthy vampire needs to be paired off with a healthy human to feed them in return for their protection. Lafayette unwillingly gets sent home with James (who, if you didn't notice, was recast since last season and replaced by Nathan Parsons.) The two strike up an unlikely friendship as a result of this forced pairing after they bond over the metaphysical aspects of life and death.
Another surprise pairing happened to be Jessica and Adilyn. If you remember last year, Jessica temporarily lost control and viciously murdered 3 of Andy Bellefleur's half-fairy daughters. Adilyn was the lone survivor and naturally, she and her father aren't ready to forgive Jess just yet. When Andy is called to join the vampire hunt, Jess vows to keep Adilyn safe at all costs. It's not long before her loyalty is proven when she defends Adilyn from a vampire attracted to the strong fae smell. Adilyn took her chances and saved Jess' life by inviting her into the house as the sun was rising. Andy might not agree with this decision when he realizes she's sleeping inside their attic, but he should warm up to her eventually for having protected his daughter.
Alcide and Sookie seem to be doing well now that they're (finally) together. Sookie overhears his thoughts amongst a crowded bar and assumes that he will always blame her for the vampire troubles in town. Maybe it's her own guilt talking, but she really was the first one to befriend a vampire, right? The lovebirds do eventually make up by the end of the episode. Of course though, Sookie's frustrations with her supernatural ability to hear thoughts finally reaches a boiling point. She explodes in front of the entire congregation in church, spilling her secret and making her stance known once and for all. I'm surprised it took her this long to finally let that off her chest!
With 98% of the characters home in Bon Temps, we still have a couple of characters missing. Pam's search for her maker, Eric, brings her to Morocco. At the end of last season, we saw Eric in all his naked glory soaking up some sun on a mountaintop just as the effects of Warlow's blood wore off. There's always a chance that he moved fast enough to get into shade and survived, but we still don't know his fate yet. Pam gets a lead from some vampires who claim to have knowledge of Eric's whereabouts. Either someone saved him, he saved himself, or she'll find out she was too late one way or another. What do you hope/think happened to him?
Overall this was just an okay start to the final season. Besides the major death at the beginning, the rest of the hour felt like it was dragging on to lay the groundwork for what's to come. Over the years True Blood has had its fair share of bizarre extremes (Billith, wolf pack drama, Maryann) so it's nice to see them reeling it all back to the simplicity of the first season by focusing on Bon Temps. We really don't need any more complications, but the possibility of addressing an afterlife for vampires would certainly be something new. Here's to hoping that's the direction the writers are headed, especially with Eric's fate still a mystery.
What'd you think? Got any theories yet?
[Photo via HBO]