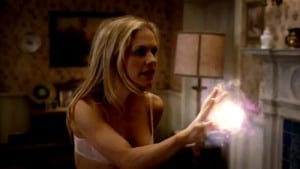 "And so it was that the people led Lilith to the sun. And so it shall be again. As the blood ascends, two will become one. When Light and Dark collide, our salvation is at hand."
This is the line from the Vampire Bible (not to be confused with passages from the book of Mark) read by Nora in "The Sun." In "**** the Pain Away," the meaning of this abstruse text is becoming more etched. Warlow is a fairy vampire, a creature representing both the light and the dark, and Bill makes many references about Warlow fulfilling the prophecy. Warlow is their salvation.
Is Sookie involved in some capacity? I mean, this is her show. Does she also need to ascend to her role as fairy vampire princess? (Is this absurd? Undeniably. Do we love it? You bet your ass we do!)
Last year on True Blood, we were led to believe that Warlow murdered Sookie's parents, but it turns out that was misguided. Warlow was promised Sookie as his princess by an ancestor of hers and after broaching the issue of turning her into a fairy vampire, her father is horrifyingly unreceptive. The notion of his daughter being a vampire is so revolting to Sookie's dad, that he resorts to stuffing her in a trunk to subsequently kill her. We subsequently see the same sequence play out again as her father possesses Lafayette.
This is a reoccurring motif of "**** the Pain Away," this nexus of love and hate, the killing of a loved one, often family. Sookie thought she hated Warlow, but now she is falling for him. (It didn't take long, did it? Warlow has mad game!) In a flashback to 3496 BC, Warlow appears to kill Lilith (his maker) by scorching her in sunlight. We also see Terry beseech his old friend from the Marine Corps, Justin, to kill him. Terry offers him money, but Justin agrees to do it for free. What else are friends for?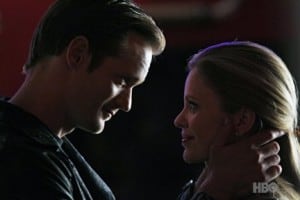 And of course we have the pièce de résistance: Eric and Pam facing off in a Hunger Games esque white room. Prior to this, Pam was chewing the fat with some staff psychiatrist. She tells him that she views humans as nothing but sustenance, and has no bond with any vampire. Eric released her and she is over it. She "feels nothing." But as they homicidally meet each other in the white room, we know that Pam has been posturing this whole time.
Here is what I have gleaned about vampire camp: There are four levels (and a VIP section outside of gen pop!), that are decided by your performance in the competition. Think of the Alpha, Beta, Gamma, and Delta taxonomies of Brave New World. Level one vampires are studied for their thought processes. They live a relatively cushy life, lying supine on sofas, speaking to psychiatrists. We aren't given any discernible information in regard to Level two or Level four, but the frequently referenced Steve Newlin is a resident of four. Tara and Jessica dwell in Level three, which is nominally known as "copulation studies"–you can guess what goes on there.
"Jason Stackhouse, I have never felt more holy than when I was with you and I truly believe God wants me to *** you."–Sarah Newlin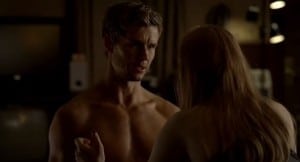 What do you get when you take Don Draper and significantly sap his IQ? Jason Stackhouse!* What, did you think he would decline an opportunity for sex? Get real! I guess I should be getting bored of this set up with Jason, but I'm not. It's seemed like eons since we had a Jason sex scene. The mood is marred when Jessica shows up post-coitus. Sarah callously ships Jessica off to vampire camp and skewers Jason. "My body is a ***ing temple," she says, "and you have defiled it with your vampire-loving!"
*Don't forget that in season 5 of True Blood it is revealed that Jason had sex with his one of his teachers in high school. That teacher: Anna Draper.
I thoroughly enjoyed this episode of True Blood. There were so many great one-liners I was tempted to just enumerate them in a bulleted list in the stead of this review. We still have Sam and Nicole's desiccated adventures, and Alcide repeatedly yelling, "I'm the pack master," but thankfully these were brief scenes. There was also that riveting sequence when Eric is shunted into the white room.
Great scene and a very cool episode of True Blood.
Tell us what's wrong with this post? How could we improve it? :)
Let us improve this post!