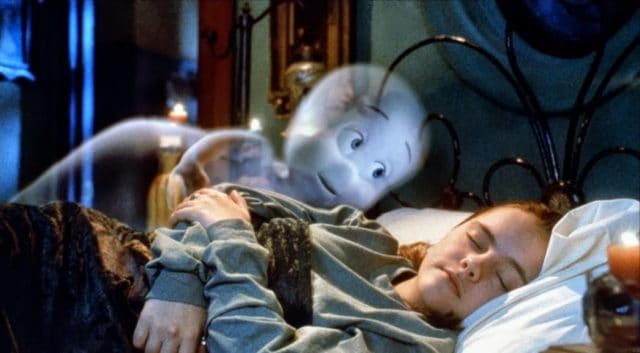 There might be a reason why we never hear about Casper's back story all that much, and it's largely because it could have very well put a damper on the movie, which was supposed to be a pleasant family film for everyone. Apparently Casper's back story was much darker and a lot more disturbed than anyone would have wanted to see in the film.
It starts off that Casper's mom passed away giving birth, leaving him to be raised by his father. Apparently his father was a pleasant and even doting man and tried to make his son happy. When Casper all but begged for a sled his father gave him one and allowed him to go sledding all day. Unfortunately it would seem that somehow Casper contracted pneumonia and died not long after. Instead of moving on to the afterlife however he stuck around, not wanting his father to be all alone.
This prompted his father to make the attempt to build an artificial body that Casper could inhabit. Unfortunately he was taken to an asylum before he could test the contraption out and was never seen again. That alone sounds like a very tragic story that understandably didn't make it to the final cut for the Casper movie. Detailing how he was all alone in the house was more than enough, but reliving the pain of an existence that was cut short by tragedy would have elevated the movie from being a family film straight into a supernatural drama that would have been a little too much to be a family-driven picture.
Casper the friendly ghost has been a cartoon that has been around for generations now and has been fully enjoyed by many kids whether it's Halloween or not. The story of Casper has been something that kids have managed to find endearing and even entertaining throughout the years. Yet it never struck a lot of people that the ghost of a kid could be anything tragic, mostly because Casper was such a fun-loving and kind spirit that no one really thought about delving into his back story. Nowadays however the idea of a child ghost is more than enough to get anyone riled and ready to ask a slew of questions.
It kind of doesn't help that there are a host of movies out there now that deal with children and the many issues they must face as well in very negative terms. Some of those that are supernatural in origin are more than a little disturbing and are uniquely geared towards making certain that the back story of the affected children is either as normal or as messed up as can be. So really, honestly, truly, Casper's back story is not as bad as it could be, but it is extremely tragic.
Casper didn't stay out of a deep-seated grudge or because he was afraid of moving on. He did so out of the deep love that he had for his father and the desire to not leave him alone in the world. So as dark as his back story might have b been it still had some light to it.
Save
Tell us what's wrong with this post? How could we improve it? :)
Let us improve this post!