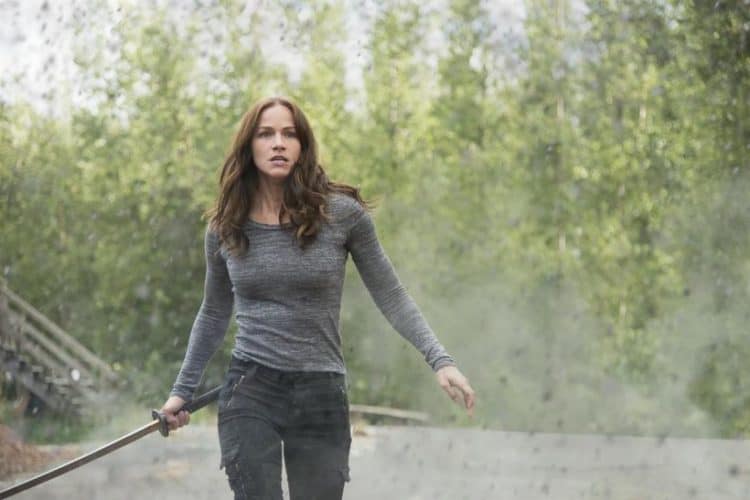 Kelly Overton is an American actress who is best-known to most people because she plays the lead character on Van Helsing. Since Van Helsing has started up on its fourth episode, this means that Overton has been in the spotlight in recent times. Here are 10 things that you may or may not have known about Kelly Overton:
1. Grew Up in Wilbraham, MA
Overton grew up in a town called Wilbraham that can be found in the state of Massachusetts. For those who are curious about how the town received such a curious name, it should be noted that there are a couple of villages called Great Wilbraham and Little Wilbraham that can be found close to Cambridge in England. The name can trace its roots to Wilburgham meaning "Wilburga's Homestead," which refers to a daughter of King Penda of the Mercians.
2. Of Cherokee Indian Descent
Through her father, Overton can claim to be of Cherokee descent. In short, the Cherokees are one of the indigenous peoples who lived in what is now the southeastern United States and northeastern Mexico. Curiously, the Cherokee language is considered to be an Iroquoian language. As a result, there is an ongoing debate about whether the Cherokees were relative latecomers to southern Appalachia or whether the Cherokees broke off from other Iroquoian-speaking peoples in much earlier times.
3. Very Athletic When She Was in High School
When Overton was still in high school, she was a very athletic person. For proof, look no further than the fact that she played both soccer and basketball, which were on top of her participation in high hurdles. In fact, Overton was undefeated at high hurdles throughout western Massachusetts in this period. Presumably, this athleticism has helped her out when it comes to her more physically-demanding roles.
4. Studied at the American Academy of Dramatic Arts
Upon graduating from high school, Overton went to New York City where she studied at the American Academy of Dramatic Arts, which claims to be the "first and finest" acting school that can be found in the whole of the United States. Besides her training, Overton managed to pick up some experience in New York City as well, which came from her involvement in both theatre productions and TV shows.
5. Was in All My Children
For a time, Overton was on the soap opera All My Children. In it, she played the role of Rain Wilkins, who wasn't a particularly prominent character but nonetheless showed up in 17 episodes. Her subsequent TV career consisted of single-episode roles for the most part for about a decade's time, seeing as how she didn't get another recurring role until Rikki Naylor on True Blood from 2012 to 2013.
6. Was in Tekken
In 2009, Overton played Christie Monteiro in the Tekken movie. For those who are unfamiliar with the fighting game franchise, Christie Monteiro is supposed to be the granddaughter of a capoeira master who was locked up in prison. While imprisoned, said capoeira master taught capoeira to a fellow inmate named Eddy Gordo, who in turn, taught capoeira to Christie Monteiro upon being released. It is interesting to note that Christie Monteiro was supposed to be the character by which capoeira was introduced to Tekken. However, the Tekken developers decided to go with a male character instead, thus resulting in Eddy Gordo being released before Christie Monteiro was released. Initially, the two characters hade much the same move-set, but over time, small changes have been introduced for the purpose of differentiating one from the other.
7. Was in Legends
Before Van Helsing, one of Overton's most notable roles was Nina Brenner on the second season of Legends. The TNT crime drama was centered on a FBI agent named Martin Odum who changed himself into a different person for each of his cases as an undercover agent. Due to this, he struggled with his real identity, so much so that an encounter with a stranger was capable of shaking him to his very core. In the end, Legends ran for just a couple of seasons from August of 2014 to December of 2015.
8. More Involvement in The Collective
Overton had a heavier involvement in The Collective than most of her projects. In short, The Collective was an indie horror movie that came out in 2008, which was centered on a woman stumbling upon the titular community while searching for her missing sister. Besides playing the main character in the movie, Overton served as the co-writer, the co-director, and the co-producer as well alongside her husband Judson Pearce Morgan.
9. On Van Helsing
Currently, Overton is on Van Helsing. Based on the name, it should come as no surprise to learn that Van Helsing is about vampires. After all, that name is most associated with Abraham Van Helsing, who was a major character in the original version of Dracula. With that said, Van Helsing is very different from said novel, not least because it is set in a post-apocalyptic world in which the vampires have taken over thanks to their superhuman capabilities.
10. Plays Vanessa Helsing on Van Helsing
On Van Helsing, Overton plays the role of Vanessa Helsing, who is descended from the Van Helsing bloodline. Story-wise, she is a very important character on the show, not least because her blood possesses the power to turn vampires back into humans. As a result, the character is much sought-after by both humans and vampires in the new world. As for Vanessa Helsing herself, she has further issues of her own, with examples ranging from having woken up into a unfamiliar world from a years-long coma to having to find her missing daughter Dylan. Personality-wise, the character is interesting in that she combines bravery, toughness, and an unswerving love for her daughter with some much nastier tendencies such as an arrogant kind of selfishness as well as a very self-destructive kind of impulsiveness.
Tell us what's wrong with this post? How could we improve it? :)
Let us improve this post!