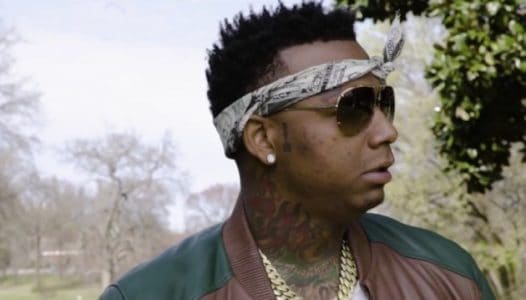 Moneybagg Yo has been in the industry for almost a decade, but it wasn't until recently that he started getting attention. However, the attention he gets isn't always focused on his music. In 2019, he dated Houston rapper, Megan Thee Stallion. Although the relationship didn't go far, it resulted in the single "All Dat" which has since been certified gold. Recently, he is dating Ari Fletcher, who previously dated –and has a son with — rapper, G Herbo. Don't get it twisted though, Moneybagg Yo is always about his music at the end of the day. He is known for releasing lots of music, and he doesn't plan on stopping any time soon.Keep reading for 10 things you didn't know about Moneybagg Yo.
1.He Has At Least 8 Kids
Recently, Moneybagg shared a photo of himself and his children enjoying some time together. For many fans, it was the first time they'd seen his children and lots of people were confused about how many he actually has. In 2017, he revealed that he had 7 children, and it appears he's had at least one additional child since then.
2. He Believes In Staying Patient
Lots of people expect things to happen overnight, but in most cases that simply isn't realistic. One of the reasons Moneybagg has been able to be so successful is that he understands the importance of being patient. Moneybagg knows that all of the hard work he's put in over the years will pay off in due time.
3. He's An Actor
Music is Moneybagg's main focus, but he's also trying to expand his portfolio to include other opportunities in the entertainment industry. He has been filming for a movie called 24 Hours. Originally, the movie was supposed to be released at the beginning of 2021, however, things may have gotten pushed back because of COVID-19.
4. He Used Feedback From Social Media To Inspire
Time Served
If you've ever wondered whether or not celebrities pay attention to what people say about them on the internet, the answer is yet – at least for Moneybagg Yo. In fact, he actually incorporated some of what people said on social media into his album, Time Served. He told HipHopDX, "I read a lot of my tweets and a lot of the comments that said they wanted the old Moneybagg and the old vibes that I used to give them. So, I kind of went back and studied my old projects. I closed my eyes and put myself in those elements and moods that I was in when I was making those projects. I just stuck with it. "
5. He Plans To Release 3 Projects In 2020
Moneybagg is known for releasing lots of music in a small window of time. In today's market, this is an important skill to have. Even though 2020 has been busy for him, this year won't be any different. In addition to Time Served, he plans to drop two other projects because the years is over.
6. He Started A Clothing Line
Moneybagg loves fashion and he enjoys expressing his personality through his sense of style. He also decided to take things a step further by creating a clothing line of his own. His company is called Bread Gang Clothing and he sells everything from t-shirts and hats to face masks.
7. He Got The Name Moneybagg Yo In High School
Having the right stage name is important, but Moneybagg Yo was actually using this name long before he hit the stage. He told Revolt, "I got the name in school from one of my homeboys. They gave it to me. We was in school, just runnin' around the hood. My name's Demario. So, they just put the Moneybagg over the Yo – kind of together."
8. He Makes Beats
Moneybagg is the type of artist who likes to be involved in all aspects of his music. He doesn't just come in the studio, lay his verses, and leave. He is also known to help with the production and even helped make the beat for his and Megan Thee Stallion's single, "All Dat".
9. Yo Gotti Is His Mentor
No matter what line of work you're in, it's always nice to have a person who can put you on game. Throughout his career, Yo Gotti has been that person for Moneybagg Yo. Yo Gotti signed Moneybagg in 2016 and the two became friends. Gotti taught Moneybagg lots of things about the industry, and although he is no longer signed to the label, he is eternally grateful.
10. He Likes His Privacy
Sometimes it's hard to believe that celebrities enjoy their privacy because they're always posting on social media. However, Moneybagg really does like to keep his personal life as low key as he can. Unfortunately, that's not always easy to do given the industry he's in.
Tell us what's wrong with this post? How could we improve it? :)
Let us improve this post!