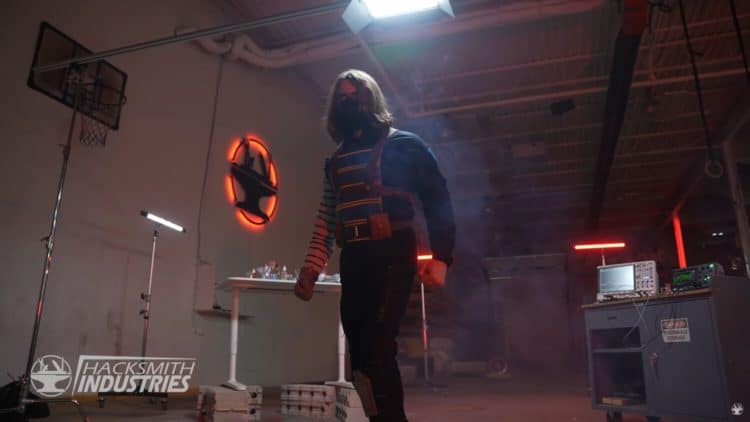 It's a dream that a lot of people have to be able to do things that heroes can do, even if the Winter Soldier didn't exactly start out as a hero. But Bucky's metal arm has been one of the coolest gadgets to ever be created in the MCU, and the fact that in the movies and in the latest series he has one made of pure vibranium is even better since it's able to take a lot more damage and be even more useful as a weapon if Bucky ever needed it to defend himself, which did come to pass a few times. But since vibranium doesn't exist in our world and a person isn't willingly going to cut their arm off to see if a metal one of this caliber can be made, it's necessary to come up with another way to replicate one of the best and most useful inventions in Marvel history. It's kind of amusing really that Bucky would be so popular since when it comes down to it he's not that powerful and relies more on weaponry and his arm than anything else.
But the fact that he was brought back into the MCU and has managed to stick around for a while has been impressive since he's hung in with the more powerful heroes and has even battled Captain America and managed to beat the living hell out of him. He's definitely stronger and more skilled than other fighters but to be fair, a lot of heroes could take Bucky out simply because they're stronger, faster, and have more going for them than strength and a metal arm. But watching this version of the Winter Soldier's arm come together was kind of fun since the whole idea of making his own arm resistant to damage using kevlar and other materials to increase the toughness was impressive. Also, putting titanium bars along the length of his forearm and covering up his hand with added protection was another nice touch.
But amazingly the dynamics of Bucky's arm, though recreated here in a very simple fashion, have more to do with the technology that was used to make the connection from his brain to his metal arm so that he could actually make it function the way he needed to. One only has to take a look at a prosthetic limb to realize that in a sense, even though this sounds horrible, most fake limbs are there to provide some sense of balance, as placeholders so to speak. They give the individual a sense that there's still something there in a lot of ways and in other ways can be useful, but without the proper neural connection that would enable the limb to move, a prosthesis is basically just there for appearances and possibly for some limited use. Bucky's arm is fully functional and this is because the connection was made while he was on the table being fitted with the mechanical parts that would enable him to use his limb rather than just swing it into place for protection or as a flail. The advanced tech that went into Bucky's design made it possible for him to use the arm he was given, but in the real world this kind of technology doesn't quite exist yet, or at the very least isn't readily available since implanting technological wonders in the brain of a person hasn't been given the green light, thankfully.
It's kind of disappointing to learn that the Hacksmith broke his left hand while working on another project, but hopefully he'll heal up alright and be ready to go eventually to show off how the sleeve he created will work. It's easy to agree with his decision not to go through with the tests even if his right hand was still intact since there's no need to risk further injury that would take longer to heal. This guy is all about working on his projects and it's fair to say that plenty of people love to see what he does, so waiting for him to heal up and make another video that will show the full test of the arm isn't too much to ask really.
In the meantime, a person could brush up on their knowledge of the Winter Soldier or watch any of the other videos that the Hacksmith has put out since there are plenty that he's completed showing other weapons and items that he's made that work in their own way and are devastating in the kind of destruction they can cause. While he's not the only person online that's performing in this manner, he's definitely one of the more interesting to watch since he gets into what he's doing and his creations usually end up being successful and definitely impressive.