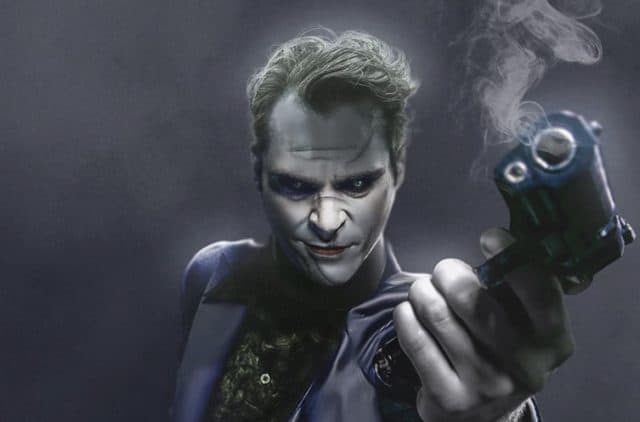 Though Joaquin Phoenix has a long history of avoiding films with a superhero genre, he apparently has made the exception to this upcoming DC Extended Universe standalone movie. As of this writing, nothing has been inked, but insiders say it is almost a certainty. The reason may be very simple. At 42, Phoenix wants to be connected to yet another one-of-a-kind movie that will showcase his villainous talents. Of his previous efforts, Gladiator is the best known. (There was zero possibility of a Gladiator 2 and we are all the better for it.)
According to IndieWire, "The Joker movie is expected to take place in the 1980s. The project is being described as more of a crime saga in the vein of a Martin Scorsese movie than a traditional superhero origin story." This is the first reason Phoenix is perfect for the role. He can be "his own" Joker and not have to follow in the star studded list of previous Jokers, including Jack Nicholson and Heath Ledger. Phoenix always manages to bring a macabre sense of bewilderment to his characters (see The Immigrant).
Another reason for choosing Phoenix is the cinematic combination of Martin Scorsese and Phoenix. Movies such as Taxi Driver that concealed a violent inner character with a mentally deranged persona is a perfect foundation for him. A look at Phoenix's Commodus character in Gladiator shows how well he handled that combination. This combination will also work well together in following in the footsteps of the performances of Nicholson and Ledger. Because this is a standalone project, it is important that there is a jumping off point to the Joker sequel characters that have followed.
But the mentally deranged character trope carries over from the Joker as a character to the actor who is actually cast for the role. Few in the audience knew what to expect from Nicholson as the original movie Joker, and virtually no one saw the performance of Heath Ledger becoming legendary in the DC Extended Universe. The truth is, no one knows what to expect from Phoenix should he sign on to the project, which means there will be a long line of Joker and Phoenix followers that will dominate social media and the hype of the yet to be named movie.
Finally, as Phoenix has demonstrated in The Master he has the unique ability to goad people on and extracting the other person's pent up violence towards his character. This is a perfect approach for him to take as the Joker because there is an underlying sense of humor in this goading process. As he explodes in Gladiator at his sister after the plot to dethrone him has been discovered ("Am I not merciful?!") you have to laugh inside and think, "Yeah dude." There is a purpose to the Joker's actions, and we are likely to see a combination of derangement and genius in Phoenix's performance.
It's likely there will be no official announcement of signing Phoenix to the role until the last minute. Why kill the buzz? While his performance will be a one-and-done in the DC World, he has the talent and the quirky personality to make it a memorable one.