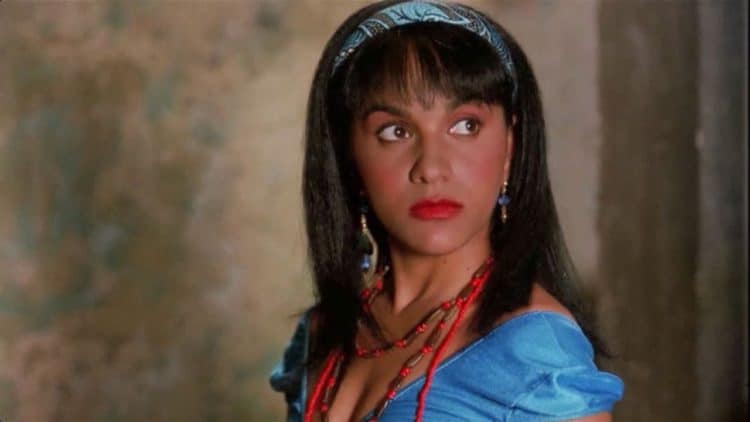 Sometimes it's hard to remember people by their names and easier by appearance, but with Kelly Jo Minter it's difficult for some folks to remember her from certain roles since her appearance has changed over the years. One might think that her name sounds familiar and could possibly pick her out according to one movie or TV appearance, but again, her appearance has changed enough to make it difficult to realize that she is the same person that you might have seen in the past. She definitely looked different as a younger woman when she was taking on various roles in TV and in the movies. Some might be surprised to learn that she got her start working on adult movie sets, not as an actor, but as one of those that worked off-screen to make certain that the look and sound of the movie came out the way it needed to be. This is where she started getting acting roles, with her clothing on and in roles that would eventually give way to a career that has lasted for decades now and is still ongoing since it would appear that she's still active. Her career has continued to move forward despite the idea that she's not really known to a lot of people these days other than those that have been following her for a while and are aware of what she's done and what her career was like, to begin with.
It would be impressive if a lot of people could honestly state that they remember her earliest roles, as she did play a blind prostitute in the movie Mask, and she has had a great deal of experience on TV. But it's roles such as Denise in Summer School that a lot of folks might remember since to be fair she did play a bigger role and was someone that was given a good deal of focus since like the rest of the teens in the movie she had an issue that she needed to work through and her own character arc depended on the triumph that was shared by the class near the end. Given that her big challenge was driving and parallel parking it's easy to relate to such a roll since a lot of people still have these issues when they're teenagers just learning to drive. As far as the issues with passing a grade in high school, well, a lot of people don't have that issue since some either drop out, some are given the option of taking a year over, and some are given the benefit of one program or another that is designed to push them through the system.
Another role she took on was Yvonne from Nightmare on Elm Street 5: The Dream Child. Amazingly as it happens her character did survive despite not believing in Freddy for the longest time and thinking that her friend Alice was going off the deep end. While it wasn't the best of the franchise, the movie did have a lot of people talking since it had to do with one of the main characters that had been left giving birth, something that gave the infamous Krueger another way to be reborn, and something that was a little bit disturbing to be certain. But as awkward of a movie as it was it did get some attention and it was another role that helped her along and became a part of her career. Since that time she's stayed busy, but only a few of her roles could really be called anything that might be worth the attention. That might sound harsh, but the moment in which she was truly great came long ago when she was still young. As she's continued forward she's definitely managed to maintain her career in show business, but she's also had other pursuits, such as making handbags, which she has been doing for a while now. In fact, she started up her own line back in the 2000s and it would appear that things have been going well enough that she might still be doing this. As one of the actors from the 80s that created a little bit of a buzz but nothing that great, Kelly has become part of a legacy that includes quite a few people who started making it big decades ago but kind of slipped as the years kept rolling on. The fact that she's remembered is impressive, and it's enough to say that those of us who were growing up during her rise to fame and managed to see some of her best roles will continue to remember her for some time to come.
Not everyone that started out decades ago still has their career at this point or can say that things went all that well, so Kelly is still ahead of the game.
Tell us what's wrong with this post? How could we improve it? :)
Let us improve this post!