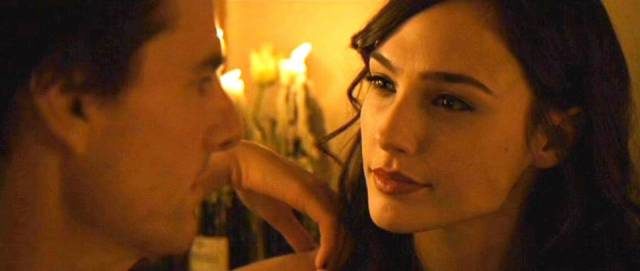 If there's a new "it" girl for 2017 I think 100% of the vote would go to Gal Gadot. I feel like her appearance in Wonder Woman is practically the equivalent of her winning best actress at the Oscars. While there's a zero percent chance she gets nominated for best actress for her role in Wonder Woman, the effect this movie is having on people is a major step for women in film and films in general. The box office certainly speaks for itself but what this movie appears to be doing for the confidence of women in film is tenfold.
The thing is, it's not like Gal Gadot hasn't been around. She's been acting for a while but it's evident that this movie has put her beyond the stratosphere. In that light we figure it's time to examine the beautiful Israeli actress further.
Here are 30 awesome facts about Gal Gadot.
Gal Gadot was born in Israel on April 30, 1985. Her mom was a teacher, and her father was an engineer. (She's on the right.)
Growing up, Gadot wanted to be a choreographer before switching paths to focus on law. But her plans changed after she met a pageant scout.
She participated in the 2004 Miss Israel contest and won, which launched her into a modeling career.
Gadot said she rebelled while at the Miss Universe pageant by showing up late and not coming prepared.
After she participated in the pageant, she left to serve two years in the Israeli army, which is required of all Israeli citizens. Afterward, she began studying law at university.
While Gadot was in school, a casting director for "Quantum of Solace" saw her modeling card and reached out to her for an audition. The part ultimately went to Olga Kurylenko
She ended up landing her first acting gig on an Israeli TV show, "Bubot," and left university.
She married Yaron Versano in 2008, and the couple has a 4-year-old daughter, Alma
Her Hollywood career started after she was cast as Gisele in "Fast & Furious," whose casting director was the same from "Quantum of Solace.
She even did her own stunts in "Furious 6."
She appeared in an episode of "Entourage" in 2009.
Gadot was cast in "The Beautiful Life," a short-lived CW series about models in New York City. Ashton Kutcher served as a producer on the show.
She starred alongside Tom Cruise and Cameron Diaz in "Knight & Day."
That same year, she appeared as Mark Wahlberg's girlfriend in "Date Night."
She went on to star in some Israeli TV shows, including "Asfur."
Gadot stars alongside Chiwetel Ejiofor, Casey Affleck, Anthony Mackie, Woody Harrelson, Aaron Paul, and Kate Winslet in this year's "Triple 9."
She's also a big fan of motorbikes and owns a 2006 Ducati Monster-S2R.
Gadot made her debut as Wonder Woman in 2016's "Batman v Superman: Dawn of Justice."
In reviews for the film, Gadot's Wonder Woman earned high praise.
"She steals every scene she's in, and has a look and swagger that are perfect for the superhero," writes Business Insider's Jason Guerrasio.
Fans praised Gadot's Wonder Woman on Twitter and her character's appearance was met with applause at some screenings.
"For 'Batman v Superman' it was important for me that we show how independent she is. She is not relying on a man, and she's not there because of a love story. She's not there to serve someone else," she told Glamour.
Gadot said she couldn't breathe in the early version of her costume.
She is now starring in her own film, "Wonder Woman," which is the first solo film the heroine has ever had.
She stars alongside Chris Pine as her love interest, Connie Nielsen as her mother, Queen Hippolyta, and Robin Wright, as her aunt, General Antiope.
Gadot says Diana/Wonder Woman is accessible.
It was important for Gadot that a woman direct the movie.
Gadot said that working with a female director allowed them to depict Wonder Woman in a "normal" way.
She wants Wonder Woman to be a role model for girls. "I feel that I've got the opportunity to set a great role model for girls to look up to a strong, active, compassionate, loving, positive woman, and I think it's so important," she said.
She gained around 14 pounds of muscle while training for the role. Her regimen included kung fu, kickboxing, swords, and jujitsu.
The film premiered Friday June 2 and earned over $100 million in its first weekend.