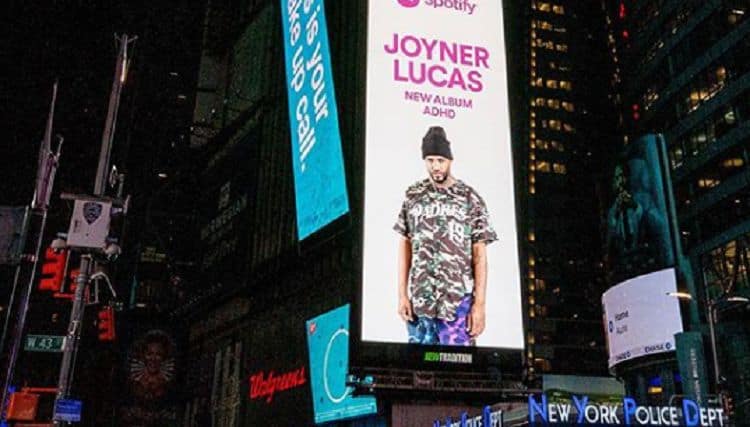 Massachusetts native Joyner Lucas (or Gary Maurice Lucas, Jr, to give him his birth name) achieved widespread acclaim in 2015 for his release, Ross Capicchioni. Since then, he's gone on to carve out a hugely successful, if sometimes controversial, career as a rapper, producer, songwriter and actor. In 2019, he cemented his achievements with two Grammy nominations for Best Rap Song and Best Music Video. He may have left the awards ceremony empty- handed that night, but with upcoming album, ADHD, set to replicate the success of his commercial debut, 508-507-2209, its unlikely he'll be doing the same again. Read on to discover more about the rising talent.
1. He's recorded under several names
When he started recording, Lucas performed under the stage name G-Storm. In 2007, he abandoned the G-Storm moniker in favor of Future Joyner. At around the same time, Lucas started working with his uncle, Cyrus tha Great, and together they formed "Film Skool Rejeks". The group released Workprint: The Greatest Mixtape of All Time, but Lucas continued to dream of solo success… something he realized in 2011 when he released the solo mixtape Listen 2 Me. By then, the rapper had changed his name again, and was now performing as Joyner Lucas.
2. He signed his first major record label in 2017
After years in the indie wilderness, Lucas won his first major record contract in September 2016. The signing with Atlantic Records represented a dream come true for Lucas, who revealed to From the Oh that, while he understood the attraction of independent record labels, for him, a big label seemed the surest fire way to success. "I always had dreams of signing to a major label," he revealed. "To be a successful independent record label you go to have bread and you gotta have your own resources. At the end of the day, it's like why don't I just get that machine? I know I needed a machine to become what I wanted to be."
3. He has a son
Despite being notoriously private about his personal life, Lucas does occasionally let his guard down when it comes to talking (or rather, rapping) about his son. Lucas is known for making frequent references to the child on his tracks and has described the process of writing about both his son and his estranged girlfriend as almost cathartic. "Those are feelings that always been there and in order for me not to feel the way that I felt towards my son's mother, I needed to get that out and I needed to let the world hear it," he shared with XXL Magazine.
4. He's been nominated for 2 Grammys
Despite only being in the public eye for a short time, Lucas has already achieved considerable critical acclaim, even managing to bag 2 nominations at the 61st Grammy Awards. His first nomination was for Best Music Video for "I'm Not Racist", the controversial 2018 release that polarized opinion with its topical exploration of race relations. The second nomination was for "Lucky You" in the Best Rap Song category. Lucas was pipped to the post by Childish Gambino's "This is America" in the Best Video Category and Drake's "God's Plan" for Best Rap Song.
5. Ross Capicchioni is based on a true story
Lucas' standout track from 2015 is based on the true story of Ross Capicchioni, a 17-year-old who survived a near fatal assault during a gang initiation. During the initiation, a "friend" of Capicchioni drove him to a secluded location in Detroit and shot him three times before driving off, leaving the wounded Capicchioni for dead. Fortunately, Capicchioni managed to make it to safety and survived. The video to the track follows the events leading up to the shooting, with Lucas taking up the perspective of the shooter.
6. He's humble
Humility might be rare in the entertainment business, but Lucas has modesty to spare. Despite facing constant comparisons to the likes of J. Cole, Kendrick, Drake and Eminem, the humble Lucas is keen to play down his talents against those of such hip-hop greats. "I don't have any issues with saying that I think they are better than me," he shared with From the Oh. "I think Drake is better than me, I think Em is better than me, I think Kendrick is a better artist than me, a better writer. I'm not here to be the best or feel that I'm the best or I'm going to be the best over the whole rap world."
7. His music has featured on a sports video game
In 2017, Lucas' debut with Atlantic Records, 508-507-2209, impressed the creators of Madden NFL 18 so much they decided to feature his track "F.Y.M." (ft. Mystikal) on the soundtrack to the popular video game. Other artists to feature on the soundtrack include Kendrick Lamar, A$AP Mob (Rocky), Playboi Carti, Logic, Joey Bada$$, Action Bronson, Big Sean, Travis Scott, Frank Ocean, among others.
8. He's working his way to a fortune
As his mainstream success has been relatively recent, you wouldn't expect Lucas to be raking in the millions just yet… but you'd be wrong. As of 2019, Lucas can now truthfully claim to be a millionaire, with sources estimating his current net worth to be a very exact and a very cool $1 million. Given the rapper's career is still in its infancy, it's a fortune that's only set to grow.
9. He's polarized opinions
In 2017, Lucas dropped "I'm not Racist", an exploration of the current state of race relations in America. Despite certifying Gold, winning a Grammy nomination and accruing over 85 million YouTube views, the single proved highly controversial, polarizing opinion and sparking debate about both its intent and its delivery. Some critics were enamored with the endeavor, with Hollywood Life claiming the video "perfectly explains racism in America." Others were more conservative with their praise, while some were downright hostile. During an episode of Desus & Mero, the two hosts mocked the track for being overly reductive, cheesy, and in its essence, just "another rap song about racism."
10. Eminem is a key influence
Music critics have frequently highlighted the similarities between the young rapper and Eminem, and they aren't wrong. Lucas is a long-time fan of the hip-hop legend and cites him as one of the key influences in his music. "Eminem has been someone that I've always considered the greatest ever, to ever do it," Joyner has shared. "Do you know what I mean? In every aspect, the storytelling abilities, lyrical ability, honesty. You can hear it in my music that I'm heavily influenced by that." In 2018, Lucas got the chance to collaborate with his hero on 'Lucky You', a track taken from Eminem's Kamikaze album of the same year.
11. He parted ways from Atlanta Records in 2018
In December 2018, Lucas revealed he had parted ways with Atlanta Records just 2 years after his signing. Lucas made the announcement on Twitter, saying: "Did I forget to say I'm now 100% Independant?. which means im no longer signed to ATLANTIC. Great record label and great people so it's always love. I just wanted to be back on my Independant wave." The parting of the ways hasn't put a stop to Lucas' ambitions, however, with new album, ADHH, already planned for release later this year.
12. He's got beef with Tony Lanez
In November 2018, Lanez took to Instagram Live to claim he was better MC than Lopez. Lopez responded by inviting Lanez to a challenge in which both MC's would pick a track, rap over it, and let the public decide which of the two did the best job. One lengthy freestyling battle and much social media taunting later, Lanez declared himself the self-proclaimed victor, saying:- "That Joyner Lucas kid–I want to offer this moment right now to give him a good moment of silence and rest in peace, because today his career is over. Joyner Lucas, we killed you. It's done."
13. He had a feud with Hopsin
In Fall 2018, Lucas found himself in the midst of another hip-hop feud when Hopsin implied in a Q&A session that he was the better rapper of the two. A war of words broke out, culminating in Hopsin telling Lucas that he would "break his soul"- "Stay in your lane bro @joynerlucas….. I will [break] your soul.. #AndIPutThatOnEverythang," he tweeted.
14. He's incited the wrath of the Catholic Church
Like much of Lucas' work, his May 2019 track "Devil's Work" stirred up some significant controversy. This time around, it was the Catholic Church getting all hot under the collar. The video to the track was shot at St. Peter's Catholic Church in Worcester; while Pastor Monsignor Francis Scollen was initially happy to give the crew access to the church, he later regretted his blessing after watching the video of Lucas swearing and drinking alcohol in the holy surrounds. The Pastor claimed to his local paper that the video had been presented in a very different light at the onset, and he was surprised and disappointed with the final result. Lucas had a very different interpretation of events, saying that not only had the concept been fully explained to the Pastor, he'd even been compensated for allowing them to use the church.
15. He's not a fan of Tomi Lahren
The pastor of St. Peter's Catholic Church's isn't the only one to have taken issue with "Devil's Work". In the controversial lyrics to the track, Lucas pays homage to late musical legends such as 2Pac, Michael Jackson and Nipsey Hussle, while simultaneously drawing up a list of people "who deserve to die instead". Those on his hit list include Suge Knight, Donald Trump, George Zimmerman, and Tomi Lahren. Not surprisingly, far- right pundit Lahren has taken exception to her inclusion, referring to it as "disgusting" and a "step too far." She has, however, been willing to try and find some common ground with Lucas, suggesting the two should sit down together for some face to face time. Her request has been flatly shot down by Lucas, who says "I have nothing to say to her."
16. He's collaborated with Chris Brown
If his solo musical output wasn't controversial enough, Lucas has also sparked debate over his choice of collaborators. In February 2018, Lucas joined forces with one of hip-hops most contentious figures, Chris Brown. The result was a joint project entitled (somewhat aptly) "Angels and Demons". Lucas has taken to social media on numerous occasions to defend his musical partner and has even stood by the beleaguered rapper after rape allegations surfaced earlier this year. "I'm really starting to believe that TV networks are paying m********s to false claim allegations just so they can turn it into a documentary," Lucas tweeted.
17. He's BOI-1DA's favorite lyricist
Lucas recently got the seal of approval from Canadian hip-hop producer BOI-1DA. The producer worked closely with Lucas on 2017's 508-507-2209 as well as on his forthcoming release, ADHD. When asked what attracted him to the idea of working with Lucas in the first place, the producer responded "Not only the fact that he's one of the best lyricists and storytellers I've ever heard, but also his creativity and his ideas were just way outside of the box. He's not your conventional artist."
18. He drew criticism for defending R. Kelly
Following the premier of the Lifetime documentary "Surviving R.Kelly", Lucas took to Twitter to offer some words of support to the beleaguered hip-hop artist. "I know this has to be one of the hardest patches in your life right now @rkelly. I'm saying is please don't hurt yourself or take yourself out. I'd still be sad." The ensuing uproar forced Lucas to delete his Tweet and qualify his words by saying he was simply trying to discourage Kelly from harming himself… something most fans struggled to accept when it emerged Lucas hadn't even watched the documentary in question.
19. He's not a sports fan
Despite one of his tracks appearing on a sports game video, Lucas isn't a sports fan himself. "I stopped watching sports because I didn't want to watch someone running up and down the field making millions and I'm not doing anything about it" he's explained. "That methodology made me go harder and take control of my career."
20. He's active in the whole musical process
Lucas is involved in the whole creative process for his musical output, from the lyrics, to the rapping, to the accompanying music videos. During an interview with Billboard, Lucas let slip that he often envisages the music video before he even begins to lay down the track: "I actually write the video treatment before I write the record. I do the editing and directing. I'm 100 percent involved with the direction of the videos in the record".