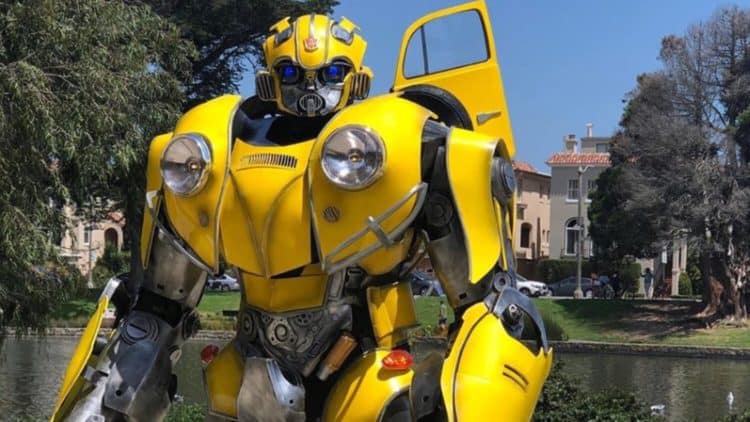 Just don't ask him to transform, since that might get a bit gruesome. Otherwise, this Bumblebee cosplay is extremely impressive since the fan sporting the outfit looks absolutely authentic, having recreated the look of the famous Autobot from the standalone movie with such precision that one almost expects him to turn into a VW bug at some point. The manner in which the individual moves about makes it clear that it's not exactly the most comfortable costume since it looks pretty bulky and wouldn't allow the wearer that much mobility, but the appearance is so spot on that this wouldn't matter to a lot of people. It feels awkward to say, but the look that Bumblebee rocked in the standalone movie was actually considered a lot more traditional than the one he was given in Michael Bay's Transformers. His update was definitely cool, but a lot of people were likely waiting for Bumblebee to resume the form that a lot of people knew him by thanks to the cartoon. It was pretty amusing when a VW was placed side by side with Bumblebee in the first movie, but this form is what a lot of people remember from their childhood and it was a nice throwback when the movie was released.
https://www.instagram.com/p/CDsYjJNDlnm/?utm_source=ig_embed
As one of the most courageous of the Autobots, Bumblebee has been a big deal in the franchise for a long time, even though he's also been considered to be one of the weakest due to his size and the fact that his firepower isn't nearly as forceful as other Transformers. But despite that he's been seen as far more heroic than a lot of his kind since he's hung in with some of the most powerful Transformers and held his own pretty well. The smaller Autobot has a lot of heart as it's been seen in the story and the kind of conviction that allowed him to stand against Optimus Prime when he'd been corrupted at one point. The Last Knight might not have been the best movie out of the bunch, but it certainly showed that Bumblebee isn't about to back down from a fight. That's one reason why he's become such a fan favorite over the years since his size doesn't mean much when its compared to the determination and courage that he's shown throughout his history in the franchise. A lot of people might look up to Optimus Prime and the others, but Bumblebee is one of those that has the most staying power and as a result has only become more popular as the years have rolled by.
Out of all the Transformers he's kind of become the face of the franchise since Michael Bay helped to bring them back in a big way, especially since he's the first one that made contact with Sam Witwicky and called in the other Autobots. There's still a gap between the standalone movie and the first Michael Bay feature, but whether someone will have the ambition to make another movie is kind of hard to say since it might be cutting things pretty close, especially since it would mean more encounters with the Transformers before Bumblebee meets Sam, which means more for the government to cover up and more storyline that's needed to explain things away. Obviously it's possible, but the question is whether it's necessary or not. At this point, it almost feels that people have grown a little tired of the Transformers, but maybe things will turn around at some point. After all, if someone is willing to go to this length when it comes to creating a cosplay outfit it's evident that enough people still care about the franchise to represent it in a way that will undoubtedly spark the fanbase once again.
Just thinking of the time and effort that was put into making this outfit is nuts since each plate and each part had to be created to fit together in such a way that it would have to be exact in order to make it all work together. Crafting any Transformer outfit would be difficult no doubt, especially since a lot of them are pretty bulky considering the nature of their form, meaning that every working part has to be in the right place for them to transform and thereby look authentic. The attention to detail is simply amazing, but it's obviously not a suit that's going to allow a person to get up and run the way the titular hero does in the movies since just listening to the person walk around is enough to indicate that there won't be any quick movements in this suit. That's okay though, since looking at this creation is definitely good enough, though one can guess that the creator has had plenty of questions to answer when it comes to explaining just how this suit came to be.