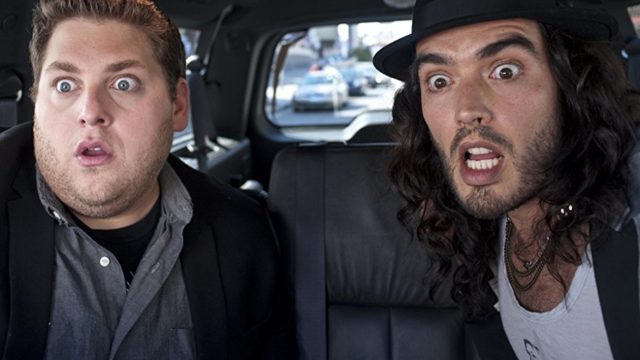 British comedian Russell Brand has built a solid career as an actor over the past decade. Brand has proven his versatility. He can play dramatic roles as well as comedic roles. He can even voice animated characters. Brand was born in Essex England in 1975 and started his career as a stand up comedian and soon became a presenter for MTV. He got America's attention playing a British rock star in 2008's "Forgetting Sarah Marshall". Brand continues to act and perform stand up comedy regularly. He is also an activist and author helping to raise awareness of inequality and addiction recovery.
Here are the top 5 Russell Brand movie roles of his career.
In one of the most awkward odd couple pairings, Jonah Hill and Russell Brand join forces in the dark buddy comedy "Get Him to the Greek", the 2010 sequel to "Forgetting Sarah Marshal. Russell Brand reprises his role as British rock star Aldous Snow who is going through a low period after a failed album, a breakup, a relapse and not being able to see his son. Jonah Hill plays Aaron Green, a Los Angeles record company promoter who comes up with the idea to promote a tenth anniversary concert by Aldous Snow at LA's "The Greek Theater". Sean Combs plays the record executive who sends Green to London to "get Aldous to the Greek". Snow and Green have a whirlwind adventure that takes them from London to New York City to Las Vegas and, finally, to "The Greek Theater". Brand's out of control rock star is unforgettable.
Brand appeared in British films before he was introduced to America in 2008's "Forgetting Sarah Marshall". He plays rock star and recovering addict Aldous Snow in the quirky romantic comedy produced by Jason Segel and Judd Apatow. In "Forgetting Sarah Marshall" Kristen Bell plays Sarah, the ex-girlfriend of Jason Segel's Peter. They accidentally meet up on vacation in Hawaii where Sarah is staying with her new boyfriend, rock star Aldous Snow. Brand's portrayal of the British rock star is spot on and America became a big fan.
https://www.youtube.com/watch?v=s_JMTGnYmuU
Hot on the heels of his introduction to the American audience, Russell Brand was cast in the animated hit "Despicable Me". He plays Dr. Nefario in "Despicable Me" and its sequel. Brand voiced the character of the hearing impaired, British accented inventor and partner in crime of super villain Felonious Gru (voiced by Steve Carrel). Brand's scientists helps Gru steel a shrink ray from rival Victor (voiced by Jason Segel) to shrink and steal the moon. Along the way, Dr. Nefario falls for Gru's mother Marlena (voiced by Julie Andrews). Brand created some of Dr. Nefario's lines adapting his comedic skills to animated comedy.
https://www.youtube.com/watch?v=rtTVquZ2TFk
Although the 2011 remake of the 1981 Dudley Moore hit "Arthur" wasn't a commercial or critical hit, Russell Brand was the perfect choice to play the childlike, spoiled and often drunk Arthur who stands to inherit billions if he marries a girl who his family chooses. Of course, Arthur falls for a New York City tour guide. His family doesn't approve but his faithful nanny encourages him to follow his heart. Brand plays the role of Arthur exactly as Moore famously did, with comedy and with hearth.
Although he has become popular in American film, Russell Brand remains a mainstay in British comedy. He appeared in the popular British film, 2007's "St. Trinian's" and its sequel. The "St. Trininan's" franchise is an English comedy based on the comic strips of Ronald Searle and adapted to movies since 1954. "St. Trinian's" follows the antics of an all girl English school. Russell Brand plays the character of Henry Cuthbert Edwards better known as "Flash Harry". Harry is a cockney conman who befriends the girls of St. Trinians and helps them with their illegal activities. Brand is perfect for the eccentric role.