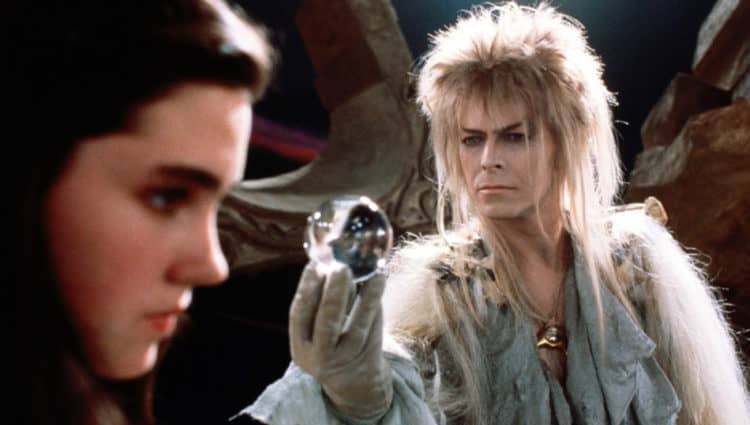 There were really no words for the greatness that was David Bowie. The current generation might not know as much about him as those of us who grew up with him do, but they're capable of learning at least as you'll see in these clips. Bowie was in a word, awesome. He was ground-breaking in a time when innovation and new ideas were constantly abounding and he always managed to push the envelope somehow. That's the mark of an excellent musician and a talent that can't possibly be matched. And eventually when he went into acting it only heightened his appeal, making him that much more of a legend.
In films, his music was more than just stunning, it actually gave them another level of depth that made them that much better.
5. Labyrinth
Tell me you don't remember this movie and I'll tell you that you had a dismal childhood. Labyrinth was just one of those films that you grew up watching over and over. It's the type of movie that was disturbing when you were too young but awesome when you got a little older. Despite his funky hairdo, which was fitting with the times, he was the perfect Goblin King and the saving grace of a film that might not have gone anywhere if not for his influence.
4. Inglorious Basterds
There is no other way to say it, Shoshanna is preparing for war. The sound of Bowie's voice coming in through the background is almost a declaration all on its own. You can feel your blood boiling as you see her standing at the window with the Nazi flag hanging outside. At that point you know that the situation is about to get rough, and Shoshanna is about to bring the pain.
3. A Knight's Tale
Such a simple, airy song, but it manages to carry a very important theme that helps to drive the movie and keep it just light enough that one wishes to keep watching to see how things develop. While it's not a historically accurate piece, and it's not meant to be, Bowie's music in this film is such that it actually adds another needed layer to its comical and laid back mien.
2. The Perks of Being A Wallflower
The fact that Emma Watson's character loves the song is enough to say that she has good taste. Plus, it's the kind of song that makes you want to spread your arms and simply let the wind drift past your form in a way that gives the impression of flying. It's the freedom of the music that allows you to feel what it is like to be unencumbered and completely at ease. If only for just one day.
1. The Martian
Stranded on a planet that's about as inhospitable as it can get, stuck without the needed supplies, one can only imagine how anyone would get by. Yet for some reason Bowie's voice gives the right amount of hope to this otherwise hopeless situation. It seems to remind one that there's always something to look forward to even if it seems so far off.
Bowie was a legend in the music and film industry. He will be missed.
Save
Tell us what's wrong with this post? How could we improve it? :)
Let us improve this post!