If there was one thing we have come to learn (and love) about The Vampire Diaries, it would have to be the insane twists that are hurled at us in each intensely, wicked episode. I have fondly come to call these erratic moments "-slap" inducing, because their impact is the equivalent of a sudden back hand slap across the face from a pissed lover, friend, relative, whatever. The entire first season of TVD has a plethora of these moments to the point that a top 50 list could be made, but we are going to stick with tradition of the top ten so that reliving these game changing moments won't be so painful. My whiplash still hasn't left from one particular moment earlier in the season, so imagine having to live through about 80 more!
So, let's begin the countdown! Have your therapist on speed dial…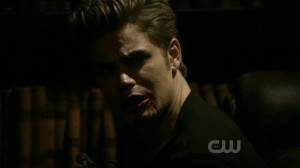 10) Stefan Falls Off The Wagon
While this one might not be so shocking to many viewers, it was a big one to me at the time it was revealed. All season long we had a clear cut line between the Salvatore Brothers. Stefan: Good. Damon: Bad. Stefan was Elena's knight in shining armor, which was a little too shiny for some people. He had to have a secret or some sort of weakness to his character for his personality dial to be constantly set on "Broody", which is why I think that the cults of Delena fans are growing in droves, because his persona was getting "boring". Then we are knocked in the face with this little roadblock, which unsettled all Selena fans to see Stefan in this state. Even though some people hated it, the move was necessary to remind us of Stefan's true nature, which is that he's a monster, but a monster with a heart. Let's not forget that…
9) Damon's Plan
When Damon unveiled his plan to open the tomb of vampires beneath Old Fell's Church, a million mouths dropped at the prospect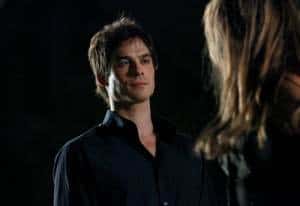 of numerable blood starved vamps descending on to Mystic Falls. The show was still in its early stages and we had already seen enough bloodshed as it was, so, it wasn't too far of a stretch for the writers to bring more hell upon the denizens of Mystic Falls. But why would Damon want to overpopulate MF with vampires? To save his beloved Katherine, of course, but as we all know, that plan didn't fully work out. That doesn't mean that when it was announced that fans didn't flinch at Damon's increasing evil streak.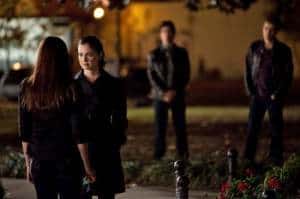 8) Elena is ADOPTED!!!!!/Isobel (Alaric's "Dead" Wife) is Her Real Mother!!!!!
Having both of your parents die in the same tragic accident is devastating. Finding out that those very parents aren't biologically yours? Suicide inducing. Discovering that your mother is now a vampire who is a direct descendant of the most notorious vampire in the underworld? Being-hit-by-a- Mack Truck Suicide Inducing. Elena took these revelations like any teen would, but bounced back each time stronger than before. If it had of been me, I would've taken news like any deranged person and went buck ass crazy, which is why the good Lord made sure that I was not Elena. So after she has dealt with these life-altering experiences, Elena gets the unfortunate chance to meet her vampire mother, Isobel, who turns out to be one cold person, AND finds out that her much hated uncle, Johnathan Gilbert, is actually her biological father!?!?!? Oh, the drama and angst will never end for this poor girl!!!!
7) Tyler's Birthright
Everyone wondered why Tyler was such a dick to everyone and we might've gotten our answer: it's just the wolf in him. When Tyler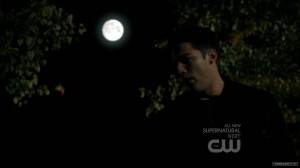 started acting all confused and pissed more than usual in the episode "The Turning Point", we just chalked it up to his sneaky ways. Then at the end of the episode, we see Tyler lamenting on the fact that he doesn't know what's up with him… while the camera pans to make sure that we see the big ass full moon behind him. In the novels, Tyler is also a werewolf so it wouldn't be long before the writers to bring this notion into play, but still it was a tastefully done reveal that got equal reaction in the finale when Tyler was also affected by the pulse that was reserved for the vampires. THEN we learn that not only is Tyler a werewolf, but his brutish father, Mayor Lockwood, was as well!!! Talk about your modern day "Teen Wolf"!!!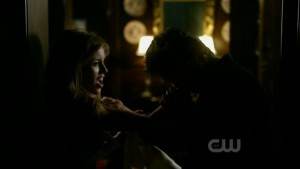 6) Damon KILLS Vicki, TURNING Her Into A VAMPIRE in the Process!!!!
Poor Vicki Donovan. She started out as the show's resident blood bag for Damon; the embarrassing, druggy girlfriend of Tyler; and the object of Jeremy's obsession. After going through the wringer between the three cycles listed, Vicki ended up being a plaything for a bored Damon, who ended up breaking his newfound toy when his boredom got epic. Yes, he literally broke the poor girl's neck, just like my neck nearly did when the action took place in "Lost Girls". But before we could hate Damon even more and mourn the loss of the suddenly dead Vicki, the girl gets up and is now a 'baby' vampire. HOLY SH*T!!!!!! They just turned a main cast member into a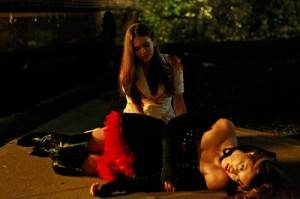 VAMPIRE?!?!??! This early in the game?!!?? NO ONE IS SAFE!!!!!
Then this happens…
5) Vicki Dies…
Vicki's life as a vampire is sadly short lived as Stefan stakes the poor girl after she attacks Elena and Jeremy. A million hearts are broken for Jeremy and Matt, who has no clue his sister is dead (or undead), and this quickly solidified the fact that nobody in Mystic Falls, even the main cast, is safe.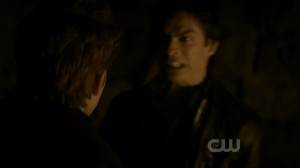 4) The Tomb Opens… And Katherine is NOT THERE!!!!
With the first thirteen episodes of TVD, the tomb below Fell's Church dominated the minds of the residents of Mystic Falls and the fans who love them. The thought of 27 vampires, including Katherine, reigning blood upon Mystic Falls was unnerving and down right scary as hell. So imagine our faces when Damon discovered that Katherine's ass was nowhere in attendance in the tomb?!?!?! GOB. SMACKED!!!!! This shocking fact took the show and the audience in an entire different direction and changed the mood for the rest of the season. Especially when the tomb leaked a century old hunger of pissed off vampires. Plus, Damon finding out that Katherine didn't give him a New York minute of a thought, having been alive and well since that fateful night in Mystic Falls, sent the bad boy vamp on an even darker path that is possibly leading him to a road of redemption.
3) Grams Dies
When Grams took her last breath, I felt as if my own grandmother died all over again and cried with Bonnie when she realized that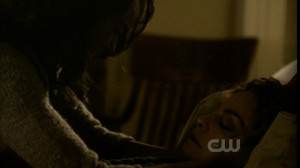 Grams was no longer with us. The phenomenal Jasmine Guy gave life to a character that was a bona fide scene stealer and a viable asset to Elena and Bonnie as they dealt with the growing supernatural essence that was infiltrating their lives. Grams was an encyclopedia of the unknown waiting to be cracked open for us to take in her knowledge of all the paranormal ties in the world and Mystic Falls, but her life was slammed shut like a book in the faces of her granddaughter and Elena, as well as millions of fans across the board. R.I.P., Grams. Your time was short, but will last forever in the minds of TVD fans. You will be greatly missed…
Lexi, Lexi, Lexi. How we miss thee…
When Lexi first jumped on her friend Stefan to surprise him for his 162nd birthday, I knew I was going to fall in love with her. Then they sealed that prediction by playing The Birthday Massacre's "Happy Birthday" after her introduction. Aww, memories… Lexi proved to be another viable character with a rich history that could've been a great help to the character study of Stefan, as well as been a great foil for Damon. She bonded quickly with Elena and won over the viewers all in under thirty minutes of the episode. You couldn't help but think this girl would be a recurring character for awhile, right? Wrong. By episode's end, Damon drove a stake into Lexi's heart to cover his own vampire tracks from the Council, as well as inflict more pain to Stefan. He might as well had drove a stake in the hearts of the audience as well. God only knows what Lexi could've brought to the overall picture, but TPTB (Julie Plec and Kevin Williamson) thought otherwise. R.I.P., Lexi. We will miss you as well…
1) Katherine's Impromptu Return To Mystic Falls
I don't know if there is any other way to describe the awesomeness that was Katherine's return at the end of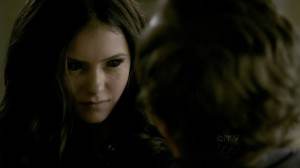 "Founders' Day", because it was expected, but NOT in the way we got it, which is why I dub it the ultimate "slap" moment of the season. Katherine finally reared her head in present day Mystic Falls and even though she has only took out that dude Johnathan Gilbert, her potential blood shed is even more frightening. Add in that Elena is now practically alone in the house with her, and your blood just turns COLD! Before we could even get a frame of a run in between the two doppelgangers, the TVD title card smacks us across the face AGAIN! How could your face NOT be sore after a move like that? Now, we have to wait an entire summer to see what happens, and if this finale didn't urge you to come back this fall then whatever you are smoking is something lethal and should be banned from existence IMMEDIATELY!
So that's all of them: the Top Ten "Slapper" Moments of The Vampire Diaries' first season. If your hand went to your cheek during any of these moments, or any other moment this season, and you felt pain, then you had a "slap" moment. Discuss below and please feel free to add to the list. See you guys next fall!
Big SHOUT OUT to VampireDiariesWeb.com for their EXTENSIVE photo gallery of all things TVD. You guys rock!
Follow Me on Twitter: @theanticritic
Email Me: mestes2001@gmail.com