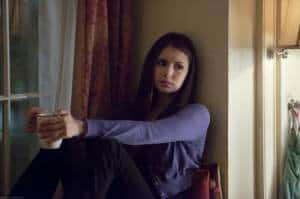 Like many viewers of the season 3 finale of The Vampire Diaries I think this might sum up that ending shjadfjvsgfjhgvjdkvmcbvbmnmhkl!?vhgxhfvsohv.
Yep that is how my brain is feeling after that stellar episode complete with an unexpected and huge twist. The writers and cast played the best misdirection in their promotion leading up to the finale with all the 'who will Elena choose?' discussions. While this was important to the narrative they made sure that the ending would put all that to one side for a moment. This really is an epic finale with so much action and emotional moments that ends season 3 on a high. Where to start?
As the love triangle element was the central focus prior to the episode that seems like the most appropriate place to begin. Flashbacks to her life before vampires and talking with Matt (Zach Roerig) about how she unfairly strung him along prompted Elena's soul searching. The need to make a choice was further expedited by the news that Klaus (Joseph Morgan) has been killed (more on that later); a decision really has to be made.
Elena's choice of Stefan (Paul Wesley) is likely to enrage certain fans, especially as it looked like this season could be leading to Damon (Ian Somerhalder). However, as soon as Stefan started becoming like 'old Stefan' then it became instantly harder for Damon to become a strong possibility. It is the safe and protected versus the dangerous and passionate and at this present moment it makes sense as to why Elena is going for Stefan and her first real love. It isn't like Stefan and Damon are strictly in both these zones as we have seen that Damon can be sweet and that Stefan isn't just Mr Nice Guy and hopefully we will get to see all the different aspects of these characters next season too.
There is a glimmer of hope of course for Delena fans as Elena comments that maybe if she'd 'met him first' then things might have been different. We see via the flashbacks that Damon did indeed meet Elena first on the night of the car crash and spoke to her about 'a love that consumes you.' Damon compelled Elena to forget this conversation as he didn't want his arrival in town to be known yet, but thanks to certain events at the end of the episode, Elena is likely to remember these comments after all. How this might change things is unclear and will be something I'm sure they will explore in season 4 but at this moment Elena can't 'unfall in love' with Stefan. This love triangle is far from resolved.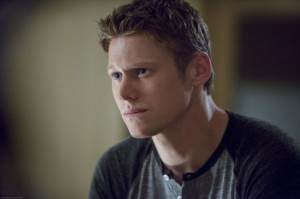 Now to that really unexpected ending that is truly a game-changer (I don't really like this phrase as it gets used so often and inaccurately but this really is one). This is one of the best misdirection's that The Vampire Diaries has produced and it was totally believable that Elena had a simple concussion from the last episode. This wasn't the case and instead it was a much more serious cerebral haemorrhage and Meredith (Torrey DeVitto) used her usual non-medical solution of vampire blood to save her.
When Elena and Matt are run off the road and into the river, Stefan saves Matt first and Elena drowns with vampire blood in her system. Yep that's right Elena is now in the pre-transition part of being a vampire! Epic craziness. The big question here is who knew, if anyone, what Meredith had done? The way the past and the present car accidents are intercut with the added Sigur Rós track meant that all the tears happened. These tears were added to as Damon realizes that Elena has died as vampire Alaric (Matt Davis) withers while he is fighting him and even further still by good ghost Alaric visiting Jeremy (Steven R. McQueen). This sequence is some serious A+ work from all at The Vampire Diaries.
The other big 'death' of the finale comes at the hands of Alaric as he successfully stakes Klaus, though all is not as it seems. This is obviously huge and has instant ramifications on his bloodline that definitely includes Tyler (Michael Trevino) and maybe everyone else. The switcheroo that they did here was also unexpected and was nicely times as all the remaining Original siblings claim that they didn't start the Salvatore bloodline.
While magic is often used in this show as a loophole and that has got a bit tiresome over three seasons this totally worked, especially as it meant that Bonnie (Kat Graham) got to be a badass and defy the spirits. Yes this is sure to have repercussions, but Bonnie totally owned that moment.
What does this mean for Tyler and Klaus? I'm pretty sure that Tyler is still alive as Klaus is just borrowing his body, but it is unclear what this means for Joseph Morgan as Klaus after his body supposedly burnt up. Morgan is a terrific part of this ensemble and there are always ways with the supernatural of keeping characters around; maybe there is a Klaus doppelganger out there somewhere? It also means that Klaus might finally get to be with Caroline (Candice Accola) but in the most ickiest and deceitful ways.
We have already said goodbye to Alaric even if he has been around for the past two episodes in evil vampire form but when he popped by to see Jeremy in ghost form it felt right. Even though Alaric is dead there is still this option of his spiritual form and I can imagine that he will appear in the future to Jeremy. This might be wishful thinking on my part as I am a huge Alaric fan but the ghostly door is still open.
Other observations
-While the flashbacks didn't reveal anything we didn't already know beyond the Damon encounter they were a lot of fun and it was good to see Aunt Jenna (Sara Canning) back and Elena interacting with her parents.
-Flashbacks also mean that you get lines like 'It's Mystic Falls, nothing bad happens here.' Oh, Elena if only you knew what is to come.
-More Damon nicknames for Rebekah (Claire Holt) including 'Sexy Bex' and 'Goldilocks.'
-So many tears in this episode and not just from the audience as Caroline, Rebekah, Damon and Stefan all get misty eyed in varying degrees of sobbing.
-Elijah's (Daniel Gillies) comment on Klaus' state is perfect "perhaps it will finally teach him some manners."
-How is Katherine going to feel when she finds out about Elena's new state? I'm thinking less than thrilled.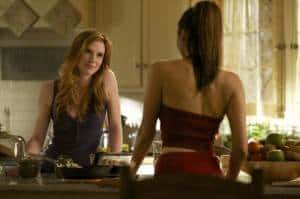 -Matt was all kinds of awesome this week; not only did he have to listen to his ex trying and figure out which Salvatore brother she should choose he also took decisive action at taking Elena to safety. OK he drove off Wickery Bridge but that really wasn't his fault. We didn't get to see if Matt survived the crash but I have a feeling that Stefan got to him in time.
-When Klaus opened his eyes in the coffin and just lay their staring it was most definitely creepy.
-There is a future problem for season 4 as Alaric outed everyone to the council; will the council be the big bad next year?
-The Sigur Rós track that was used in the final sequence is called "Dauðalogn" from the bands forthcoming album Valtari that comes out May 29.
I'm pretty sure I need to lie down after that humdinger of a season finale; this season might have been patchy and muddled in places but The Vampire Diaries sure knows how to go out with a big bang. What did you think of the finale? Glad/angry with Elena's choice? Or are you more shocked by THAT ending to think about love triangles? Let us know your thoughts in the comments and thanks for joining us on this journey this year.
All of our coverage of the show can be found on our Vampire Diaries page. As new information surfaces throughout the summer, we'll be posting it there, so make sure to bookmark it and check back!
Tell us what's wrong with this post? How could we improve it? :)
Let us improve this post!