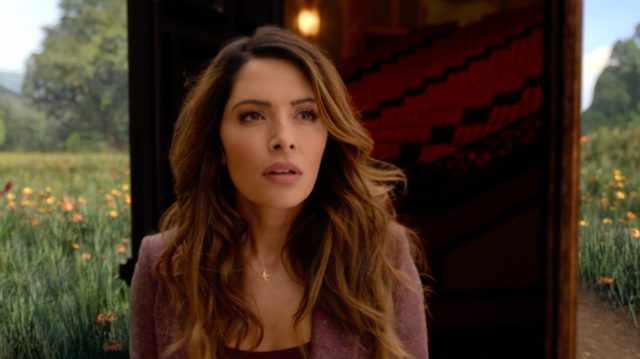 Sarah Shahi is the professional name of Aahoo Jahansouz Shahi who was born in Euless, Texas, on January 10, 1980. She is an actress and former NFL cheerleader who is of Spanish and Iranian ancestry who began her career in the entertainment industry in 1988 and has since appeared in many different genres of films and television series. She is married to Steve Howey, with whom she has three children. Shahi has established herself in the television industry as she has had major roles in many television series. She has also worked in the film industry, although this has been with smaller roles or in low-budget movies. Here are the top five television appearances of Sarah Shahi's career.
1. Fairly Legal
Between 2011 and 2012, Sarah Shahi appeared in 23 episodes of 'Fairly Legal' playing the role of Kate Reed, one of the lead characters, who is a former lawyer turned mediator working for a San Francisco law firm. This legal comedy-drama series was created by Michael Sardo and aired on USA Network. When it was first launched, this series was initially aired under the working title 'Facing Kate'. After it received low ratings, the series was canceled after two seasons. The season one finale had 4.08 million viewers, while the season two finale had just 2.48 million viewers. Others who starred in this television series included Michael Trucco, Virginia Williams, Baron Vaughn, and Ryan Johnson.
2. The L Word
Sarah Shahi appeared in 26 out of the 70 episodes of 'The L Word' between 2005 and 2009. She played the supporting role character Carmen de la Pica Morales. This television drama series by co-created by Ilene Chaiken, Michele Abbot, and Kathy Greenberg. Others who starred in this series included Jennifer Beals, Leisha Hailey, Erin Daniels, Laurel Holloman, Marlee Matlin, and Eric Lively. Originally, the series was aired on Showtime. However, it was later syndicated to Logo and various on-demand services. Showtime are currently in the process of producing an upcoming sequel season of this series. It is about a group of lesbians and their relationships, friendships, family lives, and connection., It is set in Los Angeles.
3. Person of Interest
In 'Person of Interest', Sarah Shahi played Sameen Shaw between 2013 and 2016. She first appeared in an episode called 'Relevance' in season two and then in three more episodes in that season. She did not become a series regular until season three. Her character is an ISA assassin who worked for the Special Counsel. She is identified as one of the primary assets by The Machine. It is a CBS science fiction crime drama series that was created by Jonathan Nolan. The series starred Jim Caviezel, Taraji P. Henson, Kevin Chapman, Michael Emerson, and Amy Acker. This television series is about a billionaire computer programmer who develops a supercomputer. 'Person of Interest' received high praise from critics and the series was nominated for multiple awards, many of which it won.
4. Life
Shahi played the main character Dani Reese in 'Life' between 2007 and 2009 in 32 episodes. 'Life' is a crime drama series that was created by Rand Ravich and was aired on NBC for two seasons. It is about a detective that has served 12 years in prison for a crime that he did not commit. When NBC canceled this series, it became available for streaming on Netflix and Hulu. This series also starred Damian Lewis, Brent Sexton, Donal Logue, Adam Arkin, Brooke Langton, and Robin Weigert. In 2008, this series won an AFI Award for the Best Television Series.
5. Reverie
Sarah Shahi's most recent role and in this NBC drama television series, she plays the main role of Mara Kint. Her character is a former hostage negotiator and human behavior expert. Her job involves saving people who have lost their minds in a virtual reality simulation. This drama series was created by Mickey Fisher and also stars Dennis Haysbert, Jessica Lu, Sendhil Ramamurthy, and Kathryn Morris. Initially, the release was planned for March but there were delays in scheduling. It will now premiere on NBC on May 30, 2018. There are ten episodes in the first season.
Tell us what's wrong with this post? How could we improve it? :)
Let us improve this post!