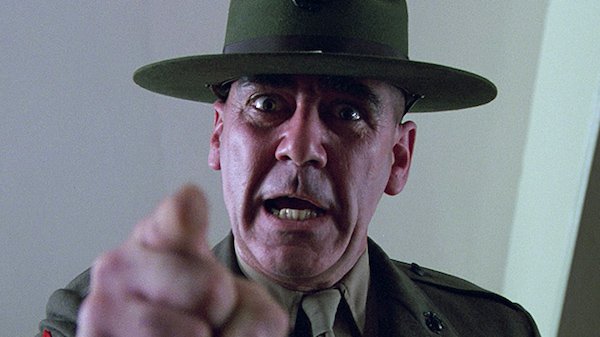 If a picture needed a hardcase character that had no give and would get in someone's face at the drop of a hat then R. Lee Ermey was one of the people that surely deserved to be on the list. His hard-hitting no-nonsense style was just what was needed in the movies, but it also served him well when he was a US Marine. After his time in USMC was up he went on to become an actor and even performed bits at various military bases to increase morale and entertain the troops. Likely as not there will not be another soul like him for a long time, if ever.
Hartman was perhaps the most hard-nosed character he ever played, and it's what made him famous.
5. Seven-Police Captain
He didn't have a very big presence in this movie but he was obviously there and his customary attitude was right along for the ride. Playing the grizzled old police captain that had to deal with a new detective in his squad and one that was about to retire he made the best judgment calls he could and paired them together for one last case. It's just ironic that it wasn't Somerset's last case.
4. The Texas Chainsaw Massacre-Sheriff Hoyt
Hoyt was one crazy bugger but he was also quite vicious as this scene depicts. He loves his country so much that draft dodgers turn his stomach and he has only one way to deal with them. Given that he wasn't a sheriff to begin with it's not hard to see how the power of the suit, what little power there was, would go to his head. But setting up a roadblock so he could get enough chow for his family was just above and beyond.
3. The Frighteners-Sgt. Hiles
There's no doubt that Ermey was typecast from the word 'go', but the fact is that he did it so well that no one else could really match his energy or his intensity. In this particular movie he wasn't a big presence but he was still recognized by many viewers as the same kind of authority figure that he's been in several of his movies. It seems to fit him since he can project his voice so well and just sound like the last guy you'd want to cross.
2. Toy Story-Sergeant
A few people had to be reminded that this was Ermey voicing the part of the toy soldier sergeant, but it's fairly obvious that it's him. Perhaps it was because Ermey was known so well for his live roles that some folks didn't think he'd really be up to performing a voice part. He definitely proved them wrong here and despite not having a big part in the movie he made this work perfectly.
1. Full Metal Jacket-Gunnery Sergeant Hartman
Hartman is the most complete character that Ermey did in the eyes of many people. He was just so mean, so nasty, and so completely in your face that no one would have wanted to mess with him unless they had a death wish. Of course he kind of picked on the wrong person as it was seen.
What is your major malfunction?!