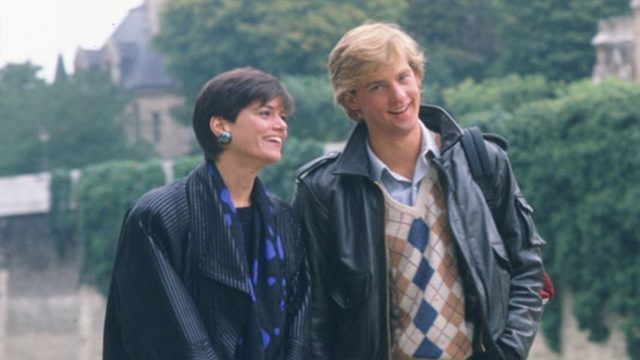 Linda Fiorentino is a decent to great actress depending on what part she's cast in and what her dialogue is like. She's been great in those roles that allow her to expand on her character and make it her own, and of course anything that lets her be sassy and smart-mouthed is a plus since she does it so well. Despite glowing reviews of most of her roles Linda's career has been kind of spotty since she was first noticed in Vision Quest, and she's been seen now and again rather than all the time. One plus to this however is that no one's had the time to get tired of her or state that she's a has-been or washed up. Every time she comes back it's a welcome sight since she does liven up the production and is capable of being a supporting actor or a lead
In fact it'd be nice to see her come back now if she found the chance.
5. Gotcha!-Sasha
This was only her second outing in a major motion picture and yet she put in such a great performance it was easy to assume that she'd been doing this for a while. Playing the role of the double agent she entices a young man to join her on her journey and eventually the young man comes to find that he's a bit in over his head. At least by the end he finally finds out who she really is.
4. Beyond the Law-Renee Jason
Playing the role of a photojournalist she begins to fall for a biker who is really an undercover cop working to make a case against a particular biker and his gang. As he goes in even further than anyone has ever made it however she begins to wonder just how bad things are going to get until there's no turning back. This movie was actually based on real life events.
3. Vision Quest-Carla
She's simply interested in having a place to live until she can move on, but the son of her current landlord is so smitten with her that she can't help but return the affection after a while. In the movie she still moves on when she feels it's time, while in the book she stays with the lead character. Either way seems to work since it makes the story a little more complete.
2. Men In Black-Dr. Laurel Weaver
As a morgue doctor she's already a bit odd but when she meets the Men in Black her day just gets stranger since she has to look at two different bodies that exhibit none of the normal traits that humans might possess. Once Laurel is sucked into the middle of the entire mess however there's no going back, at least not until the sequel. It's too bad, she would have made a great agent to keep on board.
1. Dogma-Bethany Sloane
So how would you react if you were told that you were the last living descendant of Jesus Christ and had to stop two renegade angels from re-entering heaven and destroying the cosmos? I do believe that you'd laugh too and think that the person telling you had had too much to drink. Unfortunately Bethany doesn't have that luxury since it's the main plot of the story.
She's a worthy actress and it'd be nice to see her again on the big screen.