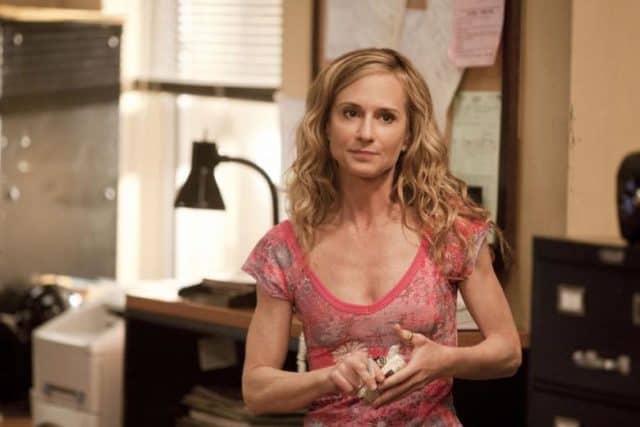 Holly Hunter is one of the best actresses in the industry when it comes to playing regular, down to earth people. When it comes to watching her cry onscreen you can't help but think that this is as genuine as it gets. She has a way about her that just makes each role she plays, no matter how outlandish, seem like she's the neighbor you might want to say hello to in the morning and possibly hang out with now and again. Her roles have been dramatic and at times a little nuts but she still brings enough realism to them that you can't help thinking that she's not so much acting as she is throwing herself fully into the role.
That's how good she really is.
5. Broadcast News
Life as a news person must be more hectic than some people think if it could make someone break down like this. Or perhaps Jane got some bad news that was just beyond the norm. In any case the movie kind of revolves around a love triangle that involves her and two fellow newscasters that are both vying for her attention but don't end up with her.
4. The Big White
Margaret is a very odd individual that claims to have tourettes syndrome despite the fact that her husband's medical insurance is firmly denying that such a thing is possible. There is something very wrong with her, but there is a distinct possibility that she's just not the kind of person that enjoys living in the cold weather where she has to be continually housebound.
3. Always
The life of anyone that fights fires is bound to be dangerous, and when Dorinda loses Pete her whole world is turned upside down. After Pete, unseen by Dorinda, helps her to finish one last rescue mission she has to make an emergency landing in a lake. She almost goes down with the plane, but thanks to Pete escapes so that she can make a new life with her new love interest.
2. Copycat
Detective Ruben might have lived had his partner managed to shoot to kill instead of wound. Of course if the Asian fellow on the ground had been thinking at all he would have just laid down and let the legal system take its course. After this Detective Monahan managed to shed a few tears for her partner. And obviously she felt more than a little bit responsible.
1. Raising Arizona
It' not easy for women to accept that they can't have a child of their own but going out and stealing one isn't the best idea in the world either. Edwina wants a child so badly though that she's got half a mind to keep the kid, though she knows it's wrong to take a child from their parents. At the very least the father of the child they eventually return didn't press charges and the film ends on what could be called a high note thanks to Hi's dream.
She's way underrated for how good she is.
Tell us what's wrong with this post? How could we improve it? :)
Let us improve this post!