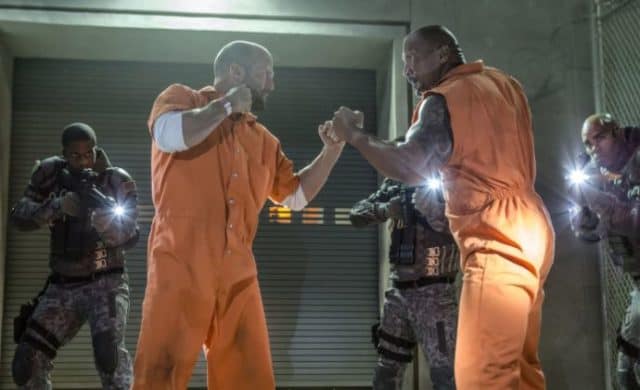 We found out earlier this week that there will be a Fast and Furious 9 and 10 and that the 10th installment would be the franchise's last. But that most certainly doesn't rule out any spinoff ideas. And it certainly didn't take long for executives to come up with a plan involved Dwayne Johnson and Jason Statham's characters. According to Deadline:
This is in early stages, but they've met on the concept, which sources said will be scripted by Chris Morgan, the chief writer of the series that is hitting new heights with the eighth installment. The idea is for Johnson's US Diplomatic Security Agent Luke Hobbs to form an unlikely alliance with Statham's Decker Shaw, for a movie that could conceivably be made while they are figuring the next Fast film. Johnson stepped into the franchise in Fast Five, and Statham established his in Fast & Furious 6. Each began as an antagonist to the core street racing family, but grudgingly earned their way into the circle of trust.
Other than that there's not a whole lot to say because Morgan hasn't even begun writing. Plus we don't even know that many details about the Fast and Furious final two installments. However, one thing is for certain. If you're making that kind of money on movies, spinoffs are inevitable. Furious is simply following the same lead as Marvel and Star Wars right now. I predict that it's not only working but it could work for decades to come.