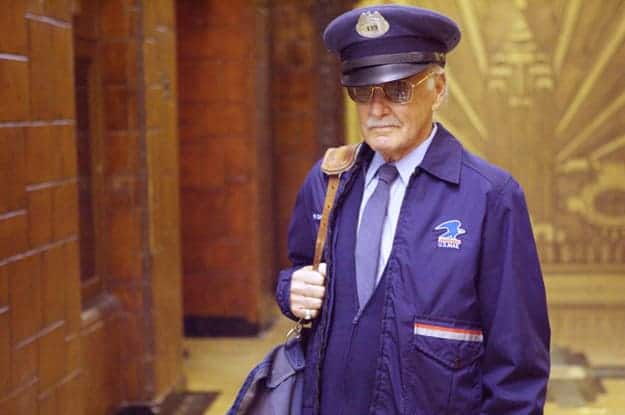 Postal carriers often get a bad reputation for what a few of their disgruntled members have done over the years and they don't tend to get a lot of respect. The funny thing about it is that they're in charge of something very important and that has been shown to be vital to the connections that human beings value so much. They deliver correspondences of all types to people back and forth, facilitating the link between people that back in the day was absolutely vital. If not for postal carriers throughout history the rise of civilization might have been a little slower and not as efficient. So next time you see the person delivering your mail say thank you or at least have the decency to try and make their life a little easier.
In the meantime, here are some of our favorite mailmen from various films.
5. Agent K – Men in Black 2
He tends to run his mail room like a war room, well-oiled and without a lot of muss or fuss that can get in the way. That might be the mark of an efficient man or it could be the mark of someone that knows what it's like to be in charge because he didn't know any other way to be. K definitely knows how to assess any given situation and make certain it's handled with care and professionalism.
4. The Postman – The Postman
When it's your only way to stay fed and alive then there's not a whole lot of need for decency or truth. Despite the fact that his role was nothing but a lie the Postman brought a lot of hope to a country that had been ravaged by war and torn apart due to lack of correspondence. When a letter is the best you can hope for you cling to that hope with everything you've got left.
3. Willie Lumpkin – The Fantastic Four
Stan Lee is a character. He shows up in pretty much every Marvel movie except maybe one or two. Those could have been movies in which Marvel didn't own the rights or some other technicality that prevented his cameo. But if you'll notice in this first Fantastic Four movie he's playing the postman, in the second one he plays himself when he's attending Reed and Sue's wedding.
2. Myron Larabee- Jingle All the Way
There is nothing that can unnerve people like an unhinged mailman. They handle some of the most private stuff and have a job where they get little if any respect. So yeah, it's kind of understandable that some of them would get a little bent out of shape at times, but this seems to be taking it to the limit and beyond. Plus, it's a kid's movie so it's likely that a lot of kids wouldn't get it.
1. Mr. Wilson – Dennis the Menace
So technically Mr. Wilson has been long since retired but it still counts because at one time he was a mail carrier. The poor guy can't catch a break even in his retirement though thanks to Dennis. Accidents just seem to happen with Dennis is around, go figure.
Remember, be nice to the mail person.
Save
Tell us what's wrong with this post? How could we improve it? :)
Let us improve this post!