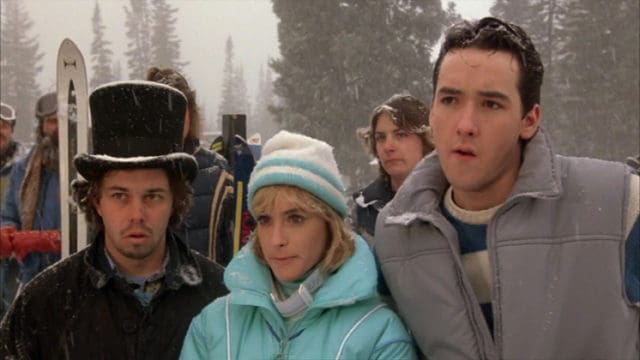 Better Off Dead might not get made today simply because the story revolves around a high school kid that thinks he's got nothing left to live for when his girlfriend breaks up with him for the captain of the ski team. It's safe to say that his depressive mood and suicide attempts would strike a very big nerve with audiences today and would fail to appeal to a lot of people that have become very sensitive to such subjects throughout recent years. It was a funny movie in its own time even if it wasn't meant to be, but that kind of dark comedy these days seems to be taking a back seat to an overwhelming abundance of sensitivity training.
Kind of a shame in some ways.
10. It's based off of a true story.
The movie is actually based off the director's life. He was dumped by his girlfriend and was contemplating suicide as well, but kept bungling the effort and getting reprimanded for the damage he did to the house. Yeah, that might be an issue with people today.
9. Henry Winkler had something to do with getting the film made.
After seeing one of his other short films Winkler took the director to Paramount films where he could read his script to the people in charge.
8. The director had to fight to get John Cusack.
The main piece of resistance was the fact that John had just starred in Sixteen Candles as a straight up nerd. No one thought he was leading man material. Thankfully they were wrong.
7. Cusack apparently hated the movie but later claimed he didn't.
Initially it seemed like Cusack hated the film but after a great deal of time had passed he finally warmed up to the idea that it had actually been a good movie.
6. The TV dinners as gifts is a true story.
The director didn't receive TV dinners for Christmas, but for his birthday, mostly because his mom was such a horrible cook.
5. The claymation burger scene was a hit.
A lot of people involved in the making of the scene were worried that it might be too strange to film. But honestly it was one of the greatest parts about it.
4. The guy that played Ricky now owns a Nickelodeon empire.
He was actually responsible for creating a wealth of shows for Nickelodeon that took the network to the heights it enjoys now.
3. Curtis Armstrong was cast thanks to his part in Risky Business.
Anyone that can play second string to Tom Cruise and still steal the show is definitely worth knowing and more than worth casting for a comedy role.
2. The guy playing the expert ski captain was kind of a jerk.
That's pretty much how he got the part. When he came in to audition he actually insulted the director without knowing who he was. Rather than get mad the director said that he perfect for the role.
1. Looking tough was what got the paperboy his role.
The whole tough guy attitude was what really got him the role. He played it off beautifully and didn't stop throughout production.
Funny as it was the film likely wouldn't get made today. Too many issues that could inevitably crop up.
Save