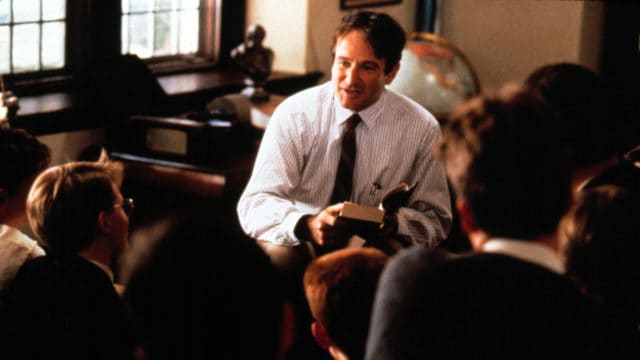 Being a teacher is a profession where one gets a lot of the work but very little of the glory that comes later. If a teacher is lucky their students will remember them fondly and possibly thank them later in life for the many lessons they taught. It's also not for the money, as teaching is considered to be one of the lowest paid professions in many states, a fact that is often reflected in film. So why be a teacher at all? Because if you touch one life, there is a possibility that you will affect many more in the process.
Here are our picks for the top 30 teachers in movies: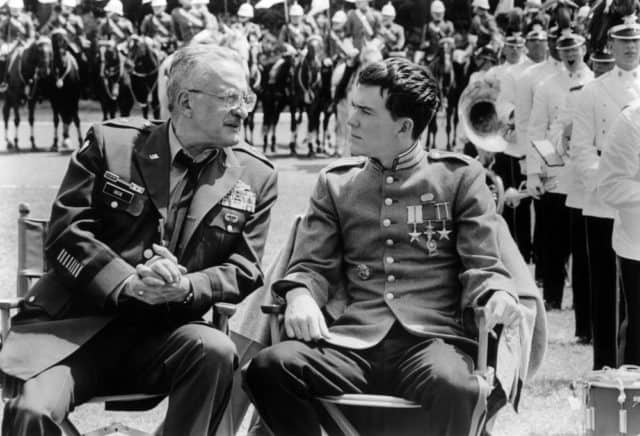 George C. Scott as General Harlan Bache – Taps
Teachers often look to instruct their students on how to be free-thinking individuals, to question the natural order of things, and to think outside of the box when necessary. In Taps, the students under General Bache go one step further and seek to defend their academy following the accidental death of a town citizen during a brawl. When Bache is hospitalized after suffering a heart attack, the cadets then stage a standoff with local police and eventually the armed forces that come to remove them. If there' s one thing these students learned from their studies, it was how to stand their ground and maintain discipline.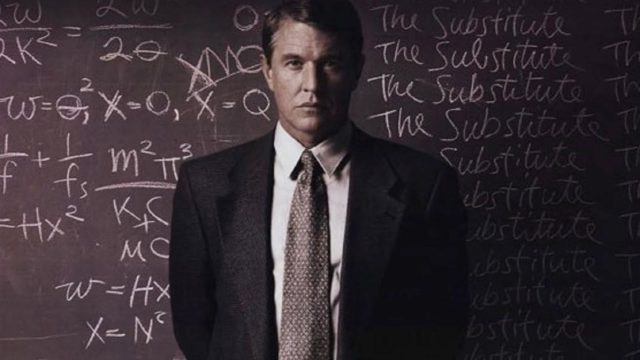 Tom Berenger as Jonathan Shale- The Substitute
So technically Berenger doesn't play a legitimate teacher, but his role within the classroom is more than just a tough guy seeking to make a difference. As he gets to know the students and the staff he finds out more about them than he'd bargained for, and in the process discovers the truth behind the attack on his girlfriend, the only real reason why he became a substitute in the first place.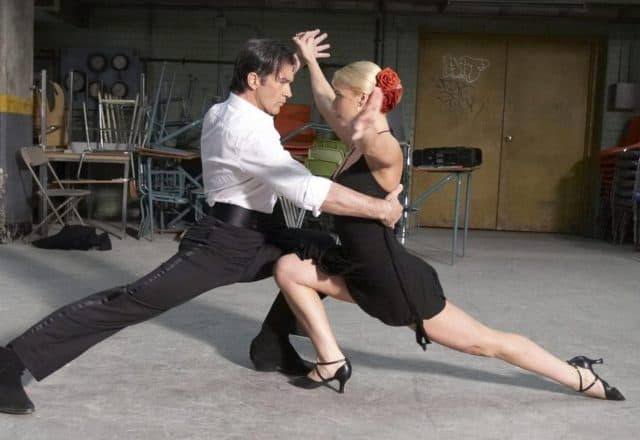 Antonio Banderas as Pierre Dulaine – Take The Lead
It's easy to state that few others could have possibly taken this role and done it as well. Banderas is a smooth talker and a very suave personality that gives this role a great deal of realism and takes it to a level that many people can easily relate to and enjoy. His onscreen persona is easily able to handle the troubled and otherwise forgotten kids that he seeks to help and educate all at the same time.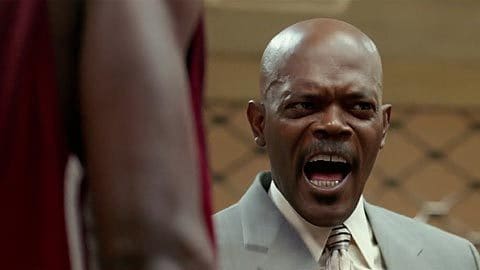 Samuel L. Jackson as Ken Carter – Coach Carter
Teaching isn't all about reading and arithmetic, sometimes it's about getting in the student's face and letting them know just how things are going to go down. Coach Carter is based off of a true story, and showcases how Ken Carter took a failing basketball team and created a legacy that lives on to this day. This film proves that through discipline and belief in one's self and others almost anything is possible.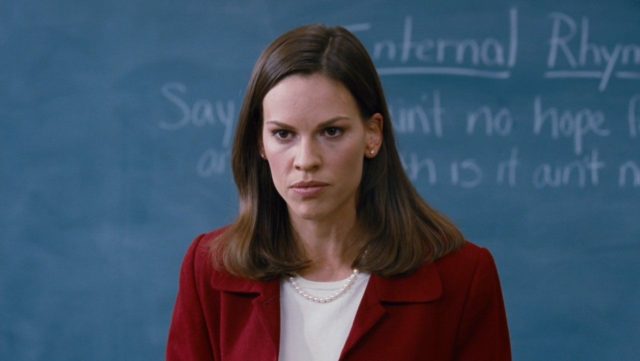 Hilary Swank as Erin Gruwell – Freedom Writers
You don't give up on your students, no matter what. If there are any lessons to be learned by the teacher, and there are many, one of the most important would be that if you give up on your students, they will give up on life. A teacher is one of the last lines of defense against the world and all of its many hard and demanding lessons for children. This film shows that perseverance is one of the most important tools in any teacher's repertoire.
Arnold Schwarzenegger as John Kimble – Kindergarten Cop
So this is another film where the teacher isn't really a teacher. Kimble is an undercover cop seeking to protect a son and his mother from their criminal father and husband. While undercover the hilarity ensues as Kimble must come to understand what it means to teach children and learn that they are just very small but still important people. Ironically enough he decides to change his profession after his assignment is over.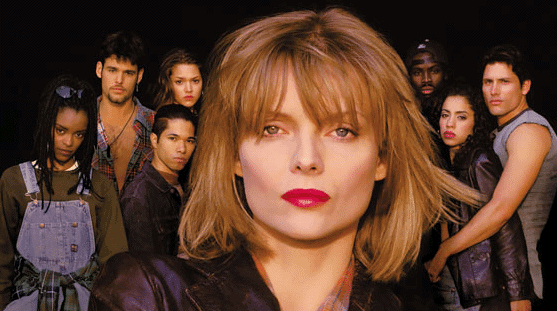 Michelle Pfeiffer as Louanne Johnson – Dangerous Minds
Sometimes you need to be just as dangerous as your students to get them to even pay attention. Other times you need to let them know that their level of danger is nothing new to you. And then sometimes you can feed them candy and hope for the best. Pfeiffer took on a job that no one in their right mind wanted when she sought to teach a classroom full of high schoolers that didn't care, didn't want to care, and certainly didn't want to learn. By not going away however and standing up to the worst of them she eventually gained their respect, and their trust.
Jack Black as Dewey Finn – School of Rock
In the film if you do the wrong thing and get it right everything usually turns out okay. Even after a period of rejection Jack Black eventually comes back and is allowed to teach. Fortunately, the premise of the movie is that music is the very lifeblood that is part of what makes life so interesting, and so worthwhile. While he's not an actual teacher, Jack Black manages to give the kids under his care a valuable lesson concerning the importance of music.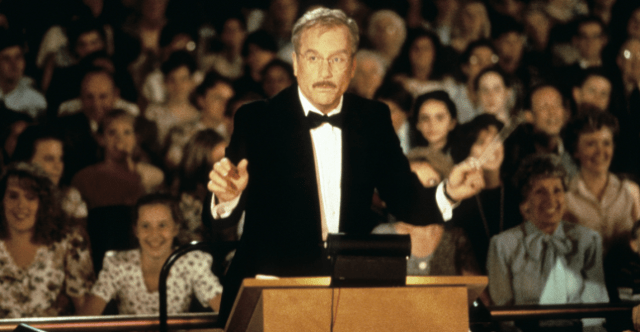 Richard Dreyfuss as Glenn Holland – Mr. Holland's Opus
Sometimes a teacher doesn't realize what they are doing when they throw themselves into their work with such zeal. Some of them neglect their family to such a degree that their students are their entire world, and their work is their life. Dreyfuss manages to depict the life of a man that is so deeply entrenched in his music that it takes nearly three decades to reconnect with his own son, who ironically was born deaf.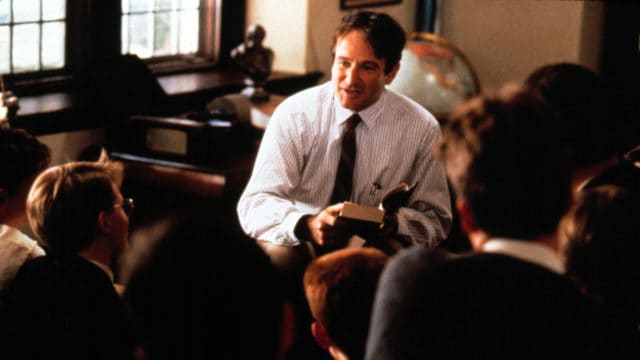 Robin Williams as John Keating – Dead Poets Society
Few teachers have ever been so iconic as John Keating. He doesn't just seek to teach his students, he fully encourages them to be free-thinking individuals that genuinely love their lives and aspire to be much more than they are taught to be. Despite his removal from his position later on in the film, he leaves behind a legacy the like of which most teachers simply aspire to, but rarely ever find.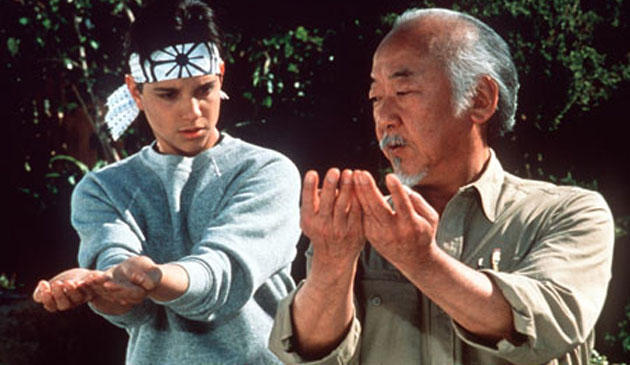 Pat Morita as Mr. Miyagi – The Karate Kid
Some lessons transcend the classroom and must be taught in life. Despite his frustration at the lack of teaching he is receiving from his mentor, Daniel quickly learns that Mr. Miyagi is anything but a fool as he find that the kindly old man is in fact teaching him how to defend himself. Patient, calm, and quite wise, Mr. Miyagi is the epitome of what a teacher should be.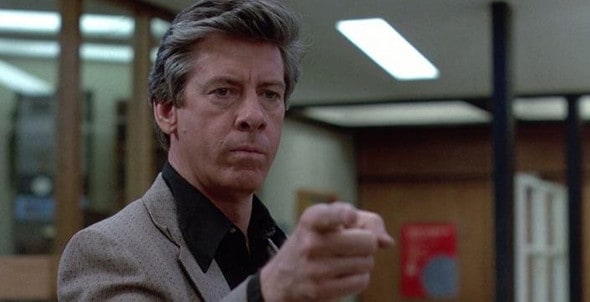 Paul Gleason as Richard Vernon – The Breakfast Club
There are good teachers, great teachers, and then there are those that don't aspire to be either one, but instead wish to be obeyed. Mr. Vernon wants to teach, he wants to be remembered despite the fact that he is obviously on the road to a burnout. What he learns on a single Saturday about some of the school's most perfect rejects is that despite his lack of faith in the students, they still have a good deal to teach him.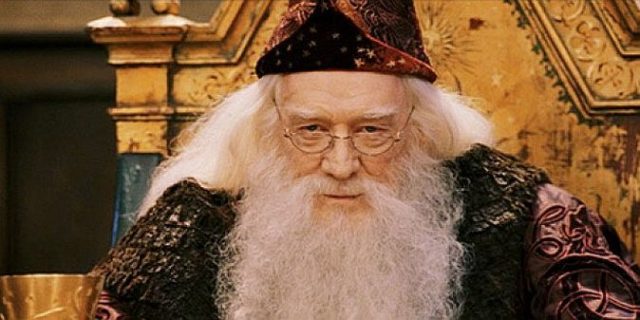 Richard Harris as Albus Dumbledore – Harry Potter and The Sorcerer's Stone
Despite being played by two different men due to Harris's passing, Dumbledore is perhaps one of the kindest, most respected teachers on this list. His teaching methods are quite different as he will encourage his students to think for themselves on one hand, and then warn them to not stray from the path too far on the other. No matter how he decides to teach at the moment, Dumbledore is without a doubt one of the most beloved teachers in film.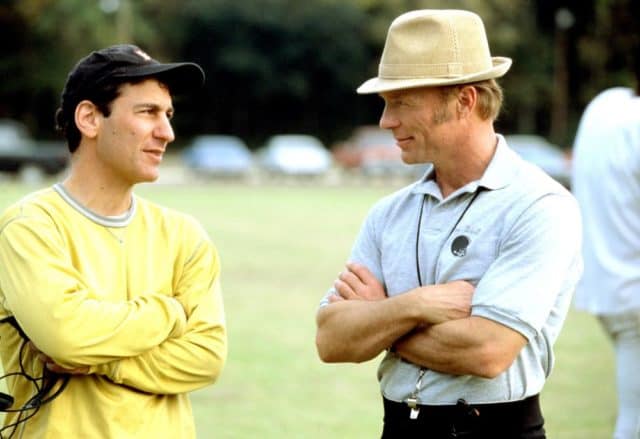 Ed Harris as Coach Jones – Radio
It's not always about teaching the lessons in the classroom. Sometimes the real lessons need to be taught elsewhere, on the field of life, where the margin for failure is much smaller and carries a greater price if one fails. After noting the horrid treatment that Radio receives from a handful of his football players, Coach Jones seeks to understand Radio and eventually becomes close friends with the younger man, forming a bond that still exists between the two in real life.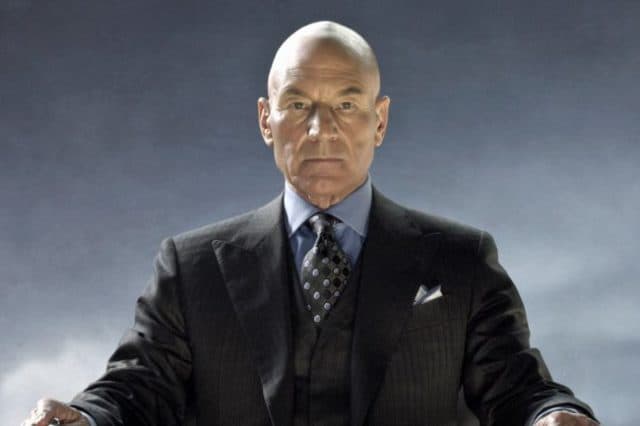 Patrick Stewart as Professor Charles Xavier – X-Men
No one else could possibly take this role, save for James McAvoy, who plays a younger version. Patrick Stewart assumes the role of a teacher and mentor with such ease that one could almost believe that this role was tailored for him to come along and accept. His calm and professional demeanor are the means by which he takes this role to its expected and celebrated heights.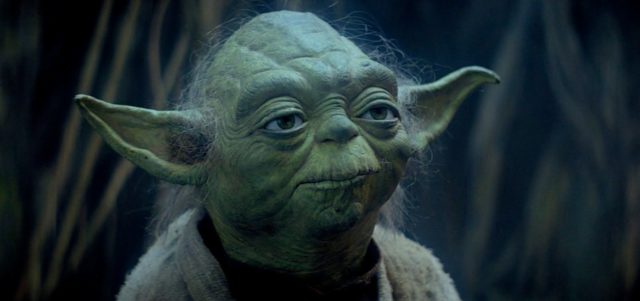 Frank Oz as the voice of Yoda – Star Wars
Throughout the entire Star Wars franchise the name of this legendary character is known by fans and casual viewers alike. His many teachings, quotes, and one-liners have become a common staple in any talks about Star Wars. While some didn't seem to care for his transition from puppet to CGI character, many others thought this was smart move as it gave the character far more mobility and allowed him to express himself in a much more fluid and dynamic manner. As a teacher, Yoda was almost never the type to sit still at all times, and was quite energetic in his methods at times.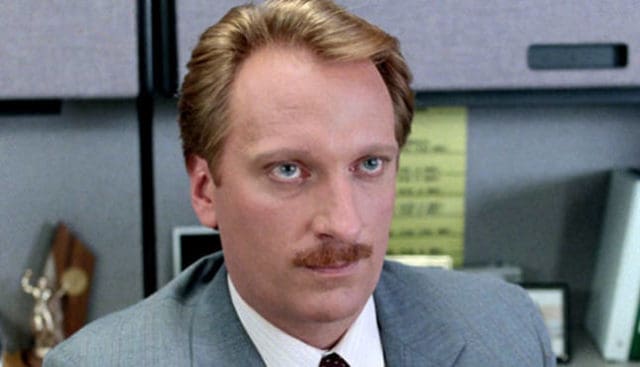 Jeffrey Jones as Ed Rooney – Ferris Bueller's Day Off
It's hard to pull for the guy that's attempting to take down the lead character, but there's something almost endearing about Rooney as he attempts to nail Ferris for too many truancy reports. Despite this it is very easy to root against him as the movie continues. Laughing at his misfortune comes far too easily as he continually tries and fails to find a way to keep Ferris from getting away with his skip day. The best part however is when Ferris's older sister comes to his aid and finishes the final sour note in Rooney's day.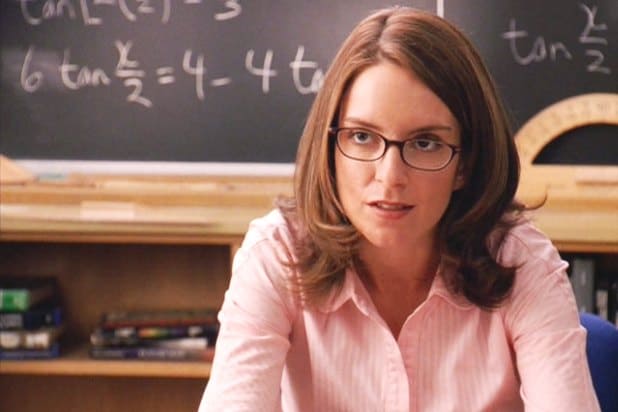 Tina Fey as Sharon Norbury – Mean Girls
It's Tina Fey. That should be all that needs to be said, but her role in Mean Girls is one that shows how far down the rabbit hole teachers can really go when they don't pay enough attention to themselves and continue to focus on the bad things in their lives, if there are any. Despite her many misfortunes it's a guilty pleasure that many people might admit to when it comes to being entertained by her on point delivery of each line.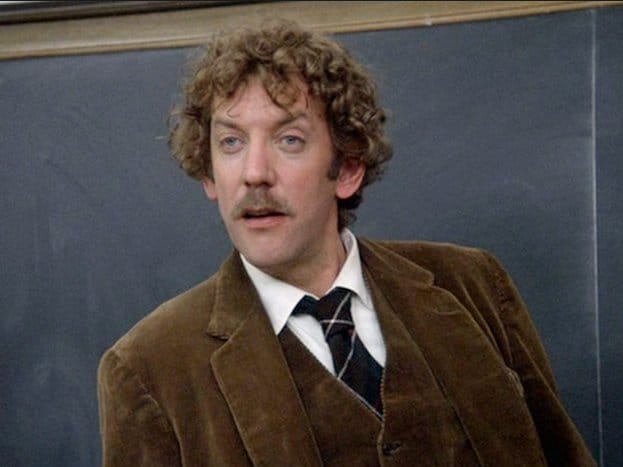 Donald Sutherland as Professor Jennings – Animal House
A lot of younger viewers might not understand the hilarity behind Jennings, or even know who he is. Animal House is a classic by any standard and as such has its share of classic characters. While Jennings isn't one of the main character he definitely makes enough appearances to show that he's a moderately-skilled teacher at best, and a goofy, girlfriend-stealing pothead at worst. Seriously, even in college back in the 1960s it was kind of odd to see a teacher like Jennings.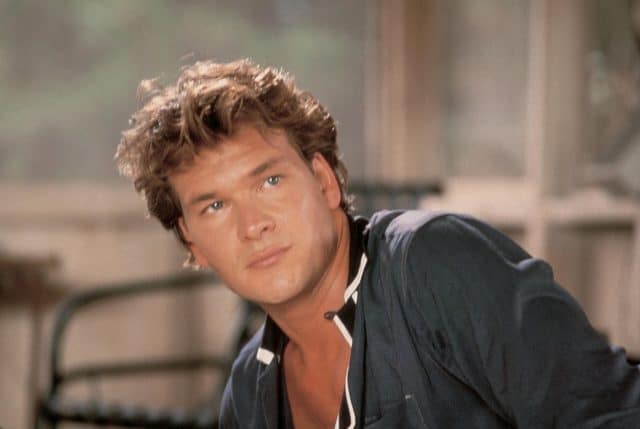 Patrick Swayze as Johnny Castle – Dirty Dancing
Here is another character that is not technically a teacher, but still manages to 'teach' something to the lead character and narrator of the story. In truth Johnny is a dance instructor, so he is a teacher, just not the traditional type and certainly not the kind of guy that many parents would want hanging around their young, impressionable daughters. However, near the end of the film when Johnny comes back and utters the legendary phrase, "Nobody puts Baby in the corner.", it seems like he might have taught Baby's father a little something as well. Strangely enough, Swayze later on admitted to hating the line right up until he realized that it meant far more than he'd originally thought it did. Thankfully he came around, otherwise the omission of this one line could have completely altered the ending of a fan favorite.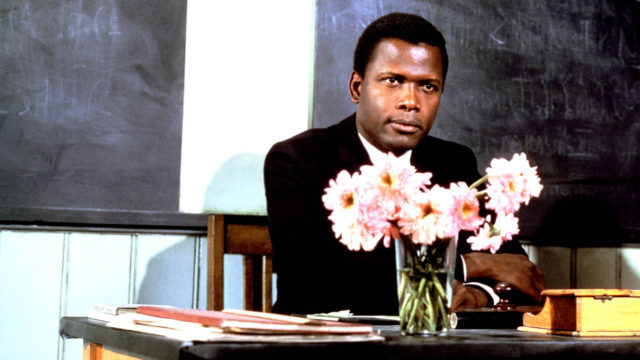 Sidney Poitier as Mark Thackeray – To Sir with Love
This classic film is about an idealistic engineer-trainee and his experiences in teaching a group of rambunctious white high school students from the slums of London's East End. Poitier portrays a well educated African man facing extreme diversity and gives an award winning performance in this film.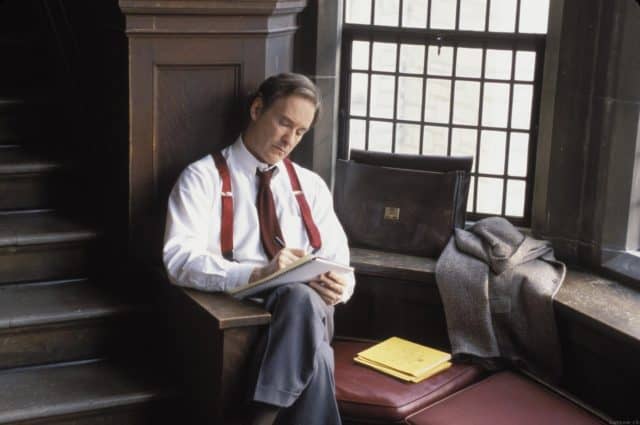 Kevin Kline as William Hundert – The Emperor's Club
While not nearly as good as Dead Poet's Society, this movie is definitely up there with regard to "prep school films." Kline plays an idealistic prep school teacher who attempts to redeem an incorrigible student. The student, played by Emile Hirsch winds up teaching the teacher a thing or two about reality and it appears that Kline's idealism, while dignified is undated.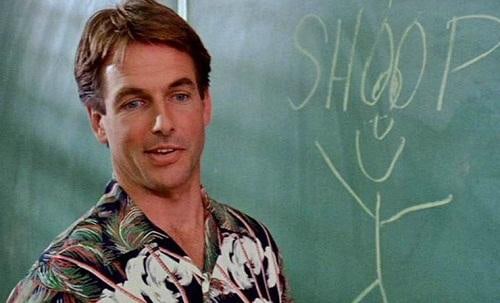 Mark Harmon as Freddy Shoop – Summer School
A high-school gym teacher has big plans for the summer, but is forced to cancel them to teach a "bonehead" English class for misfit goof-off students. Fortunately, his unconventional brand of teaching fun field trips begins to connect with them, and even inspires ardor in some.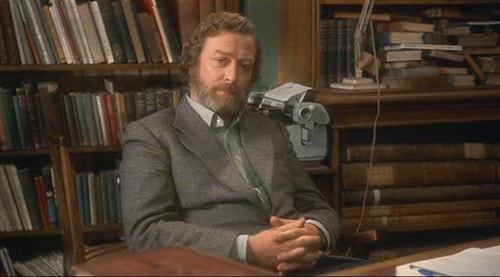 Michael Caine as Frank Bryant – Educating Rita
Bored with teaching undergraduates English literature, Frank Bryant morosely reflects through a whisky glass on his failed marriage and his attempt at becoming a poet. His world is turned upside down by the arrival of Rita, a hairdresser who has decided to find herself by taking an Open University course. Excited by her freewheeling and acute observations, and – let's be honest – by Rita herself, Frank also feels a deep sadness as he watches her warm impulsive reactions being replaced by the sort of cold analytical approach he so much loathes in other students and colleagues.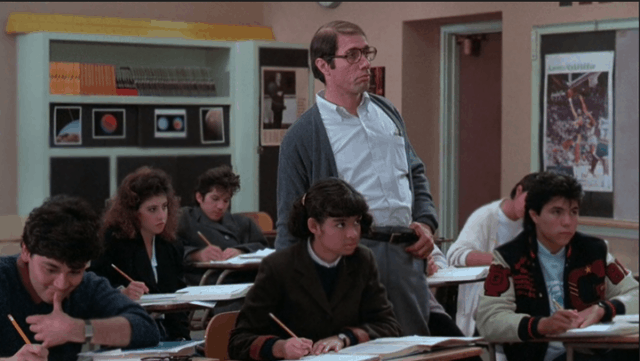 Edward James Almos is Professor Jaime Escalante – Stand and Deliver
This movie is the story of Jaime Escalante, a high school teacher who successfully inspired his dropout prone students to learn calculus. The film is based on a true story and Almos won multiple awards for his portrayal as Escalante. This movie also saw the emergence of Lou Diamond Phillips. A great film.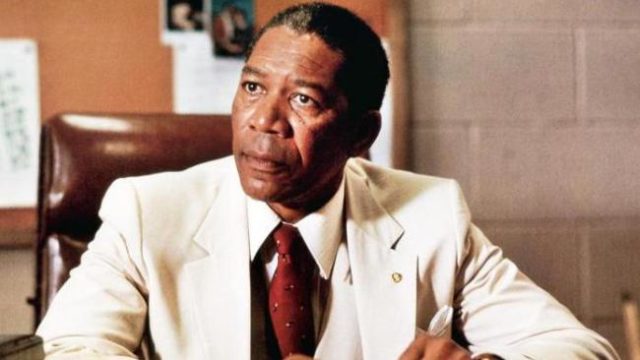 Morgan Freeman as Joe Clark – Lean on Me
Lean on Me is also based on a true story. It focuses on the dedicated but tyrannical Joe Clark who is appointed the principal of a decaying inner-city school that he is determined to improve. Freeman won accolades for his performance and the film was considered one of the best of that year and is often considered one of the better educational movies of all time.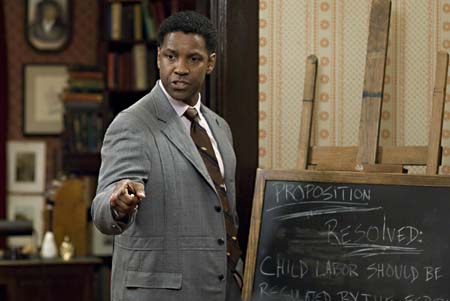 Denzel Washington as Melvin Tolson – The Great Debaters
A drama based on the true story of Melvin B. Tolson, a professor at Wiley College Texas. In 1935, he inspired students to form the school's first debate team, which went on to challenge Harvard in the national championship. As usual Washington gives a gutsy performance of the hard nosed Tolson who expects nothing less than excellence from his students.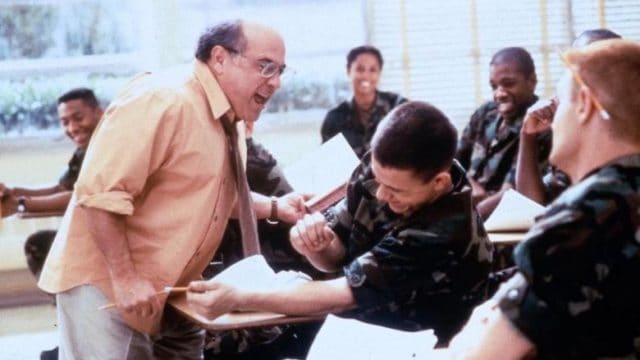 Danny DeVito as Bill Rago – Renaissance Man
A failed businessman is hired by the army to teach a group of underachieving recruits in order to help them pass basic training. Directed by Penny Marshall it's a heart warming film that sees DeVito at his best. Also a fine performance by Gregory Hines and the emerging star Mark Wahlberg. Definitely a must see if you haven't checked it out yet.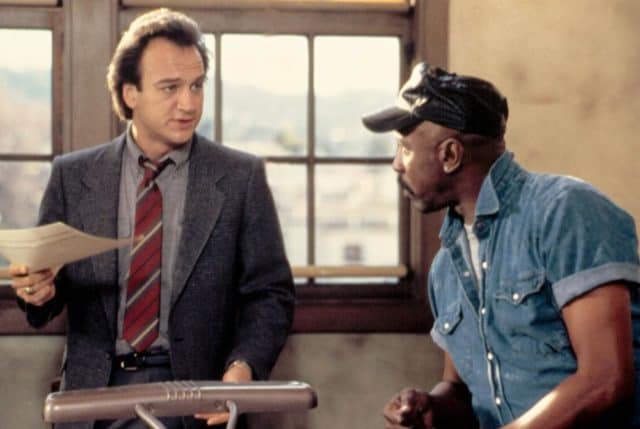 James Belushi as Rick Latimer – The Principal
Rick Latimer is a high-school teacher with a drinking problem. Spotting his ex-wife Kimberly in a bar one night, Rick gets into a fight with the man she's with, culminating in his beating the hapless man's car with a baseball bat. The board of education finds that Rick's behavior is reflecting poorly on the school district's image. They unanimously decide to transfer him to another school, in another district: Brandel High, a crime-ridden and gang-dominated institution, where he is made the new principal.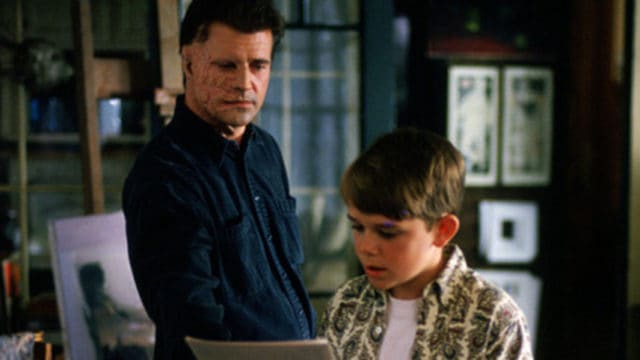 Mel Gibson as Justin Mcleod – The Man Without a Face
The film takes place in 1968. For the past seven years, Justin McLeod (Gibson) has been living an isolated existence as a reclusive painter following a car accident which left him disfigured on the right side of his face and chest by burns sustained in a post-crash fire. Young Chuck Nordstadt endures a dysfunctional relationship with his sister and their widowed mother. One day, Chuck meets McLeod on a ferry; Chuck is both intrigued and slightly scared of him. Chuck needs a tutor to help him pass a military academy's entrance exam; McLeod is the only one who openly believes Chuck can and will succeed. Eventually, Chuck persuades McLeod to become his teacher; although he is initially baffled by McLeod's unorthodox methods, the two develop a close friendship.
Save
Save
Save
Save