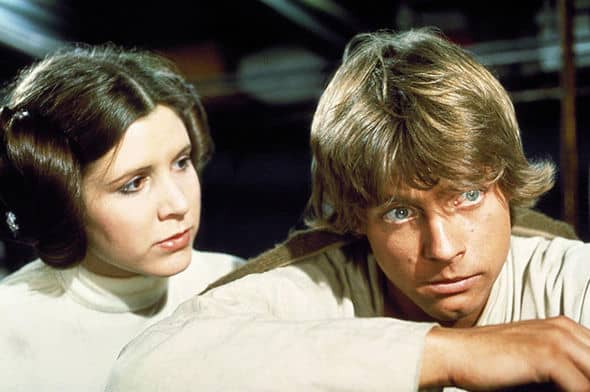 You may have heard it said that all movies follow one of a handful of basic storylines. When you think of the endless complexity of cinema, it seems like a strange claim. However, at heart, every piece of film deals with a core human interest or concern. The vast majority are about finding love. Others are about losing it. Some focus on the trauma of grief. Then, there are movies about personal triumph, parental sacrifice, and bravery in the face of great danger. There's also a special place in cinema for sibling relationships. Think about it. Some of the most exciting, iconic, and enigmatic movie duos are made up of a brother and sister. The classic example is, of course, Luke and Leia, but they're not the only ones. For Hollywood, the bond between siblings has long been a subject of fascination.
We're going to take a look at some of the most interesting brother sister duos in movie history. Some are inspiring. Some are a little icky. Others will make you turn to your sibling and thank them for being in your life.
Hansel and Gretel – Hansel & Gretel: Witch Hunters
Hansel and Gretel are one of the oldest sibling duos in literary history. Yet, in 2013, a blockbuster turned this familiar relationship on its head. Hansel & Gretel: Witch Hunters transformed the two from tragic tots, who get eaten by a witch, into a badass witch hunting team. While they frequently bicker, they always present a united front when it comes to taking down the bad guys.
Luke and Leia – Star Wars Franchise
We couldn't compile a list of movie siblings without including the strangest pairing in the galaxy. Luke and Leia Skywalker meet as two galactic warriors, determined to take on Darth Fader and his appetite for world destruction. They share a romantic kiss, before later finding out that not only are they related, they're actually twins. If that makes you cringe, you know how all those Star Wars fans felt in 1983 after the big reveal.
Theo and Isabelle – The Dreamers
Although, Star Wars has got nothing on 2003 drama The Dreamers. It tells the tale of Isabelle and Theo, two French siblings with an unhealthy relationship. They are joined by American exchange student Matthew, who quickly becomes embroiled in a wild sexual odyssey with the pair. The three leads are an electric presence. They manage to convince themselves that their incestuous union is more free-spirited and libertarian than dangerous. That is, until the final act when their secret is revealed.
Ferris and Jeanie – Ferris Bueller's Day Off
Now, on to a more familiar sibling set up. Like most teenagers, Jeanie Bueller doesn't always get along with her brother. In fact, when she finds out he's playing hooky from school, in order to spend the day adventuring, she's determined to ruin the plans. While everybody wants to have the kind of relationship where you'd both be cool enough to cover for the other, siblings just love to snitch. You can't blame poor Jeannie. Ferris is a bit of a nightmare.
Richie and Margot – The Royal Tenenbaums
The Royal Tenenbaums is a wonderfully quirky film about the perils of success and the burden of family. There are several siblings in the movie and its female lead, Margot, is technically not related to any of them. She was adopted as a child, and her literary talent, old world style, and hipster cynicism make her irresistible to her grown-up 'brothers.' Despite this complexity, the film portrays a burgeoning romance between Margot and tennis prodigy Richie with surprising sensitivity. However, this is only after an emotionally devastating incident brings the two together.
Sammy and Terry — You Can Count on Me
Kenneth Lonergan has a reputation for directing quietly affecting films. You Can Count on Me is no exception. It follows the story of Sammy Prescott, a single mother who invites her brother to stay in her home after his girlfriend attempts suicide. Throughout the movie, the two constantly butt heads as their views on life, parenting, and romance are so different. Yet, although there's a lot of conflicts, the message at its heart is clear. You can always count on your sibling to be there, whether they understand you or not.
Wendy and Jon – The Savages
You Can Count on Me isn't Laura Linney's only turn as a beleaguered sister. In The Savages, she plays Wendy Savage, a woman forced to confront her past when her father grows sick with dementia. Together with her brother, they join forces to take care of him, but it isn't as easy as they expected. The two are surrounded by the trauma of her childhood and the fact it has pushed them into emotionally unsatisfying lives.
Max and Dani – Hocus Pocus
Hocus Pocus is one of the most popular Halloween movies of all time. It's filled with witches, ghouls, ghosts, and magic, but there's also a pretty special relationship between a big brother and his little sister. At the start of the movie, Dani is the archetypal sibling. She makes fun of Max, messes with his things, and follows him everywhere. They do a lot of bickering, but when a band of witches hunts them down, they go to great lengths to protect one another.
Josie and Rob – Never Been Kissed
You know what it's like. You spend all your time trying fit in and be cool, and your little brother becomes King of the School without effort. This is the situation in Never Been Kissed after Josie and her brother go undercover in a high school. He's an instant hit with the popular kids, and she's a fish out of water. Luckily, Rob has his own emotional revelation and decides to help his big sister rise to the top.
Elizabeth and Donnie — Donnie Darko
Donnie Dark is an incredibly strange film about a teenager who hallucinates and discovers the world is due to end. Of course, nobody believes him. He's treated like a troubled kid and put on medication. This makes the relationship with his older sister Elizabeth very tense, as she's more interested in partying and planning for the future. There are some hilarious scenes in which the two trade insults. However, as the film comes to a climax, we see that Elizabeth is genuinely scared and worried about Donnie.
Stranz and Fairchild — Blades of Glory
Comedy superstars Will Arnett and Amy Poehler have created one of the most loathsome brother sister duos in movie history. Blades of Glory sees Stranz and Fairchild Van Waldenberg resort to villainous tactics to try and stop two new ice skaters from taking their crown. Throughout the movie, there are some gross and hilarious hints at a forbidden love. They even dress as Kennedy and Monroe for a skating routine called 'Forbidden Romance.'
Sheryl and Frank/Dwayne and Olive – Little Miss Sunshine
There are two sets of siblings in this charming movie, but that's no surprise as it's all about the messy, complicated nature of families. Mother of two Cheryl ends up supporting her brother after he attempts suicide. This is all while helping her daughter make it to a beauty pageant and guiding her teenage son through a difficult time in his life. All of the relationships in this film are dysfunctional, but it sets out to convince the viewer that messy, quirky, unique, and creative is always better than perfect.
Maggie and Milo – The Skeleton Twins
The Skeleton Twins is a deeply sad film, but it's also strangely uplifting. It depicts Milo and Maggie, twins who become distant and do not speak for a decade. That is, until the night they both coincidentally end up considering suicide. Milo has a failed attempt and Maggie is about to take a handful of pills when she gets a call about her brother. The move in together for support, but only end up repeating past mistakes. While the journey is difficult for both of these characters, they're surprised to find strength in one another.
Carmen and Juni — Spy Kids
Carmen and Juni are just a normal brother and sister. They fight, they bicker, and each finds the other desperately annoying. However, when their parents are kidnapped, they're forced to fight as a team in order to get them back. It's a wild ride because, along the way, they discover their parents used to be Super Spies. Cue plenty of explosions, bad guys, evil plots, and heroic moments from two siblings on a mission.
Kathryn and Sebastian – Cruel Intentions
It seems like cinema can't get enough of brother sister relationships that cross that line. In Cruel Intentions, Kathryn and Sebastian are step-siblings (so, not truly related) who make the Borgias look affectionate. They scheme, plot, and create dastardly plans in order to get what they want, whether it's revenge or the corruption of a school sweetheart. At one point, the two decide on a wager. The icky part is, if Sebastian wins, Kathryn agrees to go to bed with him.
Klaus and Violet – A Series of Unfortunate Events
Violent and Klaus are two extraordinary siblings who lose their parents in a suspicious fire. They leave behind a huge fortune, but the children (and their baby sister) must go to live with a distant relative until they're old enough to claim it. This turns out to be a dastardly Count who pursues the trio relentlessly and plots their demise. Violet and Klaus must use their talents as a reader and an inventor to outwit this villain.
Divergent
The relationship between Tris and Caleb Prior makes for one of the most complex brother sister duos in science fiction. Caleb frequently admonishes his little sister for not being true to the qualities of her faction and social group. However, it is later revealed he plans to defect and has been hiding his own secret qualities. Tris and Caleb are often at loggerheads and she soon realises that even family can be dangerous.
Lucilla and Commodus — Gladiator
The relationship between Lucilla and Commodus (both real figures) is one of the most chilling in cinema. Fortunately, the filmmakers took more than a few liberties with their story. For one thing, there was no incest or sexual abuse between the pair. Lucilla did try to have her younger brother assassinated though, so it's fair to say they weren't all that close. Sadly, her attempt to take down the despotic emperor failed and he later had her executed. The film goes in a different direction entirely, however, and movie Lucilla gets a happier ending.
Sue and Johnny – Fantastic Four
Sue and Johnny Storm were a beloved duo well before Jessica Alba and Chris Evans got their hands on them in Fantastic Four. They're also one of few cinematic siblings to get on rather well. After losing both parents at a young age, they grew close and have been protecting each other ever since. Not they need protection. Sue has the power of invisibility and Johnny can fly and shoot flames.
Chris and Carine – Into the Wild
Chris and Carine McCandless are another real-life brother sister duo. In 2007, a movie was made about Chris, because he lost his life in a very unusual way. Without warning, the young man gave away all of his money, cut up his credit cards, and ran away from home. He never made contact with his family again, but we know from his diary that he had some amazing experiences out in the wilderness.
Lex and Tim – Jurassic Park
The first instalment in the Jurassic Park franchise is full of amazing characters. However, brother sister duo Tim and Lex stand out, because they bravely face some terrifying things. While young brother Tim can be annoying, Lex does everything she can to protect him, including baiting a hungry raptor in the hotel kitchen. She later saves the entire group with her unexpected cyber hacking skills.
Evie and Jonathan — The Mummy
In the original version of The Mummy, Rachel Weisz and John Hannah play squabbling siblings trying to prevent a great evil from taking over Egypt. Evie is as studious and smart as she is courageous. John is more interested in himself and only signs on to her expedition after finding out there may be gold involved. Ironically, it's his ruinous actions at the start of the film that later become a source of hope for the group.
Trish and Darry – Jeepers Creepers
In Jeepers Creepers, we get to see a brother and sister uniting against an unimaginable evil. They start out happily enough, on a drive home for spring break. However, the banter and playful teasing turns into a fight for their life after they run into a demon on the road. We see lots of moments in the movie that tell us siblings would do anything to keep each other safe. The story takes a devastating turn when Trish is forced to make the ultimate sacrifice for her brother.
The Kids Are Alright
The Kids Are Alright is a unique film, because it was the first major picture to portray a homosexual couple raising teenage children. At heart, it's a movie about the secrets we keep from one another. Seventeen year old Laser decide to track down the man who donated sperm, so that his lesbian parents could start a family. As he's still a minor, he must enlist his older sister and get her to seek out this estranged father.
Tammy and Andy – 28 Weeks Later
This is another film that portrays the unbreakable bond between brother and sister. After mistakenly believing that a worldwide zombie outbreak is over and under control, the military fails to prevent a major incident. Rage zombies overrun the compound where Andy and his big sister Tammy are staying. She risks her own life to make sure he gets through the nightmare alive, including keeping some very important information under wraps.
Why Sibling Relationships Are Such a Lure for Filmmakers
The bond between siblings is unique. Brothers and sisters, in particular, can feel great love for one another and still want to inflict hurt and pain. There is rivalry, jealousy, bitterness, and loathing in many sibling relationships, perhaps because they serve as a mirror. No matter how different you may think you are to your sibling, they are a version of yourself, and this can be tough to confront. As well as reflecting your strengths, they are also a mirror of your flaws. It's one of the reasons why the relationship is so fascinating, especially for filmmakers. Ultimately, there are few people who know you as well as your brother or sister. Many of the films listed tell us that, even if you grow apart, the bond remains. It's an anchor, a safety rope that you can always use to find your way home.