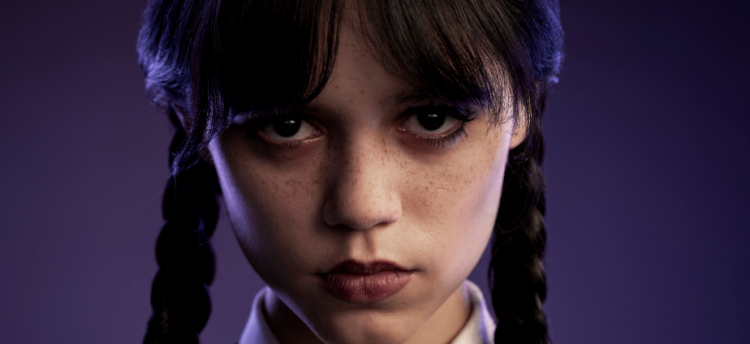 The Addams Family has been a popular franchise since it was first a television show, but since then, it has had a movie reboot that spawned a sequel. Now, unique dark master Tim Burton has an Addams Family adaptation of his own headed our way. Tim Burton's upcoming Addams Family series, Wednesday, will focus on the young female Addams Family member as she navigates love, high school, and possible murders and curses. Still, as reboots go, there's a new actor for each Addams Family member. Below, we've detailed the new Tim Burton Addams Family show Wednesday, as well as went over every new Addams Family cast member that will appear on Wednesday on Netflix.
Wednesday on Netflix
Wednesday Addams, played this time by Jenna Ortega, has been cast as the main character. The new Addams Family series will focus mainly on Wednesday Addams as she navigates high school, love interests, and the supernatural around her and her family. The series will have a limited number of eight episodes for its first season. Still, so far, it has seemed that fans that intend to watch the show, either for their love of Tim Burton or simply for The Addams Family, should be content with every new Addams Family member's new actor as the show will be extraordinarily unique, and a first for Burton, as a television show versus a film.
Jenna Ortega cast as Wednesday Addams in Wednesday
As stated above, Wednesday Addams was cast as Wednesday Addams and will be the lead character in the upcoming Netflix show titled Wednesday by Tim Burton. Jenna Ortega will portray the titular character, so she will be The Addams Family's new cast member for Wednesday Addams. However, Wednesday has been the character that has been most known to be appearing as part of the Addams Family for Tim Burton's adaptation, and what we don't know is precisely how many of the core Addams Family members will be present for the new series, Wednesday, on Netflix.
Luis Guzman cast as Gomez Addams in Wednesday
So far, the most controversy for Wednesday has had to do with the casting of Luis Guzman as Gomez Addams. From the promo image alone, Guzman has looked like not only the perfect cast for Gomez Addams but among the entire Addams Family cast for Wednesday on Netflix.
Catherine Zeta-Jones cast as Morticia Addams in Wednesday
Catherine Zeta-Jones has been cast in the role of Addams Family member Morticia Addams for Tim Burton's Netflix adaptation of Wednesday. As Catherine Zeta-Jones has not only been the most decorated actress to be attached to Wednesday on Netflix, but she has also been in some genuinely noteworthy roles in films such as The Mask of Zorro, Chicago, and Ocean's Twelve, just to name some of her most significant accomplishments.
Isaac Ordonez cast as Pugsley Addams
Isaac Ordonez has been cast to play the younger sibling of Wednesday Addams, Pugsley on the Netflix adaptation of The Addams Family, Wednesday. However, the character was yet another that was released with the casting of additional members beyond Wednesday Addams.
George Burcea cast as Lurch in Wednesday
Lurch, one of the fan-favorite characters of The Addams Family, has been noted as less of a substantial character than he appeared in the previous renditions of The Addams Family. Still, in the upcoming Netflix adaptation of Wednesday on Netflix, Lurch has been cast to be played by George Burcea.
Victor Dorobantu cast as Thing
Thing, or Thing. T. Thing has always been one of the most exciting characters from The Addams Family, although the character has no face and can't speak. The character does, however, grunt and make sounds and is also literally a living hand, so although the character of Thing has been cast in Wednesday on Netflix to be portrayed by Victor Dorobantu, it's unknown if the actor will portray the hand's movements or simply just sounds that Thing will make.
Christina Ricci and Uncle Fester in Wednesday
Without a doubt, the most exciting and interesting news regarding the Netflix adaptation of The Addams Family titled Wednesday was the announcement that the previous Wednesday Addams actor, Christina Ricci, would return to the franchise, but in a still undisclosed role. With such news, and the lack of an Uncle Fester character being portrayed by a definitive actor, fans have started to conclude that Christina Ricci may take on the role of Uncle Fester in the Netflix adaptation, Wednesday. Ultimately, The Addams Family originated as a cartoon from Charles Addams, so realistically, any complaints about any character not holding up to expectations compared to any previous rendition after the cartoon strip are irrelevant as the source material should overall be used to determine the mannerisms and more of a character than an actor has been cast as.