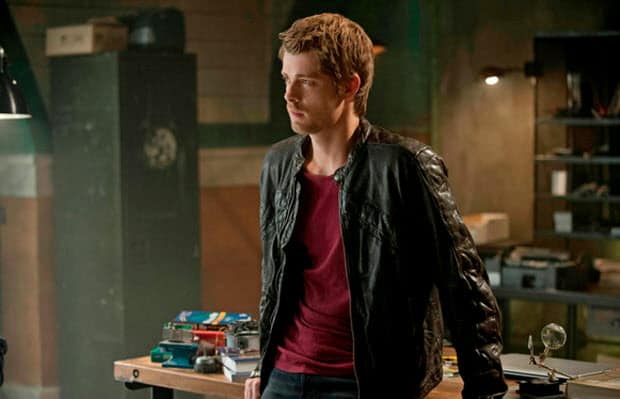 When I heard that this episode was going to tell us the backstory of Cara, I was incredibly excited because I love Cara. And backstories.
It was shocking to learn that she had actually been deaf this whole time, which makes her character all the more compelling. It was horrifying to see her attempted rape, especially when seeing it through Cara's eyes without any sound.
What was really heartbreaking was the final scene in the flashbacks where Cara was forced to run away after hearing her father's thought,s and Peyton List gave an amazing performance back then, as well as in the present. I didn't expect to see the little sister in this episode, but I'm glad we did, and who knows if she will show up at some point in the present?
Stephen keeps growing as a character as the episodes progress and this week, the show introduced another element which was saving human lives. Last week we saw him saving other break-outs and I think it's nice that the show is already exploring these themes.
There was a sizzle reel released at New York Comic-Con that gave us some clues what was going to happen in the next eight episodes. One of the things we saw was Astrid seeing Stephen teleporting so I knew it was coming, but I didn't think it was going to be this early.
It didn't ruin the episode by any means, but it felt like something that they could have saved till perhaps episode six or seven. But I don't mind it at all because now it will most likely give us more scenes of Astrid and I have already become such a huge fan of Madeleine Mantock.
I felt that Astrid's goal, to find out what Stephen is hiding, is something that I loved seeing with the character of Chloe Sullivan in Smallville when she was trying to discover Clark Kent's secret.
However, it was weird that Stephen decided to lie to her, because in the pilot he was trying to convince her. Wouldn't it be better for him if he could be open about who he is with his best friend? I guess time will tell.
What I loved the most about this episode was Stephen finding a way to truly trick Jedikiah that he is on Ultra's side. The scene when he is "injecting" Cara with the thing that would take away her powers was a huge twist when they revealed what really happened.
It also continued the exploration of Stephen's fourth power which is stopping time and that it's trickier than we expected. I'm wondering if at some point, the other Tomorrow People will start to perhaps gain that power as well, but it all depends on the mystery regarding Stephen's father.
Knowing that the action is handled by James Bamford and his team on The Tomorrow People makes me excited for every episode because of the incredible fight scenes. We got to see more of Russell this week (which is only a great thing) and we see that he definitely has some sweet moves, and so does John who was featured a bit less this week.
The Ultra organization continues to get more interesting, especially with Meta Golding's character Darcy, who is now Stephen's partner. She had quite a first line, "take off your shirt," the minute she walked into the room.
It's hard to find anything to complain about regarding the show so far: we have great actors, who portray intriguing characters and amazing stories. The Tomorrow People keeps getting better and at this point, I'm just waiting for The CW to pick it for a full season because it deserves it.
"Girl Interrupted" was overall a fantastic backstory episode for Cara as it showed us her most painful moment in her life and I hope to see a few more flashbacks of her past, later this season.
The Tomorrow People airs on Wednesday nights, 9/8c on The CW.