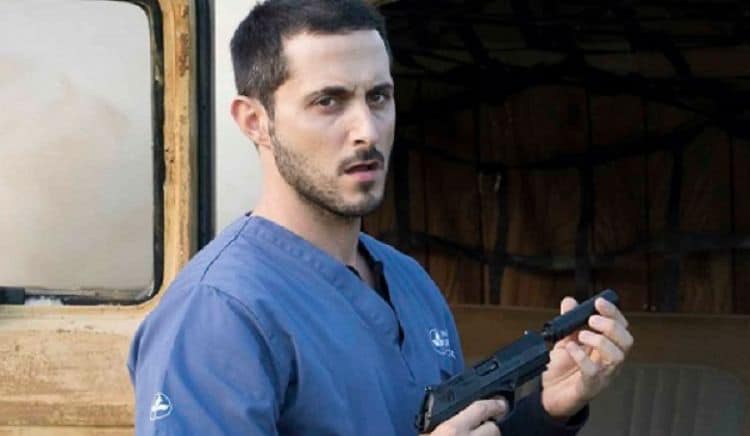 Finding success as an actor can be along and grueling process. Fortunately for Tomer Capon, the hard work he's but in has already started paying off. In just five short years, Tomer has gone from an unknown actor to an international star. The Israeli actor has become well-known for his role as Frenchie on the Amazon Prime series, The Boys. Prior to that, he had roles in the Israeli TV series, When Heroes Fly and Combat Medics. Tomer has shown that he has what it takes to play a complex character and he has the ability to steal the spotlight whenever he gets on screen. Keep reading for 10 things you didn't know about Tomer Capon.
1. He Loves To Hang Out By The Water
Tomer likes to play just as hard as he works. Even though his schedule has been very busy lately, he likes to make time to do the things he enjoys. One of his favorite things to do is relax by the water. Whether it be a pool or an ocean, Tomer loves to sit back and enjoy the view.
2. He Was In The Military
Tomer's road to becoming a professional actor had its fair share of twists and turns. In 2004, he joined the Israel Defense Forces. His time in the military helped shape him into the person he is today and it has definitely allowed him to bring a unique perspective to the roles he plays.
3. He Is A Formally Trained Actor
Natural talent is always a good thing to have, and Tomer has plenty of it. However, in reality it can only get you so far. Tomer has put in a lot of time and effort to perfect his craft and he studied acting at The Yoram Loewenstein Performing Arts Studio in Tel-Aviv.
4. He Changed The Spelling Of His Last Name
If you're familiar with Tomer you may have noticed that there are several spellings of his last name floating around the internet. In some places the name is spelled Capon, Capone, Kappon or Kapon. In an interview with From The Grapevine, Tomer said that his last name is actually Capone. He added, "It's supposed to be with an 'e' at the end, but we don't want people to read it 'Capone' like the gangster. We don't want any misunderstandings"
5. He's In A Relationship
Tomer's handsome face certainly hasn't gone unnoticed and there are probably lots of people wishing they could have a shot with the rising star. Unfortunately for those people, however, Tomer is in a committed relationship with actress Ortal Ben-Shoshan since 2012.
6. He Used To Work With Horses
Tomer may have some celebrity status now, but that doesn't mean he doesn't know how to get his hands dirty. Before breaking into the entertainment industry, Tomer held down lots of odd jobs; one of which included him working on a farm with horses and other animals. At one point in time his dream was to become a cowboy.
7. He Doesn't Really Like To Do Interviews
Interviewing is a big part of working in the entertainment industry, but it's not one of Tomer's favorite things to do. During an interview with Mako he said, "I was burned in the past, a big article came out about me two years ago in Yedioth Ahronoth, I opened the newspaper and felt that I was completely edited. I had a very hard time…"
8. He Has Modeling Experience
Being a natural in front of the camera doesn't just apply to Tomer's acting skills, he's also got a knack for modeling as well. He has been the face of the well-known Israeli fashion brand, Fox, and has been a part of commercials and other ad campaigns for the company.
9. He's Worked With Natalie Portman
Natalie Portman has had so much success in Hollywood that many people don't even realize that she was born in Israel. Tomer got the chance to work with Portman in 2015 when he was cast in the film A Tale of Love and Darkness. The movie was Portman's debut as a director.
10. A Friend Got Him Into Acting
Many actors knew they wanted to act since they were small children, however, Tomer's story of discovering his love for acting is a bit different than most. A friend invited him along for an acting class and Tomer fell in love with acting the minute he got on stage. While talking to From The Grapevine he said, "I felt safe and at home. It felt a lot like riding a horse. When you know your horse and your horse knows you, something magical happens. You don't need to do a lot. It's just the most spiritual, freeing experience I can imagine."
Tell us what's wrong with this post? How could we improve it? :)
Let us improve this post!