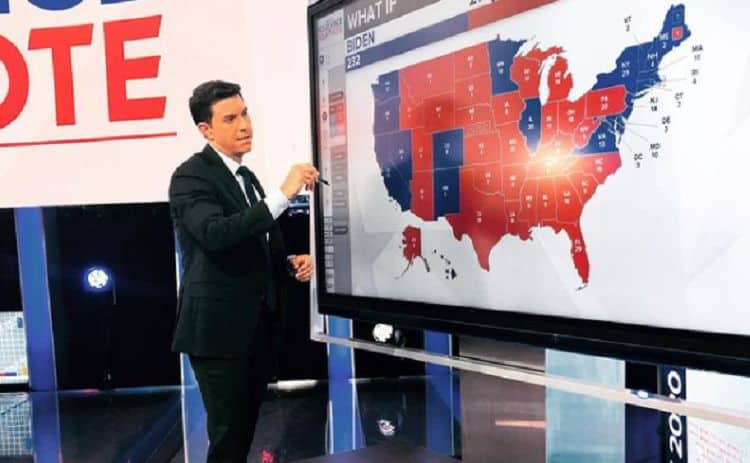 Most of the country knows him from his time with ABC, but it seems that Tom Llamas has aired his final show. He's done with ABC, and rumor has it that he's definitely moving over to NBC to work with the network on some other projects, and many of his fans are looking to know whether this is true or just a rumor. He's been in broadcasting since 2000, and people recognize him from his many different shows. Now they're all wondering what he's up to, and many want to get to know Tom Llamas a little better.
1. He's in His 40s
Tom Llamas is in his 40s. In fact, we were actually surprised to learn that he's only 41. He has a much more mature look to him than a man of only 41. He was born on July 2, 1979. He was born and raised in Miami.
2. He's from Miami
You already know this, but did you know that his parents were immigrants from Cuba? They came to the U.S. after fleeing, and they are considered political refugees. They came to the United States to give their family a better life and a much better future.
3. He's a Grad
Growing up, he attended the Belen Jesuit Preparatory School in Miami. He spent his entire childhood education learning here, and then he went on to college. He chose not to stay close to home for university, however. He attended Loyola University, which is located in Louisiana. More specifically, it's in New Orleans. He graduated with BA's in both Drama and Speech as well as Broadcast Journalism back in 2001.
4. He Began his Career with NBC
In 2000, he began his broadcasting career with NBC. While many recognize him from ABC, he did not get his start there. In fact, he made the decision to begin working there with the NBC News Specials Unit in 2000, and then he went to MSNBC. From there, he went back to NBC in Miami, and then he went to WNBC in New York in 2009. He didn't begin working for ABC until 2014.
5. His Wife is Also in the Business
It turns out that this is a man whose wife is also part of his world. Her name is Jennifer Llamas. They are both in the broadcasting industry, though she works as a producer. She's been with networks such as MSNBC, NBC, and she works as a production assistant. It might seem like there's a good chance they met at work, but that is not the case. They actually met in college. She's from New Orleans, and she attended the same university as her husband. That's where they met.
6. He Has Three Kids
He and his wife have three children together. They have two little girls and a little boy, and it seems their son is the youngest in the bunch. He's the baby, the only boy, and he's definitely going to grow up close to his mother – all little boys do.
7. He Seems Like a Great Dad
He seems like the kind of dad that all kids love to have. He often posts photos of himself outdoors with his kids. He posted on to his Instagram account of himself with one of his daughters playing in the snow on a NYC snow day. He has others of himself playing with his kids in the park, carting one of them in his Yeti backpack cooler – which, incidentally, is something my own husband has done more than once.
8. He's Close to His Family
He is close to his own family, too. He has a clear love for his mother, and he seems to appreciate all that she did for him and for his family growing up. They also seem like a family that spends a lot of time together with the grandparents. Grandparents are, after all, the best people in the world.
9. He Respects His Wife
He's very active on social media, and many of his photos are of himself and his wife. He has nothing but kind things to say about her, and he often shares how much he enjoys spending time with her and how much he loves her. He also calls her supermom, which is just one of those additional titles women get to tack onto the titles they already have once they welcome a baby.
10. He's Still Private
One thing we enjoy about Tom Llamas is that he's a man who keeps his life relatively private, but not so much that fans feel they are missing out. He shares snippets of their life behind the scenes, but never so much that we feel as if we are being invasive in his life. It's a great balance.
Tell us what's wrong with this post? How could we improve it? :)
Let us improve this post!