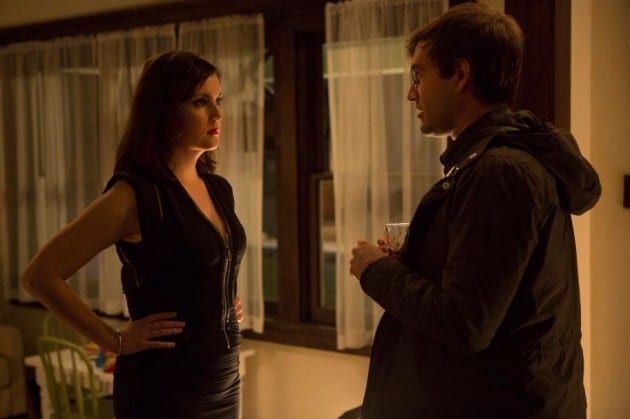 There's a scene in Mrs.Doubtfire in which Robin William's character does a voice-over that doesn't match up to the animation nor the script he has in front of him. His routine is anti-smoking, as he doesn't think his characters should be promoting that kind of habit with kids watching. He is fired for it. Brett in this episode, encounters something similar. But where Robin William's stand was understandable and somewhat noble, Brett's is not. His pushback against a coyote versus a wolf is ludicrous, unfunny, and totally 100% idiotic.
Brett is the problem with Togetherness. Every single problem that this show has can be traced to his complete inability to shut his mouth and just be a regular human being. Yes, I understand that this is intentional; that his character flaws are important to the progress of the show. But at this point I am totally uninterested in watching anything involving him, because it is so objectively awful.
And it makes me angry, because there is good stuff there! Lynskey as Michelle is killing it, selling the nervousness and unhappiness and determination to improve the relationship with her husband. But it is impossible to discuss anything that goes along with her stuff because Brett is so intolerable. They need to let their foot off the gas a little bit, because it's too much.
Enough about that.
The good thing about tonight's episode is that it was basically split in half between Tina/Alex and Michelle/Brett. Amanda Peet is such a natural, engaging actor that none of her work ever feels like she's actually doing anything, but that is strictly because she owns her work to the ninth degree. Her interactions with Melanie Lynskey were the best part of the first episode and were a bright spot in this episode, but it was really her relationship with Steve Zississ that made this episode so, so enjoyable.
Steve Zississ was so much more entertaining in this episode. As he was far away from Brett and the black hole of hellish douchebaggery that he lives in, he was able to spread out a bit and engage with Amanda Peet. Their relationship reminds me of the one that Matthew Perry and Peet had in The Whole Nine Yards, which is a huge positive for me, because I would take a beating to see that relationship played out over the long term. Now, I get the chance to! Thanks Togetherness!
But anyways.
This show is split pretty neatly in two for me, divided along the two relationships the show is predicated on. I'm not complaining in the slightest, at least for now, because this episode was about 10 times better than Togetherness's pilot. I said in the first review that I wished the pilot had been an hour, and I stick by that, but I now I kind of wish that the show was an hour-long comedy overall. I never thought I would say this after that pilot (and, to be honest, I still didn't think I would be even right before I started writing this review), but I am into this show. I think, above all, even as I complain about Brett, that Togetherness is going somewhere, and trying to say something, even if I'm not totally on board with its message yet.
Stray Thoughts:
– Everyone should watch The Whole Nine Yards. Critics are dumb and stupid, because that movie is a masterpiece.
– The coyote did sound stupid. Sorry Brett.
– Alex without hair would be hilarious.
– WHO NAMES THEIR BABY FRANK GOD I CAN'T GET OVER THIS I'VE BEEN TRYING NOT TO MENTION IT BUT HOW AWFUL CALL HIM FRANCIS FOR CHRIST'S SAKE.
– Tina started that business of hers awful quick.
[Photo via HBO]