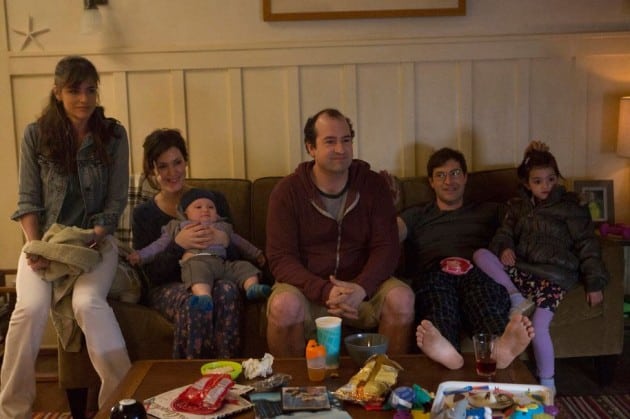 HBO's new comedy series Togetherness, created by brothers, Mark and Jay Duplass, and Steve Zissis, only aired its second episode last night, but it's already proven to me that it has the potential to become not only one of TV's best new shows but one of TV's best comedies, period. While the premise (upper class white people having relationship problems in Los Angeles) may seem like nothing new, it's in the execution where Togetherness really succeeds, quickly instilling all of its characters with a depth and realism that many long-running comedies haven't been able to achieve. The series is a near-perfect balancing act between cringe-worthy humor and heartfelt exchanges, a blend of comedic antics and good, honest character work, and despite its many opportunities to be shrill or snarky, Togetherness is almost always sincere, constantly displaying its most appealing and effective attribute: its heart.
Yes, it's true that many writers that cover TV (myself included) repeatedly tell readers how much "heart" and "warmth" a show has, despite its harder, perhaps even shallower exterior, but this praise is completely earned in Togetherness's case. The show treats its characters like real people with real feelings, and whether it's depicting the harsh difficulties of a long-standing marriage, like Brett and Michelle's, or the fun, back-and-forth banter of a budding friendship, like the one that is starting to form between Tina and Alex, Togetherness never shies away from the truth.
Take last night's "Handcuffs." The episode is essentially split into two separate stories: Michelle's attempt to "spice things up" in the bedroom between her and Brett, and Tina and Alex's adventures, which begin with him helping her with her new business (only after she flashes him first as payment) and end with them taking the kids out for pizza to give Brett and Michelle the alone time they need.
Both plots are filled with hilarious hijinks. Michelle does her very best to seduce Brett, donning a tight-fitting outfit and a dominatrix-like persona that he isn't sure how to react to, but it all comes crumbling down after she accidentally "injures" him during foreplay. Meanwhile, Tina challenges Alex to be better and try harder in life by forcing him to throw out the extra pizza he ordered for himself, a decision that he actually thanks her for helping him make, before he, soon after, dumps ice water on her as retribution for how she woke him up earlier in the day.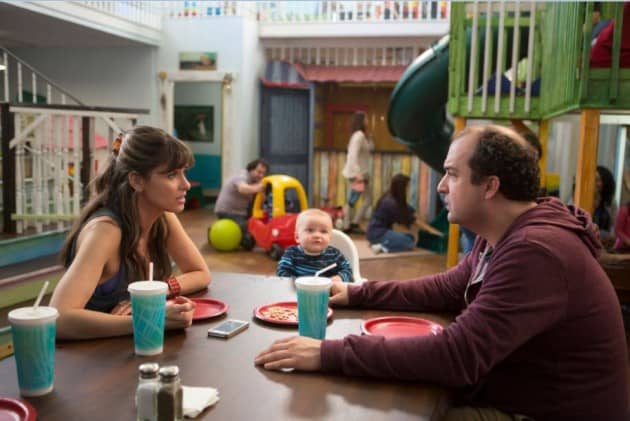 Yet while the comedy works really well here, that's not all that stands out. Just as memorable as the injury that Brett sustains is Michelle's face of desperation as she does her best to get her husband to go along with their role playing, something that she hopes will help their struggling marriage. Similarly, some people may only see Tina chiding Alex about his weight and hair at the pizza place, but her words are much more encouraging than snide remarks about his awkward patch of hair (that he call's "Gilligan's Island," by the way)–Tina truly wants to see Alex become the leading man in his own life instead of settling for the role of chubby sidekick.
While the writing on Togetherness is certainly solid, what makes all these moments really land are the performances. It's understandable to find Duplass's Brett a bit prickly, but the actor/writer does a very nice job here of painting a portrait of a man who isn't just lost in his marriage but in life. Even better are Melanie Lynskey and Amanda Peet as Michelle and her sister, Tina; both women bring such unrestrained energy when they're on screen (and Lynskey, spefically, is so honest and authentic in any and all of her scenes dealing with Michelle and Brett's marriage).
But it's Steve Zissis that's the real scene-stealer in Togetherness, as he ensures that Alex is not a tiring, "down on his luck" schmuck but a kind-hearted guy that is desperately seeking inspiration. You can tell that Alex cares for his friends, even new ones like Tina (only look back at his gorilla impersonation in the pilot for proof of that), but he struggles to care for himself, to find what makes him special and worthy of being the star in his own story. Hopefully, over the course of Season 1, Alex will figure out that he's leading man material, but even if he doesn't, there's no disputing the fact Zissis is the breakout star of Togetherness, helping to elevate this familiar-sounding material into something more, something better.
[Photos via HBO]