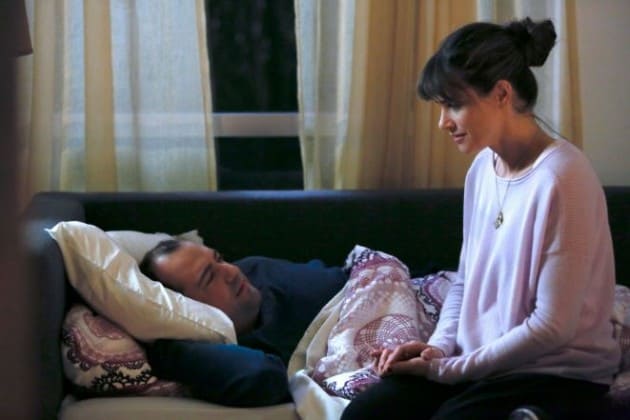 Last night's episode of Togetherness was easily the best of the season. My biggest complaint has been the 'Brett' character, who I find so intolerable and myopic that it made it difficult for me to watch. When I went to watch the episode last night, I came armed with snacks and drinks and fully expected to give the show a middle finger for a solid 27 minutes.
But from the moment Brett slapped that hotel key card on the table, I was in. Totally, one hundred percent in. I don't know what it was about that particular moment, but for the first time I saw a real human being in Brett. And then before, during, and after his explosion, I could finally relate to him. I understood the abject fear that he was experiencing both personally and professionally, and he didn't seem so obnoxious any more.
I'm not giving the past three episodes a pass, because I don't think it should take three episodes to make a character not the antichrist, but the Togetherness writers did really good work here.
Michelle also got to the roots of her problem, which she hid and buried beneath her attempts to seduce her husband. It wasn't that she wanted more spice or more roughness; it was that she didn't want it at all. She turned down attempt after attempt to try something different. She doesn't want different; she wants new. She wants freshness, not reimaging. And god, is that a relief. Because I had no idea what they were doing in last episode, which I still think was a trainwreck. I buy this version of Michelle, along with this version of Brett. I felt something for these two; so clearly in love and wanting to stay together, and willing to try anything.
My only complaint is I thought Tina's interest in Alex was a little meh. I think a lot of that stems from my desire for a platonic relationship between the two, one born out of mutual respect and growing closer as friends. But we're not getting that, so, whatever. Can I get a platonic relationship between two friends, especially those of the opposite sex? Please? No? Okay.
I think, honestly, you could throw out the first three episodes of the series and start here, and be better for it. I think, even missing some of the prior setup, you still get the gist of who these people are, and also see them start developing; to quote Jeff Lieber, they've filled in all the blue, and now they're starting to fill in the red.
The stupid charter school guy is gonna pop back up again, and I hate that. If Brett and Michelle are going to grow apart or whatever, I'd rather it be less dramatic and more normal; they stop doing things together, they make other friends, one day they wake up and bam. But I'm rambling now.
Anyways: good episode, really made me happy to see improvements. I hope that I see more of this Brett than the other, who was inscrutable to me.
Stray Thoughts:
– Steve Zissis did some really subtle, really wonderful acting this episode. Dude is so good, and even when things are bad he anchors this show.
– Same for Amanda Peet.
– I don't mean to keep repeating myself but I am just stunned at how differently I feel about Brett's character.
– More Pam, please? She was great.
[Photo via HBO]