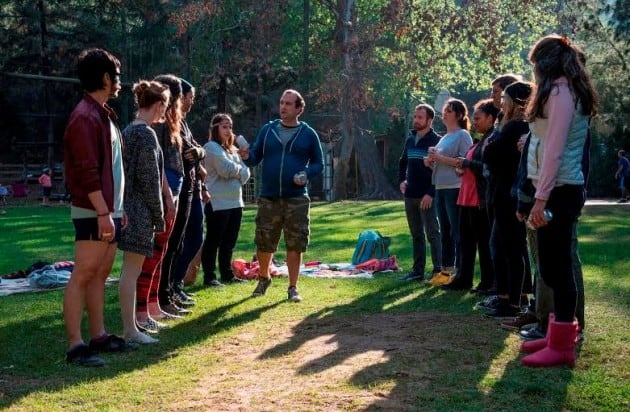 I think my opinion has permanently changed on Togetherness. Much of my criticisms straddle a fine line; the difference between an out of character decision/ludicrousness versus character development is really a matter of how I trust a show. That sounds pretty flimsy, and it is.
I bring this up because I am starting to believe in the creative direction of the show. I didn't before; I still think that the first three episodes were basically throwaways. The only thing worth keeping is the plot points and maybe a few character moments.
Speaking of character moments, I'm getting more and more into the relationship between Alex and Brett. I thought the pilot episode did a really poor job of establishing their closeness; it came off as meanness on Brett's side and codependent failure on Alex's. But in the third episode, they said they loved each other, unself-consciously, which I liked, but I didn't think it made any sense with the context of what they had previously developed. Now, though, I buy it; I really do. I think it's the most fascinating and interesting character interaction on the show.
I think the reason that I enjoy it so much is that those two act like regular human beings when they interact with each other. There's a realness and warmth that existed in the early Alex/Tina stuff but was supplanted by their romantic plot. I'm repeating myself, but I just think that platonic relationships are never explored in depth and I'd like to see Togetherness do that.
The writing throughout this episode was also very strong. The parallels they drew with the A, B, and C plots were very well done and interesting. I also thought it was very clever to use Dave, Tina, and Alex to help Michelle move forward, but also have Brett smiling on the sidelines. The implications there were heavy and added a dimension to the story that I don't think was there before.
More than anything else, it was an indirect exploration of the Brett character. I said before that he was the central problem in basically everyone's lives, and the show, I think, is acknowledging that. Look how much better things were when he was just out of the way! I mean, Jesus; Dave just acted like friend wouldm and he comes off like Prince Charming. Brett's attitude towards Michelle, in which he basically chews her out, was incredibly selfish. I mean, I get where he's coming from; he wants to discuss this stuff more, he wants to dive in and try to get ahold of it as quickly as possible. But it's also pretty crazy that he would see his wife having fun and actively work to bring her down.
The Alex/Tina relationship also took a turn. Alex kissing Tina was really stupid, and more than a little off-putting. Like, they're in a closet, enjoying each other's company, and he kisses her. She never shows any sort of romantic feelings (or hints of attraction), and it came off a little creepy. I think that was intentional, but I thought the show was too flippant about it and didn't take it seriously enough. There was some real exploration available, character-wise, but they totally punted on it by ignoring it in favor for Alex becoming a part of Michelle's happiness.
However, this show has become a really solid dark comedy. I still think that it needs some work, as Michelle has been a little all over the place in some respects, plus a few other things, but Togetherness is improving each and every episode.
Stray Thoughts
– "An original copy of Dune."
– "I'm not a big metaphor guy."
– I thought it was interesting that Brett, in terms of finding his "bliss," is solitary, while Michelle goes people.
[Photo via HBO]