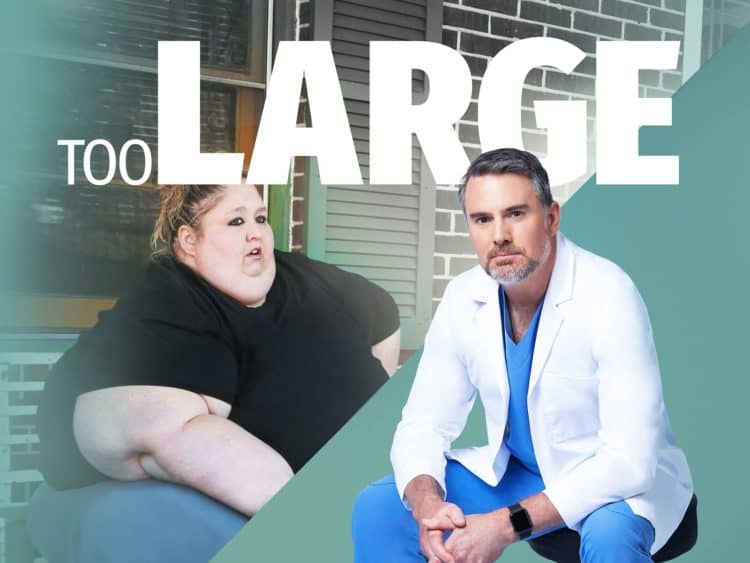 TLC has always been big on bringing some of the most controversial reality shows to television. When the network introduced the show, "Too Large," in June of 2021, fans were curious. What's this one about? Who will this show feature, and what kind of deep dive into the dark, scary, emotional personal lives of regular people will fans get to see this time around? This is a show about people who are morbidly obese. These people need help to lose weight, and they are trying to do what they can to lose the weight to become healthier, to live longer, and to improve the quality of their lives. Each of the obese people on the show is sent to see a doctor. Dr. Proctor then helps his patients lose weight – he's a bariatric surgeon – and he tries to help his patients develop and maintain a healthier lifestyle so that they can make this happen. What else do you need to know about this show?
1. It was On Discovery+ First
Before this show was even on TLC, it was being streamed on Discovery+ as one of their shows. However, the network picked it up and is currently working to put its own spin on things. This is a network, after all, that enjoys creating some very disturbing reality shows that feel a bit like an accident you cannot turn away from even when you try.
2. The Show Follows Seven
What is going on with this new show is going on with only seven different people. Each of the seven people being featured on the show is morbidly obese. Each person has their own reason for their weight. Each story is dramatic and somewhat heartbreaking, and each person is desperate.
3. The Doctor is Very Likable
It seems that unlike some shows where the doctors on the show are not that likeable or relatable, this show brings a different perspective. Doctor Charles Proctor Jr. is a man his patients really seem to like. He seems to genuinely care for his patients, and he seems to have no judgement – only the desire to help.
4. Everyone is Extremely Heavy
This is a show in which each person featured weighs no less than 400 pounds. It's a huge number no matter who you are, but it's shocking to find out that the patients weighing in at 400 pounds are the smaller patients. There are some who weigh as much as 800 pounds, which is impossible to believe.
5. One Star Has Died
The show features a woman whose name is Jennifer. She developed a problem with her weight when she was in middle school that caused her to weigh more than 200 pounds at the time. Following her pregnancy, she put on another 150 pounds. She was then involved in a car accident, and she said she 'let herself go,' following the accident. She looked for help, but it seems that help came too late. She passed away, and she leaves behind a husband and a son.
6. Some Dislike the Show
It seems that not everyone is into watching shows like this one. Some fans are not happy that the people being featured on the show won't take responsibility for their own size and their own actions. Some feel that the people being featured aren't ready for help because they will blame anyone, anything, and anybody else for their weight issues but themselves – and that is the root of each weight problem.
7. Doctor Proctor is Already Famous
Fans love him, and so do the patients he helps. He's already been featured on more than one reality show about people who need to lose weight, and it seems that he was a natural choice when this show was being pitched. He was already featured as the bariatric surgeon on the shows, "The 1,000-lb Sisters," as well as, "Family by the Ton," and he seems to genuinely want to help his patients.
8. Everyone on the Show is From Atlanta
Each of the people who are featured on this show is from the Atlanta, Georgia, area. Each family and each morbidly obese patient lives in or around the Atlanta area, and that's why they were chosen for this show. Dr. Proctor is based out of Atlanta, so he is able to see patients here without any issues. Additionally, it's not entirely easy for these primarily bedridden patients to get out and travel, so proximity to home is important.
9. One Patient Gets it
One of the first morbidly obese people to be featured on the show is Meghan Crumpler. She's a woman who has health issues. She has suffered trauma, depression, and she has chronic respiratory issues that caused her doctors to prescribe her steroids – which are well-known for causing weight gain. She was out of control, and she was hovering around 500 pounds. She is quick to admit that she knows people think that getting gastric bypass is a quick fix and a way of cheating the system, but she also admits that the work to make the surgery work is a lot. She said that if you don't put in the work to eat well, work out, and do what you can to help yourself, the surgery doesn't work. She seems like someone who does get it.
10. Dr. Proctor's Favorite Patients are Motivated
When he sees a new patient, he tends to know when the surgery will work and when it will not. When he meets a patient who is there because he or she has realized that they do not want to live like this anymore, that they want more and they want to do better, they are the people who will do the work. Those who are there because they feel they have to be or because someone else asked them to, well, they're probably not motivated enough to do the work required.