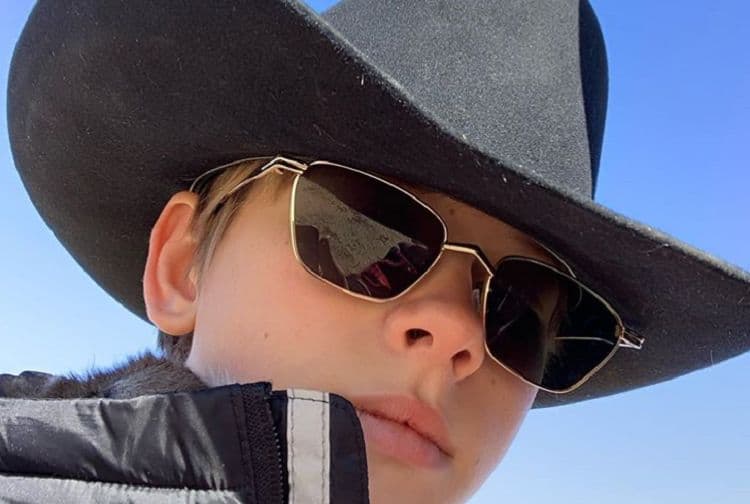 There is a lucky percentage of people whose sun seems to rise earlier than it does for the rest of us and Mason Ramsey belongs to this fortunate group. He is a 12-year-old American singer with a bang effect on social media. Until the age of 11, Ramsey was a low-key musician with only a little recognition in his neighborhood. However, his star shone overnight when a video of him singing Hank William's "Lovesick Blues" took the internet by storm. The video garnered an incredible 25 million views on the internet, placing him strategically on the map to stardom as revealed by The Rolling Stone Online Journal, as well as his Wikipedia page. Consequently, Mason earned the name, "Lil Hank." Besides becoming a darling of country music fans, let us get to know more about Mason Ramsey.
1. His net worth
Mason Ramsey earns between $21,000 and $336,000 from his YouTube Channel. Moreover, he makes a significant amount from the sale of records doing concerts and contracts. Ramsey's net worth as of 2018 is estimated to hover around $1million, which is an incredible financial profile for a 12-year-old. With such a talent, we can expect his net worth to rise rapidly over the next few years as he continues to bring the world to a stop with his musical gift.
2. His Albums
Before breaking the internet with his video, Mason had no recorded album. However, the limelight paved the way for the release of his debut album named "Famous" after his first single. It is hard to believe that a boy who is barely in his teens can sing about love in such a heartfelt way. However, the minute you listen to "Famous" you realize love is not limited by age. The album was launched midway through last year, and it comprises six hits. It blends new songs and old classic country songs such as "I Saw the Light" and "Lovesick Blues."
3. He won the 27th Annual Kentucky Opry Talent Search
His flare might have ignited after the viral video at the Walmart, but truth be told, Mason Ramsey was already a star in the making. According to the Famous People Journal, Mason won the top position in the 27th Annual Kentucky Opry Talent Search in the beginners' division after performing "Your Cheating Heart" by Hank William Sr. Many artists gave covered the song including LeAnn Rimes and James Brown and maybe that is what drove Mason to perform it.
4. He has been featured on the Ellen DeGeneres Show
After his video went viral, Mason Ramsey was the most sort-after individual. His breakthrough won him a feature in the popular "Ellen DeGeneres Show" on the 10th April 2018. He gave an exclusive on his life and music journey as well as his dreams in the music industry. Finally, he impressed the audience by performing his ticket to stardom single, "Lovesick Blues" on the show. Ellen fell in love with the boy and sent him to the Grand Ole Opry Stage, ensuring that Mason's dream came true. Mason returned to the show in December and performed "White Christmas" the best way he knows how; the country way.
5. He has a Crush on Millie Bobby Brown
Of course, there has to be a reason why Mason keeps singing about love, and he revealed it on Ellen DeGeneres Show, according to Taste of Country. Fortunately for Mason, Millie did not shut him down but instead went on Instagram and posted a video of her dancing to Mason's songs. Well, Mason must have felt the appreciation because now he keeps dedicating songs to Millie. Mason even sang his new song "How Could I Not" in the car and said it was for Millie; how exciting to be in love.
6. He has been nominated for the Shorty Awards
Despite having broken into the limelight recently, Mason Ramsey is already getting nominations for major awards. He has been nominated for the Shorty Awards 2019 in the best of the social media category. The nomination is due to his viral "Lovesick Blues" performance at the local Walmart which had garnered 25 million views in days.
7. He Performed at the Country Music Awards
The kid's star seems to sore higher as each day passes. In 2018 Country Music Awards, he had the pleasure of performing alongside stars Brad Paisley and Carrie Underwood. The organizers organized a script set where he played Carrie's son to the tune of his breakthrough song, "Lovesick Blues."
8. His record labels
After his show of pure talent in the yodeling viral video, every big record labels wanted to sign him. Being young and talented with a whole future in front of him, he would be a very sound investment for any record label. Consequently four weeks into the limelight he was snapped up by the giant Atlantic Records and also Big Loud records. He immediately dropped a debut song namely, "Famous" in conjunction with the two labels.
9. His debut single famous was in the top 5 of the Country Music Chart
Immediately after being released, the popular hit single, "Famous" rode on the heat of Mason Ramsey's hype. As such, it appeared in the top 5 of country music charts and 62nd in the Billboard hot 100 charts. Moreover, the song appeared 7th in the Billboards Heatseeker Albums chart. The labels exploited the kid's sensational hype moments to coin out a project that did very well.
10. His online presence
Music stars, to a large extent, are defined by their online presence since the number of followers is a gauge for popularity. Since his breakthrough, Mason Ramsey has steadily established himself in the online society, which is among the reasons why he has been nominated in the Shorty Awards, 2019. His online presence is reflected by the thousands of fans that follow him. Mason has about 53,000 followers on Facebook, over 250,000 on Twitter and over 1.6 million on Instagram.
Tell us what's wrong with this post? How could we improve it? :)
Let us improve this post!