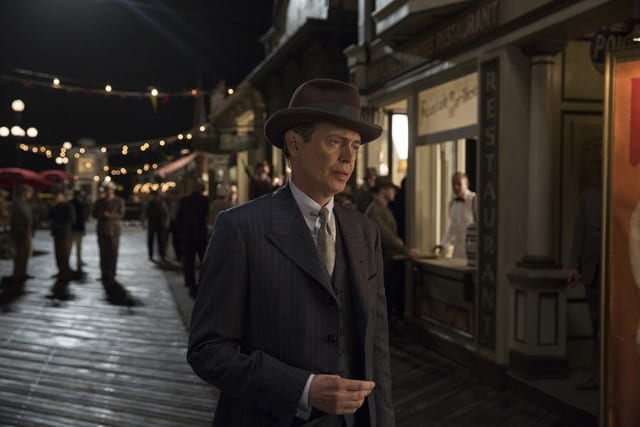 This final season of Boardwalk Empire was really all about showing us the rise and fall of Nucky Thompson. After sidelining Nucky during last season, essentially making him a supporting player in his own show, the series not only dived into his past during season five but also explored what Nucky's remaining legacy would be, something that he fixated on throughout these last eight episodes. What will I leave behind, Nucky wonders, and ultimately, aside from Margaret's newfound wealth, he leaves nothing but the destruction of the entire Darmody family, from Gillian to Jimmy to now Tommy.
Yes, as many Boardwalk Empire fans predicted, Joe Harper, the 15-year-old kid that has been working for Nucky during this final season, is in fact Jimmy's son Tommy, who has come back to Atlantic City to learn the truth about his real family and enact vengeance upon the man who caused them so much harm. Despite being slightly predictable, Tommy murdering Nucky is incredibly well-done, with an amazing death scene from Steve Buscemi, who literally appears frozen (eyes and all) as Nucky leaves this world.
As I've been saying a lot in my reviews for Boardwalk Empire, I believe that Nucky needed to die in order to truly pay for his crimes, specifically the original sin of handing Gillian over to the Commodore. Here in the finale, we finally get that fateful scene, and being shown it is much more powerful than being told about it, especially as Nucky's heartbreaking decision to give Gillian away in order to become sheriff (a position that will allow him to provide for his wife and eventual family) is intercut with Tommy's reveal and then his shooting of Nucky. In a way, the legacy that Nucky has been so worried about all season was already predestined–the pain and sorrow that he would cause decades down the line were initiated by that very first selfish act he performed in order to "get ahead," by embracing his true nature as the "eager young boy" that the Commodore calls him.
And I think that's what I'll think about when I look back on Boardwalk Empire's legacy as a show. With so many characters and countless storylines, it's hard to really describe in a few words what this entire series was about. Even though Boardwalk was filled with some great character moments, it was always a plot-heavy show, whose storylines would only sometimes connect thematically.
However, ultimately, what I think the series is saying overall is that evil is an epidemic that will not quit and spare no victims. Once your life has been touched by evil, you cannot escape it, no matter how far you try to run from it (both literally and metaphorically). Simply put: evil breeds more evil.
Tommy is a kid whose chance at a real, normal life was destroyed by violence and greed. His grandmother was raped and traumatized; his mother murdered because of his father's blindness and selfishness; and his father was killed because of his lust for power and a thirst to prove himself. Although Tommy was never a part of these situations, the evil from them rippled throughout his life, even as he escaped Atlantic City and moved to the Midwest with Julia.
No selfless actions from Richard, Jimmy, or anyone else could have protected Tommy. Evil had entered his life the moment Nucky allowed for the Commodore to have his grandmother, Gillian, when she was just a teenage girl, and neither Tommy nor his father would ever have a chance to be free from the pain and trauma that Nucky caused.
Simply look at where the other gangsters in the series end up to further prove this point. With both Chalky and Van Alden already dead, the storyline in Chicago ends with Capone going to jail for his crimes, while Narcisse is gunned down in New York. And the only somewhat optimistic ending is for Eli, who receives a bag of money and a razor from Nucky, along with encouraging words that his wife will eventually forgive him.
Death, jail, exile, or misery–all are and were destinations for these individuals that weren't horrible men but flawed individuals that embraced their darker sides. While Boardwalk Empire could glamorize the gangster lifestyle and the brutal, graphic violence that came along with it, in its final episode, it also illustrates the consequences of this life. In a way, the series offers its opinion on morality, essentially saying that while situations may not be black and white, the effect of one's actions will be more distinct and recognizable (there's no shades of gray with what happens after you act).
So that's why it's fitting that Nucky is gun downed on the boardwalk, the place where his empire began and then fell, by a person that is the direct result of his own wrong actions. Tommy was spawned from evil and exacted his revenge on that evil, only adding even more tragedy to the history of the Darmodys, a family that Nucky himself ruined.
Nucky's actions towards Gillian and Jimmy were never something that could be made up for with money, which he calls "the best [answer] he's got," but only with his blood. The fact that his death is a result of him trying to find redemption (providing help to Eli, visiting Gillian, etc.), as he attempts to be a good man one last time in Atlantic City before he leaves forever, finally transforms him from the inciter of tragedy into a tragic figure himself.
In his final moments, Nucky doesn't look to the future that the girl on the boardwalk (in an almost dream-like sequence) teases, but instead, he reflects on the past, wishing that he could go back to being that boy who dove into the ocean for gold coins, that kid who still had his innocence. However, just like Gillian, just like Jimmy, and now just like Tommy, he's not able to go back in time and be that person. Instead, he must live with the sin, live with the guilt, and die knowing that if he had just been satisfied with that nickel instead of wanting the dime, perhaps all this heartbreak would have never transpired.
What a beautiful finale for a brilliant show that I will dearly miss.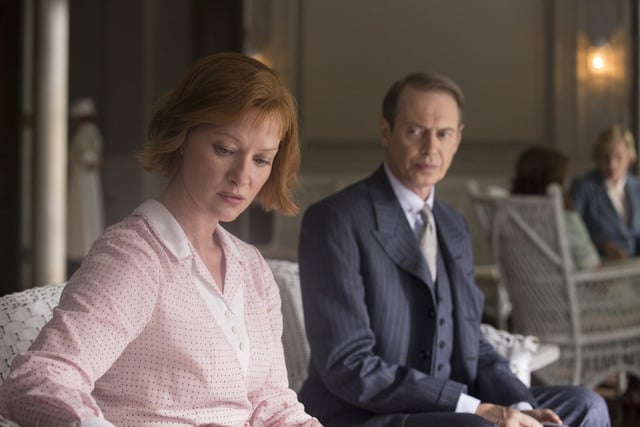 Other thoughts:
– Although I loved every single moment we got of Nucky in this episode, the standout scene from this series finale has to be Capone with his deaf son. We haven't seen the two of them together since season three of Boardwalk Empire, but getting to watch Capone finally drop the movie star, tough guy-facade and be an emotionally fragile and fully caring father to his kid was heartbreaking and an amazing showcase for Stephen Graham, who has been so good in this role. Plus, I totally lost it when the kid put up his hands, a callback to their boxing lesson in the season three episode "Blue Bell Boy."
– I'd be lying if I said that I didn't want a little more than what we got from Nucky and Gillian, but Steve Buscemi and Gretchen Mol absolutely knocked their one shared scene together out of the park. How devastating was it that Nucky was too late to help Gillian again (as the mental hospital's doctor had already cut into her)? Also, look at Nucky holding back tears as he tries to excuse his actions and his lack of helping Gillian, saying, "the past is the past," before he has to reach out and take her hand again one final time, just as he did before giving her to the Commodore. So much story told through great visuals.
– Tommy being the one to kill Nucky just felt right, even if it takes away from all of what Richard did for him. The Shakespearean nature of Tommy and Nucky's confrontation was so much better than any mob hit that Luciano and Lansky could have delivered.
– Speaking of those Luciano and Lansky, the two of them, along with Bugsy Siegel, begin the Commission (which reinvented organized crime and would run many more decades) in tonight's finale. Also, while they don't take out Nucky, they do have Narcisse killed, and it was a great way to see him perish, as he dies in front of a big crowd outside a church as the fraud he always was.
– The dance scene between Nucky and Margaret was stunning and such a great way to end their time together on Boardwalk Empire, especially with the young, happy-looking couple, reflections of what the Thompsons will never be, coming in to look at the apartment that both Niucky and Margaret know will never be theirs to share together.
– Another great, understated scene: Nucky's goodbye to Eli. Leaving him the money and the razor was great, but the way Steve Buscemi said "Little brother" and the hug the two of them shared almost made me tear up like the scene between Capone and his son.
– Lastly, I want to thank anyone and everyone who has read and/or commented on these reviews. It's been a pleasure and a privilege to cover this final season of Boardwalk Empire, and while I'm sad the series is over, I though it ended pretty perfectly.
What did everyone else think about the series finale of Boardwalk Empire?
Photos via HBO