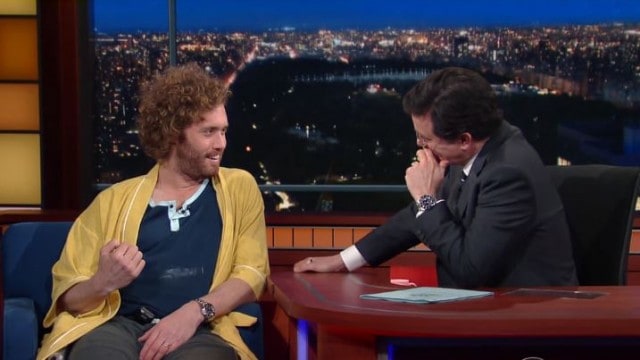 Silicon Valley star TJ Miller stopped by The Late Show With Stephen Colbert last night. However, it wasn't really TJ Miller who showed up. No, instead, it was actually Donnie Barnett, an expert in sleeping in late, eating meat, and being pretty lazy, which has made him one of NASA's top candidates for its mission to Mars.
So how did this whole goofy bit get set up? Well, it all started when Colbert began talking about how NASA recently announced that they'll be sending astronauts to Mars by the year 2030. While Colbert had always wanted to be an astronaut when he was younger, the harsh conditions that come with a trip to Mars, conditions that include "cramped pods, horrible food, and the chance that you may not come back alive," have scared him away from ever attempting to travel in space, and that is why he invited Miller's Donnie Barnett on The Late Show to explain why he is such a perfect candidate.
Barnett made it clear that he's not the "typical" astronaut when he first walked out onto the stage wielding a toy lightsaber, even swinging it at Colbert. He then thanked the Late Show host for having him on the show, saying that he was "just glad I was able to wake up." So why does sleeping late make Barnett such a top candidate to travel to Mars? As Colbert explained, because the days are longer on Mars, NASA does not want people who are early risers; instead, those who are night owls and can stay up later will be able to adjust to the difference in time better.
But what makes Barnett himself actually want to travel to Mars and endure the harsh conditions that Colbert talked about? Why would he be interested in doing that? The answer comes from the film Total Recall.
"They've got ones up there with three of them, Stephen," Barnett told him, referencing the three-breasted woman from the movie. "Uno dos tres. They got ladies up there with the tic, tac, toe."
Watch TJ Miller fully commit to this ridiculous persona and keep making Stephen Colbert laugh in the video below:
[Photo via YouTube]