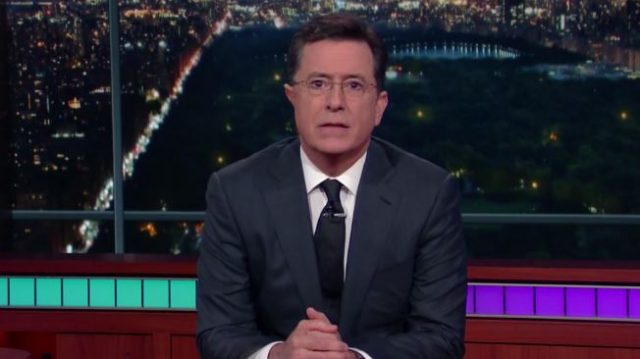 Like many other late night hosts did last night, Stephen Colbert took the opening moments of The Late Show to address the tragic events that took place on Sunday in Orlando, Florida, where, at the gay nightclub Pulse, 49 people were killed and 53 were injured in the most deadly mass shooting in American history.
"Naturally, we each ask ourselves what can you possibly say in the face of this horror," Colbert said. "But then, sadly, you realize you know what to say, because it has been said too many times before."
Colbert called this idea our "national script" and said that we cannot accept it, because by accepting it, we assume that the script will end the same way every time. He stressed the fact that we cannot be paralyzed by this hate and fall into despair, calling it "a victory for hate." Instead of us falling into that trap, the Late Show host encouraged all of us to remember the importance of love, and that as powerful as love is, it's not enough for us to just talk about it; we need to express love through action.
"Love does not despair," Colbert said. "Love makes us strong. Love gives us the courage to act. Love gives us hope that change is possible. Love allows us to change the script. So love your country. Love your family. Love the families and the victims and the people of Orlando, but let's remember that love is a verb. And to love means to do something."
Watch Stephen Colbert's full comments on the Orlando shooting below:
[Photo via YouTube]