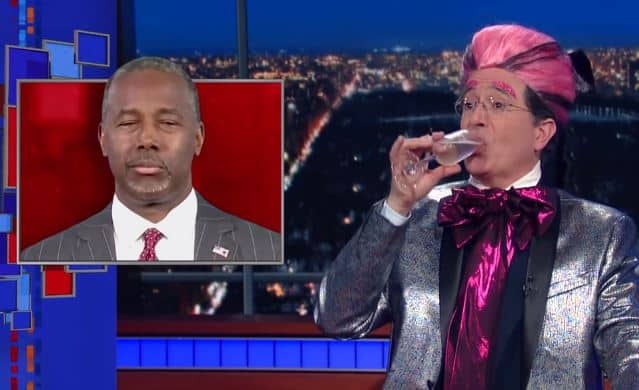 It was an eventful evening for Stephen Colbert on The Late Show last night. He kicked things off with bidding farewell to former presidential candidate Ben Carson in the latest Hungry for Power Games, and while the jokes about Carson's closed eyes and the lack of enthusiasm for his campaign were funny, the best moment from the segment didn't involve him at all.
So what happened that was so entertaining? I won't give it away, but it does involve Colbert and his "voiceless eunuch" Andro. Watch what transpires between the two of them in the video below:
And after the latest edition of Hungry for Power Games, something happened to Colbert that would even wake Ben Carson up. As Helen Mirren walked out onto the Late Show stage, instead of simply hugging the host or kissing him on the cheek, she planted one straight on Colbert's lips, leaving him totally speechless.
"If I didn't do it then, I'd never get to do it," Mirren said about kissing Colbert. "So, you know, I have been dreaming of doing that for about fifteen years. I just grabbed my chance."
"I suddenly can't remember any questions," Colbert told her, laughing. "That is one of the nicest greetings any guest has ever given me."
Watch Stephen Colbert and Helen Mirren's kiss and interview in the video below:
[Photo via YouTube]