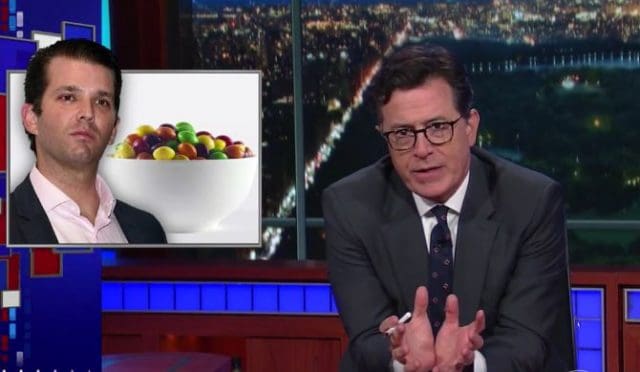 Delivering ridiculous remarks is something that Donald Trump is usually pretty great at doing on his own, but as Stephen Colbert pointed out last night on The Late Show, sometimes the Republican presidential candidate gets a little help from his family members. This time, it was Trump's son, Donald Trump Jr., making the outlandish statement, as he compared the "Syrian refugee problem" to a bowl of Skittles using a meme he posted on social media.
However, as Colbert quickly stated last night, Trump's comparison, saying that three poisonous Skittles in a bowl of full of them are the amount of Syrian refugees that could be terrorists in the United States, is not only Islamophobic and shortsighted, but it's also inaccurate. And what did Colbert do to back his argument up? Well, he used actual facts from a real study.
"Last week, the conservative Cato Institute did the math and found that the odds of an American being killed by a refugee in a terror attack is 1 in 3.64 billion," Colbert explained. "So that's not three poisoned skittles in a bowl, that's three poisoned skittles in one and a half Olympic sized pools of skittles. And yes, for the record, I would eat all of them."
But Colbert's takedown of Trump's comments didn't end there. In a sequence that rivaled his Bernie Sandwiches joke from a few months back, the Late Show host fired back at Donald Trump Jr. by utilizing the delicious power of candy.
To see exactly what I mean, watch Stephen Colbert's rebuttal in the video below:
[Photo via YouTube]