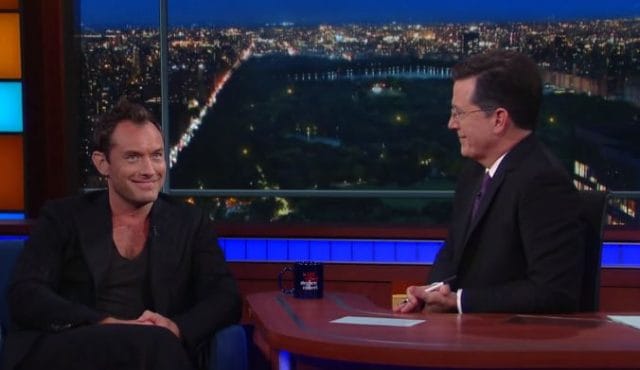 Jude Law was guest on The Late Show With Stephen Colbert last night to promote his upcoming film Genius, which hits theaters this Friday, June 10. However, while on the late night show, Law and Colbert's conversation switched over to another one of his roles; in fact, it was a role that he didn't even take.
So which big-name character did Law turn down the opportunity to play? That would be Superman. Before DC Comics rebooted Superman again back in 2013 with Man of Steel, creating its own DC movie universe, the iconic superhero got another soft reboot of sorts with 2006's Superman Returns, which starred Legends of Tomorrow actor Brandon Routh as Clark Kent/Kal-El. But Routh apparently wasn't the studio's first choice; according to Law, DC and Warner Bros. really wanted him to play Superman, so much so that they brought the suit to his hotel in Los Angeles and had him try it on.
"So I take the suit into the bathroom, and I'm putting it on," Law told Colbert. "Then I look 'round and I'm in the mirror, and suddenly I'm Superman, right?"
Law spoke about how he heard John Williams' famous score in his head as he looked at himself, and that, for a second, he thought he actually wanted to do it. However, then he pictured that image of him with the suit plastered on billboards all around the world, and he realized that it wasn't the right role for him.
"I was Superman for two minutes," he said. "That's enough."
Watch Jude Law tell Stephen Colbert the full story in the video below:
[Photo via YouTube]
Tell us what's wrong with this post? How could we improve it? :)
Let us improve this post!