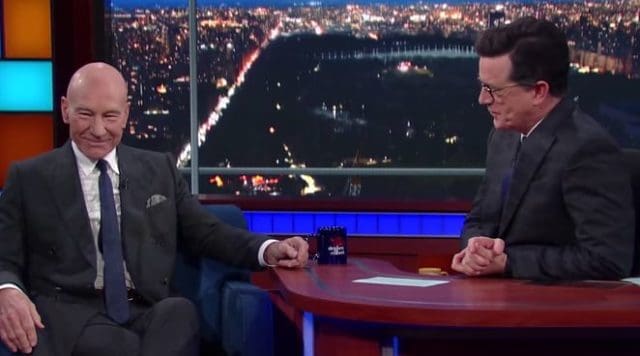 Well before his time as Professor Charles Xavier from the X-Men franchise, Patrick Stewart has been entertaining audiences. The role that got him into the main stream was Captain Luc Picard on Star Trek: The Next Generation. But even before that Stewart was doing theater and was known for doing Shakespeare. Stewart is now 76 and has recently revealed that his last Xavier role will be on the film Logan, which is being released tomorrow.
Fans have wished him nothing but the best (as have I) and now it looks like Stewart is preparing to ride into the sunset. However, if there's one thing we know about Stewart it's that he's hilarious. Stewart's always one to not only poke fun at himself but also be extremely childish, even if it's at his own embarrassment. Last night he stopped by The Late Show to talk to Stephen Colbert. When the subject of acting was brought up, the two talked about his next distinguished role: a Poop Emoji. Yes, you read that correctly.
'Logan' star and world-renowned Shakespearean actor, Sir Patrick Stewart, joins Stephen to discuss his graduation from methodical acting to scatological acting.
Check out the clip below"