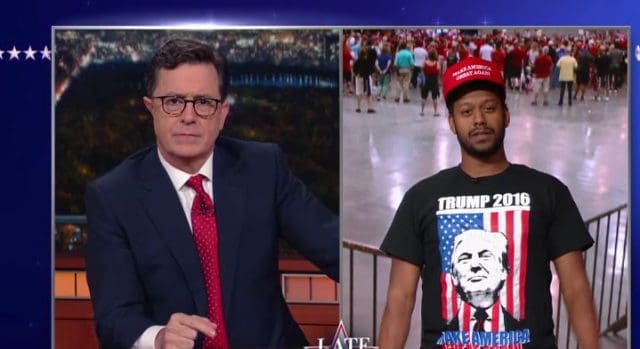 Last night on The Late Show, Stephen Colbert primarily focused on the resurgence of the Hillary Clinton email scandal during his monologue, and how these potentially damning emails are linked to disgraced former congressman Anthony Weiner. However, Colbert didn't just focus on how this new development affects Clinton; he also touched upon its impact on the Republican presidential candidate, Donald Trump.
In the days following FBI Director James Comey's letter regarding new Clinton emails that the FBI is now investigating, Trump has double-downed on his "Crooked Hillary" comments, referencing Clinton's corruption in every speech he gives and applauding the FBI for their decision. But that's not all Trump and his campaign have been doing. With only a week to go until Election Day (thank God for that), Trump is also trying to reach out to minority voters who may still be undecided, even launching new campaign ads targeted at the Indian and Hindu communities.
However, despite this new enthusiasm to seek out minority voters, Donald Trump's outreach program still has some kinks that need to be worked out. How else could you explain Trump's decision to eject an African American supporter that he believed was a protester from one of his rallies this past Thursday? It turns out the the black man that Trump kicked out of the rally was only trying to give the presidential candidate a note, and even though he was mistaken for a protester trying to disrupt the event, he still plans on voting for Trump.
"Here's the deal," Colbert told the Late Show audience last night. "That guy was a Trump supporter, proving that not even Donald Trump can believe he has a black supporter."
Watch Stephen Colbert break down the Trump campaign's new attempts to appeal to minority voters in the video below:
[Photo via YouTube]