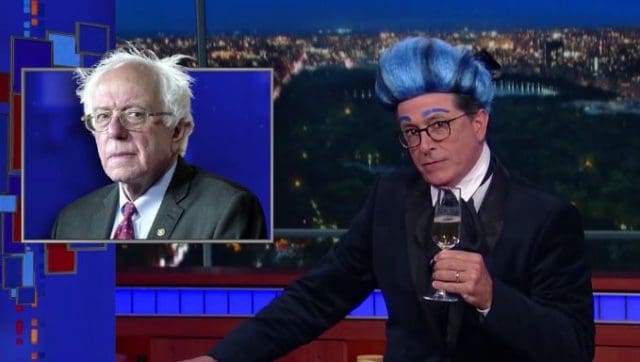 It's been a while since Stephen Colbert has held the Hungry for Power Games on The Late Show, but after a longer than usual hiatus, the popular segment returned last night, as the late night host bid farewell to the last fallen tribute ahead of November's election: Senator Bernie Sanders. As most people either watched or read about yesterday, Sanders finally withdrew from the presidential race officially and pledged his support to Hillary Clinton as she readies to go up against Donald Trump in the general election.
However, Colbert wouldn't let Sanders fade into the night with a whimper. During the Hungry for Power Games, the Late Show host recalled some of the senator's greatest moments, including the announcement he gave when he was first declaring his run for the presidency and, of course, the time he said "do do" not once but twice on stage.
In addition to sharing those memories, Colbert also saluted Sanders in his own goofy ways. First, he ate a plate of caviar that spelled out Sanders' first name (and Colbert needed a moment to compose himself after, as the caviar did not exactly go down the right pipe). Then he followed that by running his hands through his wig so that it mimicked Senator Sanders' devil-may-care hairdo.
"Goodnight, sweet prince," Colbert said to Sanders before officially honoring him as one of the fallen.
Watch Stephen Colbert say his final goodbye to Bernie Sanders in the Hungry for Power Games below:
[Photo via YouTube]