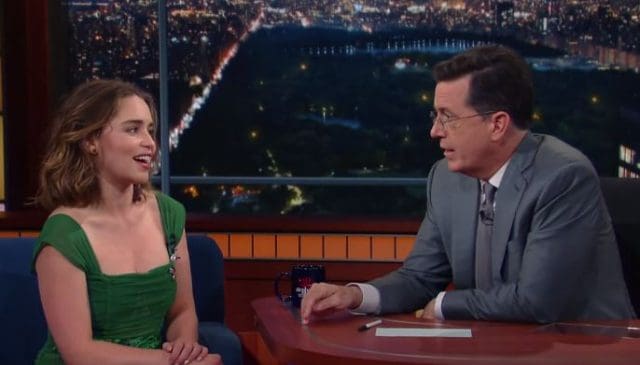 Emilia Clarke stopped by The Late Show With Stephen Colbert last night to talk Game of Thrones and her new film, Me Before You, which hits theaters next Friday, June 3. When Colbert asked her if people actually treat her like her character, Daenerys Targaryen, in real life, she admitted that she's often not recognized very often because she's not wearing the platinum blonde wig that she always has on during Game of Thrones episodes. She mentioned that one of the nice things about shooting Me Before You was that not only was she free of wearing the wig (Clarke has her natural brunette hair in the film) but that she could also be more expressive with her eyebrows, which led to her and Colbert having an eyebrow-off to see whose were more expressive.
"This is what we learn in drama school," Clarke joked, before telling Colbert than when she actually was in drama school that she got stuck playing a lot of the "Jewish grannies."
When Clarke nailed the American, Jewish grandmother accent, Colbert brought up how he's from the South and how thick some Americans' accents in the South can be. Without missing a beat, Clarke began talking in a Southern accent.
"Well, I'm about to do this movie right now where we're all playing Southern, so I'm kind of in that accent right now," she told him before starting to laugh. "I mean, maybe this is real bad…."
Watch Emilia Clarke show off her eyebrow and accent skills to Stephen Colbert in the video below:
[Photo via YouTube]