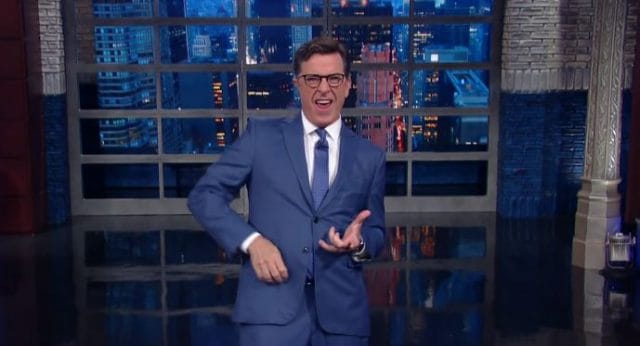 Wednesday night on The Late Show, Stephen Colbert took some time to discuss Donald Trump's visit to Mexico, as the late night host couldn't believe how "presidential" Trump appeared to be while he met with the country's leader. However, as usual with Trump, that type of professionalism lasted less than 24 hours, and by the time the Republican candidate was giving his immigration speech on Wednesday night, his quieter, more presidential demeanor had transformed into the loud, bombastic style that we typically see from him. In fact, Colbert couldn't even bring himself to call Trump's speech an actual speech; due to all the screaming, he referred to simply as a "screech."
But Colbert didn't just poke fun at Trump's yelling during the eight-minute segment he dedicated to the speech last night on The Late Show. He made sure to go through pretty much every point the presidential candidate had and show, yet again, how ridiculous all his promises are. Colbert event went as far as to suggest that there might not only be one Trump giving all these speeches; in fact, it could be three Oompa Loompas in a suit that take turns on who gets to be the head every day.
"One of them is reasonable, two of them really don't like immigrants," Colbert said. "It would explain his policy reversals and his skin tone."
Watch Stephen Colbert respond to Donald Trump's immigration speech in the video below, and let us know what you thought about Trump's speech in the comments.
[Photo via YouTube]