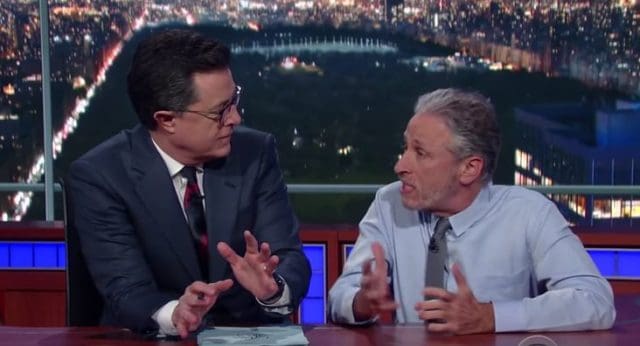 This has to be some kind of a miracle. Not once, but twice this month Jon Stewart has made appearances on The Late Show with Stephen Colbert. My guess? Politics. I'm pretty sure that Jon Stewart is more upset at this administration than we'd like to believe. While he's hilarious on television and makes his great points, you know that when this guy is at home he's just pacing around wanting to ring Trump by his neck.
So in classic Jon Stewart form, he showed up at The Late Show, under Colbert's desk no less to get into discussions about the media and their role in politics. His main message was simple. "It's time to get your groove back."
By the way, do you think that if Jon Stewart decided to run for President that he'd have a chance? I personally do. Take a guy like Stewart and pit him against Donald Trump in a debate and it would be a complete "disaster" for Trump. While our new democratic leaders are trying to set a new path to take back the Senate and White House I'm nominating Jon Stewart as our next democratic nominee.
Sure it's kind of a joke but so was Donald Trump. I think Stewart would destroy Trump. Anyway, here's Stewart on the Late Show last night.